Ethnicity will still be a factor in 2022 polls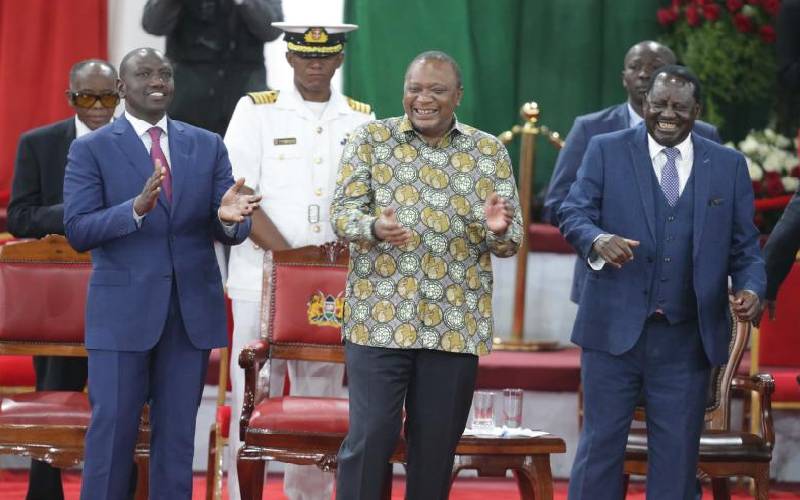 Whether we like it or not, ethnic politics will dominate the 2022 elections. This is because the two political cultures that shape our general elections; horserace journalism and ethnopolitical analyses are in high spirits. A close look at the two political superstructures explains how the heavens are shaping 2022 politics. The big question is whether ethnic political mobilisation is a boon or a bane.
In a paper published by the Athens Journal of Media and Communication, titled 'Media, elections, and ethnopolitics in Kenya: In the 2017 elections reportage, ethnicity still mattered', I posited from the findings that in 2017 elections, ethnicity carried significant weight. Arguably in 2022, ethnicity will still matter, and we can do little about it. Are we then eternally chained to ethnicity as a country?
We must have learned by now that gods have placed this country's fate in the hands of a few national political honchos, namely, Uhuru Kenyatta, Raila Odinga, William Ruto, and Gideon Moi, Kalonzo Musyoka, Musalia Mudavadi and Moses Wetangula. Period.
Recent events which have seen Kanu, ANC, Wiper and Ford Kenya parties disperse to their regions to consolidate their ethnic kin and kith is unsurprising. This normalised political programming comes around every five years. Some people have argued that ethnic consolidation is no longer a healthy political strategy in Kenya. But what alternative do we have for political grassroots mobilisation?
As we all know, ethnic mobilisation has always been with us; it helps come up with a few formations that coalesce toward elections into ethnopolitical oligarchies. Such ethnopolitical oligarchs like the 2002 Cord, the 2007 Party of National Unity and Orange Democratic Movement (pentagon), the 2013 Jubilee coalition and Cord coalitions and the 2017 National Super Alliance are the products of ethnic, regional party mergers.
Since 2002, it has been difficult for a political party to successfully go it alone for the top seat. The 2010 Constitution made it even harder with its two-round win requirement where a candidate must receive above 50 per cent of the total votes cast and at least 25 per cent of the votes cast in 24 of the 47 counties. Early grassroots mobilisation is, therefore, necessary for any national leader pursuing the State House.
Why is it that Kenyans loathe ethnicity, but they fatten the monster toward general elections? Note that the clamour for ethnic horserace journalism and ethnopolitical analyses has immortalised ethnic politics in Kenya. Kenyans are infatuated with ethnic identity whenever elections near—they love to assemble fierce colloquies in village shopping centres and urban meeting places to discuss politics of ethnic belonging. Mostly, such discussions are sweeter if they are talking about electing one of their own for national cake-cutting negotiations.
This political demographic will not change soon unless Kenyans divert their appetite for horserace journalism and ethnopolitics to something else. The media, mainstream and alternative, give society the kind of information they crave. It is a political economy issue oscillating between media houses' survival and the audience's superiority in agenda-setting. The Kenyan audience salivates so much for ethnic horserace reporting.
This ethnic horserace journalism focuses on public perception instead of the candidate's policy, and the reporting is done exclusively on the candidate's ethnic differences rather than shared values. Notably, Kenyan voters are diehard fans of football—as such, they like any reporting and analyses in which the comparison of the wins and losses of competing candidates is celebrated. In this dynamic, ethnicity comes in as an identity factor. Such expectations from the people shape how politics are formed, analysed and reported in the mass media.
FEW CONTESTANTS
Closely related to ethnopolitical journalism's logic is ethnopolitical analyses in which commentaries are based on news principles anchored on the power of prominence. In this country, some people make headlines sell. For example, you might sell a newspaper more if you learn the art of tagging prominent citizens like Raila, Uhuru, Ruto, Gideon, Kalonzo, Mudavadi, Wetangula or their close allies.
Similarly, through their independent media or mainstream media, political analysts cannot analyse politics without featuring a few contestants at the top of political leadership. Therefore, political influencers are the most featured and their moves are closely monitored, interpreted and predicted.
What then is the fate of our country? Ethnopolitics has been part of our political history—a very present help toward general elections. Criticising ethnic political mobilisation while we have a super appetite for ethnopolitics is burying our heads in the sand.
Dr Ndonye is a Political Economist of Media and Communication