Why Uhuru, Raila and DP should hold talks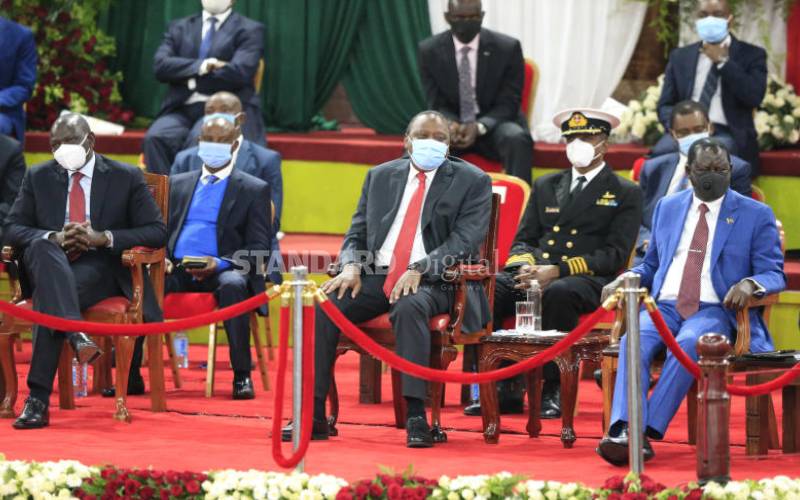 As the long race to the 2022 General Election begins, strong views, about whose leadership is most desirable, are shaping Kenya's public discourse. Political adversaries compete, each painting the other as corrupt or incompetent. In the murky field of politics, there is nothing untoward about that; nothing personal. American economist Thomas Sowell sums it aptly: "Politics is the art of making your selfish desires seem like national interests".
President Uhuru Kenyatta has kicked up a storm by declaring that after serving his final term, he will not leave the country in the hands of thieves. A section of the political elite aver that the president's declaration has come a tad too late in the day.
They reckon that the country has already been pillaged and that there is nothing left to steal. And whilst Mr Kenyatta has not mentioned anyone by name, allies of Deputy President (DP) William Ruto have construed it to be a slur directed at him. They ask quizzically whether one becomes a thief after falling out with the government.
They cite the curious case of erstwhile Nairobi Governor Mike Sonko. Formerly a darling of the Jubilee administration, he was hounded out of office and is now before a court of law, charged with a litany of offences.
It is probable that others who have run foul of the Government may soon face a similar predicament. Already, some MPs have called for changes in the law to preclude people from being held for inordinately lengthy periods over the weekend, a lacuna that the Government has previously exploited to the detriment of its detractors.
But is the president, as some have mentioned, creating a storm in a tea cup? Is he focusing on succession politics at the expense of more pressing national concerns? Without doubt, the nation's economy is in parlous straits.
The pointy heads at Treasury do not seem to have a proper grasp of the levers of fiscal policy. The country is heavily indebted, so tax cuts that previously ameliorated Covid-induced suffering are off the table. Close to two million jobs have fallen away grossly affecting the Government's revenue base. It has responded by increasing taxes on low hanging fruit like fuel, further compounding the suffering of citizens as cost of production of essential goods rises commensurately.
Yet in all these, there is no hint of a mea culpa. No one wants to take responsibility. It is as if an economy that was growing towards double-digits suddenly nose-dived by itself; as if the Sh2 billion that disappear daily from the nation's coffers does so on its own motion! In a nation that excels at passing the buck, Handshake partners Raila Odinga and Uhuru blame the DP who in turn, blames Raila for the impending implosion of the Jubilee administration. Ruto reckons that Raila's perceived influence in government is akin to too many cooks in the kitchen resulting in spoiled broth!
Take a quick survey and help us improve our website!
Take a survey
There is mounting pressure for the DP to resign from the presidency because of his alleged insubordination towards the president.
But what does it portend? For one, turning up the political heat may upend the four pillars of Uhuru's intended legacy. Manufacturing, affordable healthcare, affordable housing and food security will certainly dissipate in the smoke of fractious political confrontations.
Second, the fight against corruption may be lost in all but name. It will be difficult to preclude supporters of the DP from seeing it as weaponised especially when his closest allies are arrested and prosecuted even where there is clear evidence of malfeasance.
Perhaps the president's greatest political feat may be to bring Raila and Ruto to the same table for the sake of Kenyans. The two are like chalk and cheese with one having been brought into the Jubilee kitchen and given access to its secret sauce. Perhaps Ruto's greatest achievement would be to give a succinct overview of his Hustler narrative and to dispel the notion that it is about turning the hoi polloi against the well-heeled. Perhaps Raila's final miracle would be to convince his detractors that he is not the perennial party-pooper, revelling in the discomfiture of his rivals when they are in hot soup.
Whatever the case, these three gentlemen owe it to Kenyans to tone down on their rhetoric. The nation cannot continue in a state where it is thought that some have captured the popular imagination whilst others have captured the State. It is time to stop brewing trouble.
-Mr Khafafa is a public policy analyst