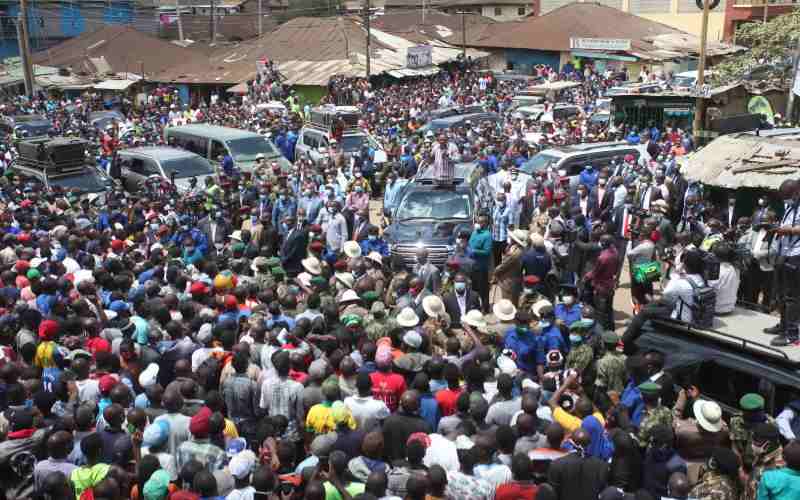 A politician's job is to talk. His greatest happiness is when he finds an audience, preferably a big and even rowdy crowd, if the rowdiness is in agreement with him. To tell a politician not to talk for a day is like telling a hunter not to hunt, or a farmer not to go to his shamba, or check on his livestock. It is like telling a fisherman not to go fishing.
If you find him in the garden alone for a day, then he is no politician. If he agrees not to talk for a day, it's a punishment. Even when he is sick, he will attempt to tell people something. Politics is the most serious affliction that a man can get; and the politician loves the malady. A politician is the laziest creature. But he gets the job done. His mouth is his weapon. He can fight, he can farm, he can move mountains with his mouth.
He will get you to work for him at any level. He wins elections. He loses them. But he continues to talk. He will talk about his win. He will talk about his loss. It is no barrier.
If you tell him you have a large enough group that wants to listen to him, he will forget everything else and head for that crowd. And he will talk like hell.
Read More
Even on the way there or on the way back, if it is by road, he will make several stops to talk. That is his lot. He is, of course, very clever. He will arrive late because he could not bypass some people on the way.
They are as important as those promised further ahead. He needs both and so he will come to your function late.
He may well leave early. Once he has talked, you are no longer that important except at the appointed time when he will expect you to do what he requested most humbly.
If you do what he wants, then, it goes without saying, that you and even those who did not follow through are his bedroom, or his backyard or his stronghold.
Woe unto you if an alien invades your area and makes you change that position at the next show!
You will be called turncoats even as the politician accuses the invader of rigging the vote in your bedroom. And the accused invader will charge that you abandoned the people.
And the tag of war will continue. The politicians will promise each other bruising fights for your votes next time.
As a result of this natural urge to keep talking, the politician will move from home to the market, and then to town and before you know it, the best of them will be talking in the Capital.
And once he has seen an eager crowd listening to him in the Capital, he will stay and grow roots. He will only be dashing to his home district and constituency on occasion, that is, until he gets wind that there is a lesser politician talking of overthrowing him.
Then he will discover that he is a real Tanga Tanga politician. All politicians are tanga tanga. When they are not accompanying their friends to go and talk in the new location, they will be tangatangaring in their constituency trying to lessen the damage done while he was away. Then he will really be at his best. He will use every arsenal in his kit to outwit the newcomer.
When you get to the apex of politics in Kenya you will find that both the winners and the losers traversed the whole country making promises. Whereas most losers prefer to make noises at the Capital, the winners have to disperse one on them to go back and thank the people who voted for them.
He will tanga tanga at a more leisurely pace and will thank the people and reaffirm their promises. "We are together," he will say and the people will feel assured and assuaged that they have been remembered. Some will be hiding because they never voted as promised. They voted elsewhere and lost. Woe unto them.
But the politician will continue talking. When you tell him to stop talking, what do you want him to do, he will ask.
If you also stop talking, the whole country, which has been conditioned by your ilk to expect you to talk, will truly be lost for words.
When they start talking or start listening to your competitors, what will you do?
It is in recognition of this need that the country has built two talking shops in Nairobi and one in every county.
There they talk and the job gets done by people who know how to work.
In my village, a serious hunting ground when I was growing up, they say: a dogless hunter has to go into the hole himself.
-The writer is a lawyer.