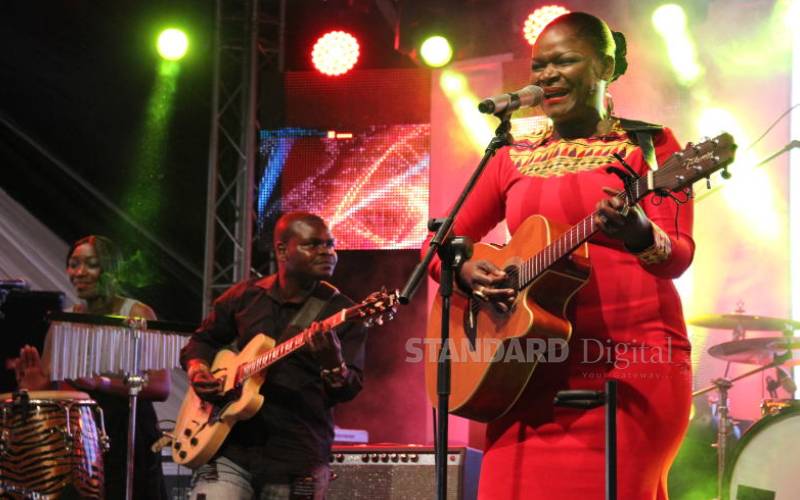 I have had a debate with some friends whether Kenya has more talent than Tanzania. They are adamant that Tanzania has better talent.
After all, Tanzania's Bongo music is preferred to Kenyan music in our clubs and matatus. As such, people are voting in favour of Tanzanian and Nigerian music. They argue that Tanzanians have better lyrics because they have better songwriters and the Nigerians have better music than we do.
To understand this industry better, I invited Akothee, Tanasha Donna and Mike Strano to discuss. Akothee has been struggling to break into the music business for a long time. Tanasha Donna only managed to get a breakthrough once she went to Tanzania and did some music with Diamond. Why does Tanzania produce better music than we do? This debate was educative on the challenges our artistes face, and what we need to do to catch up with Nigeria and Tanzania.
Ultimately, good music depends on talent. I can cite a number of highly talented artistes from Mombasa such as Susumila, Nyota Ndogo, Ally B, Otile Brown, Cannibal, Mwauzo, and Chipukize. Why is it that they have not made it big? Clearly, we have the content but not enough demand locally. The Kiswahili speaking market is over 200 million and Kiswahili travels well, better than Lingala, yet Congolese music sells better.
Read More
To succeed, Kenyan artistes need support. First I thought it was purely good recording studios, but I came to realise that what is needed is 'content'. Musicians need professional recording studios and good video recording because music is seen first and heard next. The artistes then need professional photographs, support and access to social media marketing, financial and logistic support to get their shows on the road. It's the whole value chain support. Such a business is called a 'Label'.
There are many studios, but the only 'Label' in Kenya is "Sol Generation", which was set up by Sauti Sol, one of Kenya's most successful groups and their main objective remains their own internal marketing and distribution. The marketing and development of other artistes is secondary.
The first step to success is to get artistes paid for their work. Kenyan artistes must get their music onto digital media distributors like Spotify and Apple Music. The curative playlists these digital platforms make are critical for marketing and international exposure.
Unfortunately, our artistes make low budget video's and then drop them on YouTube, either due to ignorance or lack of funding. Many simply don't even know how to use such platforms. There is a great example in Kenya where we have a little known artiste called "Bey-T" who has over 370,000 monthly listeners on Spotify, thus earning a steady stream of revenue. This is the same number that Diamond has, and Diamond is a superstar. She has figured how to market herself.
The biggest challenge to Kenyan music is piracy. It is sad to see Kenyan music being pirated and sold cheaply on the streets while the artistes barely make ends meet. However, this is now slowly changing. Kenya has introduced the 2019 Copyright Amendment Act that will now hold the five internet service providers liable if they allow music to be pirated on their platforms. There is even an organisation called the International Fonographic Production Industry to protect Kenyan artists against being set up.
Music company
All is not lost. The Nigerian music industry is first, closely followed by the Tanzanians with Kenya a distant third. Kenya's time is coming and international organisations that can smell the money are already coming in. Universal Music Group, the largest music group in the world, has already acquired 70 per cent of Andrews and Industry, a Kenyan music company. Sony is also looking at setting up shop here. The big money is coming and that can only be good news for artistes.
We need to help. It is sad to see Kenyan politicians bring in International artistes and pay them huge amounts while we have great local talent that needs promotion. President Magufuli used Tanzanian musicians in his campaign; he did not use a single Kenyan musician.
That's called promotion. Our government has introduced "studio mashinani", which is a great initiative, but it would be better if it approached it from the 'Label' perspective. It is time for county governments to give artistes a helping hand. Art will create thousands of jobs and is a multi-billion-shilling business waiting to take off.
Mr. Shahbal is chairman of Gulf Group of [email protected]