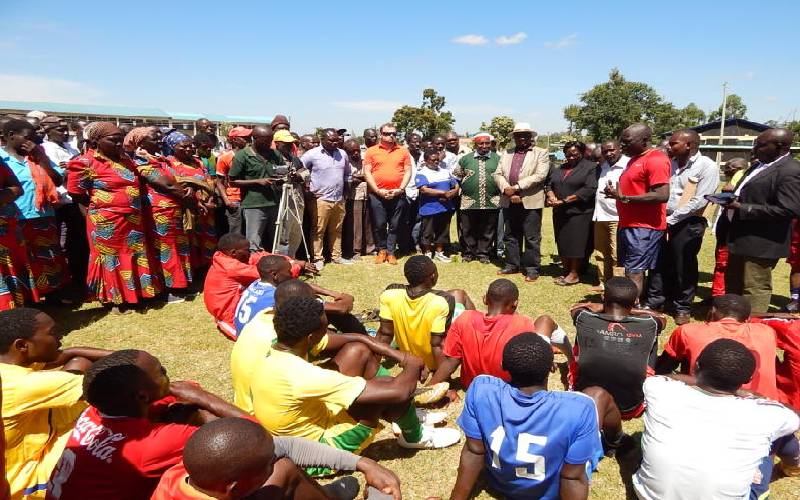 When a convoy of sleek 4WD fuel guzzlers packed with paid, well-dressed goons (and often police escort) shows up on a market day with public address systems in Kariobangi, Kondele, Mwembe Tayari, Wangige, Githurai, Kisii, Daraja Mbili or whichever market and some guy speaks, that is NOT public participation!
If traders stand still and watch the theatrics on the podium, it is because the access to the stalls has been blocked by the uninvited visitors. Buyers are at a standstill, wondering when the disruption this convoy has brought will end. Selling has stopped as traders are busy packing and securing their stock for fear of looting and fracas that they know, so well, is likely when politicians show up at the market.
Most sellers are irritated because they paid the day's market fees but are certain the 4WD convoy has not paid a dime. If the people in the market laugh and videos and pictures of them are published in any media, it is likely because a drunk at the market was pulling off some stunt or comically dancing to the loud music coming from the PA system atop the 4WDs or because the politician has insulted an absent opponent and the people are struck by the hilarious irony.
The people in the market did not choose to attend the politician's meeting. Had the sellers known there would be a politician in the market, most would not have opened their stalls due to the risk of losing their wares to looting in case of chaos. Had the buyers known there would be a politician holding a rally, they, too, would have opted to stay at home.
Read More
Everyone - buyers, sellers, journalists, police, county and other national government officials in these 'impromptu' public rallies - know that this is not real public participation meeting. It is simply taking advantage of average citizens gathered for their daily business to make certain political agendas appear to have popular support.
Politicians, too, know this, and it is precisely why they opt to sell their agenda in this way; an 'impromptu rally' that is deliberately intended to appear very well attended for great optics and political mileage. The same case applies to places of worship. When people go to churches and politicians take to the pulpit to push their agenda, let it be clear to all and sundry that that is not public participation or support for this or that political party or personality!
Had the faithful known some politician would use them as a captive audience to push her or his agenda down their throats, most would have opted to stay at home. The only reason they stay seated is that often, such speeches come before the sermon, and out of respect for what the place of worship means to them.
It is also not public participation or party support when idle, jobless people are promised a loaf of bread, soda, Sh200 or a t-shirt; and extra pay for the mobilisers if they can 'encourage' (read incite) some to dance, boo or shout.
We have all seen how tempers flare when the promised pay for attending such rallies is not delivered. Had attendance been voluntary, no pay would be expected, there would be no scramble for bread or t-shirts, no acrimony over non-payment or violence.
It does not qualify as public participation if a governor puts up a tent and makes it mandatory for county staff to be at the county headquarters the same day he knows a large number of citizens will be there for a totally different business, then s/he addresses them and gets the footage as evidence of public participation for a particular agenda. Neither is it public participation when MPs address large numbers of people out to apply for or receive bursaries and uses that as evidence of public participation for another agenda besides the bursary.
So in these times when pictures of crowds are used to misrepresent citizens' intentions or aspirations, let it be very clear what public participation, as envisaged in the Constitution of Kenya 2010, is and is not. We all know how real public participation in Kenya looks like. We have all seen it in poor turn-out at political rallies unless pay, food and transport are provided; through low voter turnouts at by-elections; Kenyans being unable to or refusing to make time for Huduma Namba registration until the last minute or until they are threatened with denial of essential services.
The people who organise the so-called 'public rallies' and 'public participation' events by putting up podiums to grab the attention of a captive audience know what is and what is not public participation. Their only interest is to get the public participation rubber-stamp they need to move whatever personal or party agenda they are driving.
Ms Nduta is a governance and gender consultant at Natale Africa Ltd