Uhuru had every reason to kick out party rebels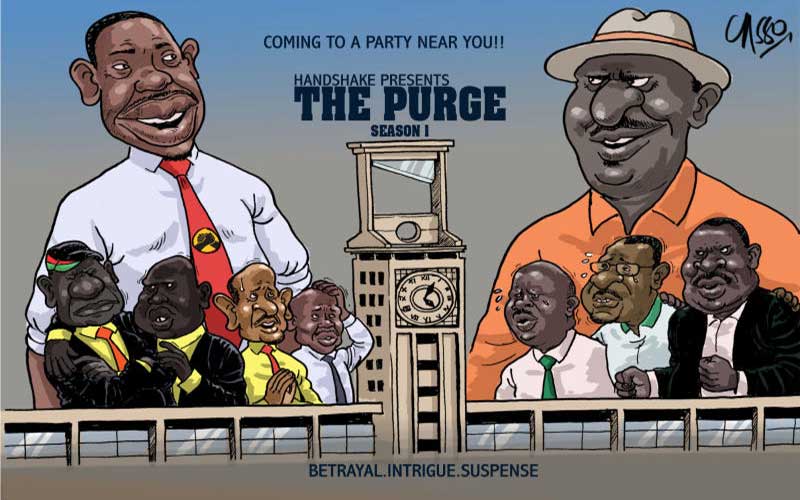 The last few weeks have seen a heated debate emerge regarding the removal of high-ranking representatives of the Jubilee Party in the Senate and National Assembly. Critics took advantage of this to attack President Uhuru Kenyatta. They incorrectly interpreted the removal as part of a sinister agenda to reshape the political landscape in preparation for the 2022 elections.
Despite the argument of Kenyatta's opponents that the current state of emergency due to the Covid-19 pandemic requires changes in our leadership, the reality could not be farther from this. It is such times that call for a united response from leaders. Kenyatta, our primary proponent of unity, has been unfairly targeted in the campaigns by these politicians.
In fact, the dissent demonstrated by a group of leaders within the Jubilee Party has nothing whatsoever to do with the Covid-19 pandemic. In fact, this trend started years ago. Although opposition to Kenyatta's governing efforts were under the guise of a democratic political debate, it soon became apparent that criticism has been part and parcel of a coordinated effort to undermine authority as well as national stability.
At first, this coalition opposed having a referendum on the Building Bridges Initiative (BBI), citing their fears of potentially violent tribal clashes breaking out over the vote. As we now know, these fears were completely unjustified.
Not only did Kenyatta instruct the BBI task force to pay specific attention to fostering peaceful dialogue between our citizens, different communities were receptive to the message of giving unity a chance.
This was evidenced by multiple peaceful large-scale gatherings that took place in Nairobi, Mombasa and other locations around the country.
Continuing to encourage dissent, the president's opponents started organising separate BBI rallies. This was despite his request to participate in this process whose essence was quite literally, to build bridges between opposing factions. Such parallel rallies continued to undermine the basis of what could have been a truly nationwide dialogue.
More recently, dissenting members of Jubilee started to attack Raila Odinga, seeking to use a process aimed at unity to foster division. Perhaps they have forgotten that Kenyatta reached out to Odinga with the purpose of restoring order after the elections, aiming to lay down the foundations for a more peaceful climate of political cooperation in Kenya.
As the coronavirus pandemic hit and the president's energies were devoted to preparing emergency measures for combating it, the same coalition started attacking him with greater fervour. It has been very telling of their motives that their public disagreements with Kenyatta have not focused on the president's policy proposals or our national response to Covid-19.
A section of leaders recently called on the president to put aside political disagreements in the face of the health crisis. Kenyatta did that by removing dissenting voices from Jubilee. The opposition of these MPs and senators has never been about substantive policy issues but rather, the general direction, which the president has dictated in his politics. While there might be justifiable reasons for such a stance, the middle of a health crisis is certainly not the time to focus on this.
It wasn't Kenyatta who exploited the pandemic for political gain. Rather it was his opponents who threatened deadlock even in the midst of the pandemic. The fact that Kenyatta had to divert attention from urgent policy responses and focus on the debate that emerged from within his party is absurd. How can a government effectively plan and follow through with urgent emergency policies if even those in its own ranks put personal political gains before the people's well-being?
More than ever before, our country needs a united response from leaders. It is ironic that Kenyatta should be targeted as an obstacle in the way of unity when his entire presidency has been dedicated to achieving exactly that.
As a final-term president he will leave a positive mark, thanks to his handshake with Odinga, his initiative to launch BBI and his current efforts to tackle Covid-19.
If anything, the removal of dissenting MPs and senators is proof of his unwavering commitment to our nation.
Mr Guleid, the former Deputy Governor of Isiolo County, is CEO of FCDC Secretariat