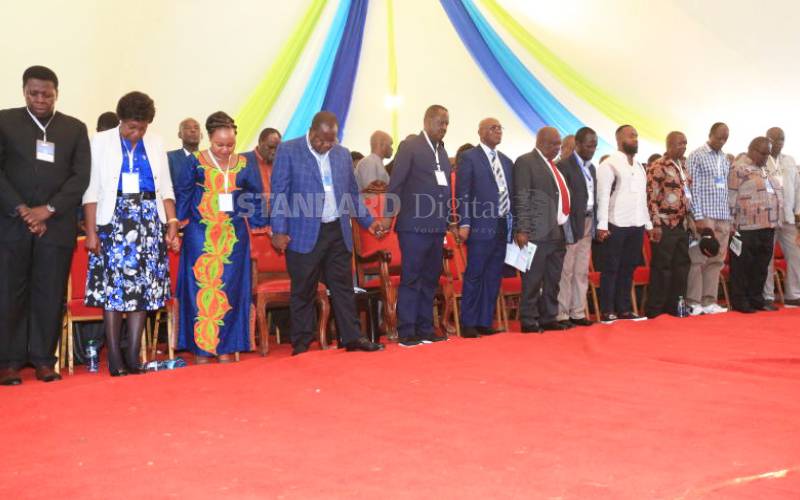 This time last year, some Jubilee leaders were all over the place claiming that the BBI report was too secretive and was not Wanjiku-driven.
Today, the same politicians are complaining that the BBI process is too public and should be contained.
This duplicitous talk is becoming a staple of our politics.
Today, some politicians who praised tear gas being lobbed at ordinary Kenyans and ignoring of court orders are saying that tear gas is equal to dictatorship. Today, they want to revolt against a government they own.
Read More
Even worse, they say BBI is a waste of money; the same mouths said that Kimwarer and Aror dam projects were not a waste of time and money.
They told us that despite billions down the drain, Kimwarer should continue wasting our resources, yet today they say everything BBI is a waste of resources.
They defend Governors Ferdinand Waititu and Mike Sonko on the streets and in the courts and then say they are the bastions of justice and rule of law.
Today, we are being treated to a mockery of our collective intelligence and we, as usual, are smiling as our politicians plot to pillage us.
Today, the politicians are talking about an increased democratic space. Not our shared prosperity, not peace in Lamu, not safety from Al Shabaab or, indeed, about the current erratic rainfall patterns.
Those are not their crises; their crisis is that they should be allowed to campaign for two and a half years before 2022.
Collective chagrin
The democratic freedom they want is to turn Kenya into a campaign and propaganda state.
What they desire is that Kenya should be a country that elects leaders to campaign again and ignore the state of toilets in their constituencies.
A freedom fighter in Kenya today has no fixed standards. Their principles change as quickly as a flag.
They want to take advantage of our collective chagrin and deliver nothing but fluff for us. These politicians stand for rule of law just as much as sheep hunt lions.
They want us to believe that they are now concerned about the fate of Miguna Miguna. They, like him, are now playing victim. Comparing their fat luxurious salaries to being deported.
Our lawmakers are forgetting that if Dr Miguna can come back into the country with only an ID, then by precedence and law Mark Bichachi too should be able to do the same.
Obeying court orders is not about breaking the law while we obey them. The government cannot commit an illegality so as to obey a court order.
If we all settled down and stopped being emotional, a few things will come to the fore.
First, Miguna's passport was viewed as illegitimate, besides which he had probably not regularised his citizenship.
Double speak
Allowing Miguna to enter Kenya using his ID is an illegality and will set us up for chaos at our airports.
Duplicitous politicians are using this farce to win sympathy, yet they are part of government. It is simple and lazy double speak.
Indeed Kenya needs to change a lot of things. Our economy, our unity and the fight against corruption are central. But duplicitous behaviour in our politicians is not the answer.
These are wolves trying on sheep's clothing for size. They clearly want to see whether we, the people, will once again follow them to the abyss.
Any leader who can't address debt, the Big Four agenda or most importantly the fight against corruption does not have Kenya at heart.
These leaders are all about themselves and their bank account now and post 2022.
If they indeed think that our government is such a failure, they should do the honorable thing and resign and seek a fresh mandate from the people.
They should do what former Nairobi Deputy Governor Polycarp Igathe did; resign if you really stand on principles. Speak with your feet and some courage for once!
Once they resign, they should do us a favour and register the endless campaign party of Kenya.
Where their slogans should be "promises we will never keep and principles that change with fortunes".
Mr Bichachi is a communication consultant. [email protected]