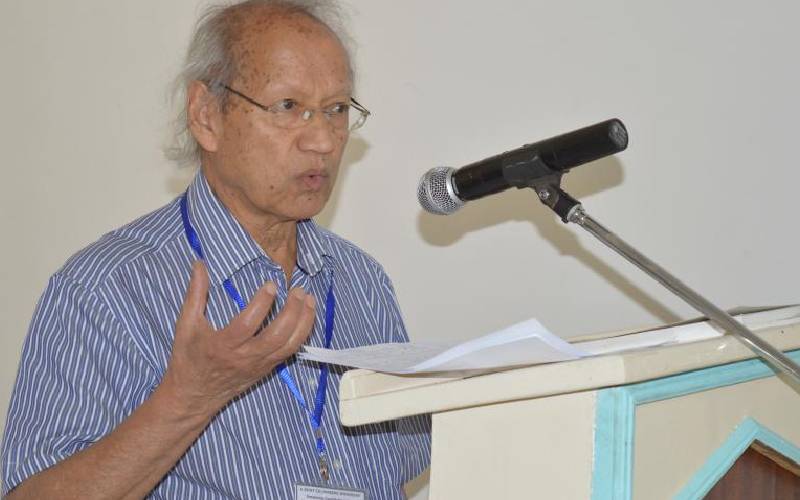 I would like to reflect on a convivial evening that the leadership of Kenyan civil society convened last week, in honour of Prof Yash Ghai. Conversations during the well-attended event went until late, because of our poor time keeping as it was a reflection of the interest that people have for Ghai. The audience included Chief Justice David Maraga and Deputy Chief Justice Philomena Mwilu, as well as a number of political leaders and many other people.
While Ghai's later work as chair of the Constitution of Kenya Review Commission is now much storied, his early life as an academic is less well known, especially by the current generation but is also remarkable. In 1970, Ghai co-authored, with the late Patrick McAuslan, the pioneering book, Public Law and Political Change in Kenya. Almost half a century later, the book is still widely referenced and remains foundational text on public law in Kenya. It is the most cited law book in Kenyan history, underlying what has proved an enduring contribution to legal scholarship. Ghai was barely out of his twenties when he wrote the book.
However, even such a significant contribution to scholarship would not be good enough to protect Ghai from the caprice of the Kenyan state, as he soon found himself in exile, where he would go on to spend much of his working life. Ghai has spoken about life in exile and, although the responsibility to lead Kenya's constitution-making process has now vindicated him, he is still bitter with those who exiled him. While it is difficult to tell what trajectory Ghai's life would have taken if he had not gone into exile, his long absence from Kenya left him unblemished by local politics, making him a particularly attractive candidate to lead the constitutional review process, in a country where almost everyone else was tarred by local politics.
Greater inclusion
The evening Ghai produced many reflections, one of them on his post-constitution-making work in Kenya. In 2011, Ghai and his wife Jill who is also a law professor co-founded Katiba Institute, now the leading organisation in constitutional litigation in the country. Ghai now supports grassroots human rights defenders, as part of which he has assisted local community leaders in Mathare and Dandora to establish entities called "social justice centres." Ghai now quietly spends a lot of time, as well as private income, on these centres and, although not a rich man, he also goes out of his way to assist with school fees there. The work of these centres is sometimes perilous, as they intervene in cases involving police use of force, including extrajudicial executions.
The involvement of Ghai offers these centres greater legitimacy, increasing the protection of members, as well as the impact of their work. By working at the grassroots Ghai has contributed to greater inclusion of low income communities in the country's human rights discourse, addressing a hardly-acknowledged class divide in the country's human rights work.
The presence of Maraga and Mwilu, the two leaders of the Judiciary each of whom faces a different kind of embattlement, tempted veteran lawyer, Pheroze Nowrojee to reflect on the legal profession, lamenting the falling levels of political solidarity among lawyers. In the 1990s, solidarity among lawyers became an effective bulwark against state repression. During that period, Nowrojee faced contempt of court charges, instituted by Attorney General Matthew Mulli, over a defiant letter that he had written concerning a case pending in court. The spurious charges were politically motivated and concerned that a large number of lawyers would come to court to defend him, as was the tradition at the time, Nowrojee had sent out an appeal that the lawyers should mind other business as he had taken care of his own legal representation. When Nowrojee was eventually charged, the court was full of lawyers, who had ignored his pleas and were jostling to be part of his legal team. Nowrojee lamented that, by contrast, Mwilu has endured loneliness when facing trial under clearly political circumstances, the legal profession now unable to mobilise solidarity.
Nowrojee was not the only person to lament on the night. The vice chair of the former Committee of Experts on the Constitution, Atsango Chesoni, bemoaned the Kenyan tendency to forget those who had served, even sacrificed, in the public interest and commended the organisers as possibly providing opportunity for the reversal of this trend.
Ghai's humility, despite such a solid record of accomplishments, was noted and repeatedly commended. In the context of closing civic space, the legitimacy of human rights defenders is now often doubted. An event like the evening with Ghai last week, explains the work of human rights defenders while making the statement that the work is still needed. Ghai's exceptional accomplishments make him an excellent ambassador for human rights in Kenya and around the world.
- The writer is the executive director at KHRC. [email protected]