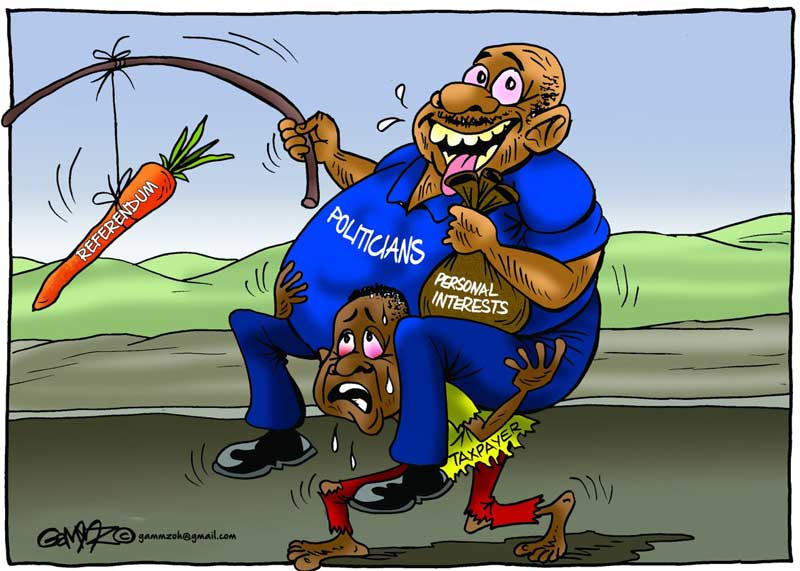 After eight years of the 2010 constitutional dispensation, it may be time for the nation to have a sober conversation on where we are. It may be a good time to identify what has worked well and where there are bottlenecks that may need addressing.
The Constitution anticipates the need for amendments and provides for the mechanisms of initiating amendments through Parliament in Article 256, and by popular initiative vide Article 257. The later allows a citizen to initiate constitutional amendment process by securing the support of at least one million Kenyans. This is the route Thuluthi Mbili, women lobbying for the implementation of the two thirds gender rule, under the umbrella of the Centre for Multiparty Democracy (CMD) used in 2016. It was also the method employed by the Green Amendment team led by Hon Agostino Neto and Daisy Amdany among others. These initiatives collected over half a million signatures each but halted the exercise to concentrate on efforts of a parliamentary initiative called The Duale Bill which was and remains unsuccessful.
This means that full implementation of the Constitution is yet to be completed. It is therefore not the first time that proposals to amend the 2010 Constitution have been floated. Talks of amendments to bring down numbers of elected members were there in the eleventh Parliament and are now being floated through popular initiative by the leader of Third Way Alliance Dr Ekuru Aukot. There is a motion before parliament to change the election date as well as a proposal to reduce the number of counties, which is still being crystallised.
The failure by the 11th Parliament to implement the two thirds gender rule makes the 12th Parliament unconstitutional and obligates the Chief Justice, if moved to declare it so and to consequently advise the President to dissolve it! Indeed there are two petitions already presented to the CJ to advise the President to dissolve Parliament under 261(7) which are yet to be adjudicated on.
Read More
The proposal to make counties parliamentary constituencies electing two delegates of the opposite genders each to the Senate, and the National Assembly offers a solution that promotes gender inclusivity and democracy, and also drastically reduces the number of MPs. Under this proposal, we would have 94 members of National Assembly and a similar number of senators, consisting of an equal number of men and women, all elected. This would bring us to gender parity in representation in Parliament. It also offers equal opportunity to women and men to get elected, thereby strengthening our democracy.
Electoral system
At present, the national assembly has 350 members, while the Senate has 67 members making a total of 417 MPs. The Third Way Alliance proposal reduces these numbers by more than one half, with both houses of Senate and National Assembly each electing 94 members making a total of 188 members!
Some former MPs have thrown their hats in the ring calling for similar constitutional amendments but going further to suggest that under this arrangement, the current constituencies should become wards for purposes of county assembly elections, each electing two delegates of opposite gender to the county assembly.
This again would provide equal opportunity to both women and men thus entrenching democracy at the grassroots as well as drastically reducing the number of Members of County Assemblies (MCAs) nationally from the current 2,150 to 580 only! The primary role of Parliament and county assemblies is legislation and oversight, and fewer numbers focusing on these issues should increase efficiency. We should perhaps go further to suggest an amendment to obligate candidates for President and Governor to choose running mates of the opposite gender. This would place the running of the nation in the hands of both women and men thus enhancing democracy and inclusion.
Urgent discussion
The Constitution in Article 81 sets out the principles that the electoral system must comply with: citizens right to political choice, two thirds gender rule in elective positions in public bodies, fair representation of persons with disabilities, universal suffrage, fair representation and equality of the vote, and free and fair elections.
With hindsight of the 2013, and 2017 General Election both conducted under the 2010 Constitution and both controversial, it may be a good time to audit our electoral system and to see what requires to be done in order to make it respond to these constitutional imperatives and to improve our democracy.
It may be a good time to ask whether we need an electoral body as currently constituted or whether we can learn from countries such as Denmark and devolve elections to be managed by stakeholders at the county level.
This would force us to confront the demon of lack of trust in the system and lack of trust in ourselves and in one another. We would have to find ways of building trust in ourselves, in one another and in our institutions. We would be forced to take collective responsibility for ensuring elections are free, fair and credible. We would be forced to not only agree on how to achieve this, but also on how to enforce accountability on one another. We would have no choice but to become each other's keeper!
These are some of the issues that have bedeviled the nation and which merit serious, factual and urgent discussion. These are issues that we should endeavour to fix ahead of another general election. The Independent Electoral and Boundaries Commission has estimated that the cost of referendum would be Sh12 billion. These astounding estimates come against the backdrop of the Auditor General's recent indictment of the electoral body for waste of public funds. We must dissect and analyse the budget and spending of the electoral body, in order to come up with a reasonable cost of elections, especially so because Kenyan elections are inexplicably one of the most expensive in the world.
While we are at it, we might also pay attention to public procurement process through which we lose more than a third of our budget every year. Corruption and wastage of public funds is much of what denies us the services we deserve. Rather than dismiss calls to amend the Constitution even before the proposals have been adequately laid out, we ought to give constructive engagement a chance so as to enable citizens to respond from an informed position.
Let proponents of change in our system of government from presidential to parliamentary or to a hybrid, or those who advocate for a reduction of the number of counties, or indeed proponents of any other proposal, come forward and explain themselves. We should be willing to hear all proposals, as well as arguments against them. We should never forget that we all have freedom of expression and each individual or group should be able to market their ideas without intimidation or name-calling. Let us propose and oppose with sobriety. This is the essence of democracy.
- The writer is former MP Gichugu, Minister of Justice and Constitutional affairs and Narc Kenya chairperson