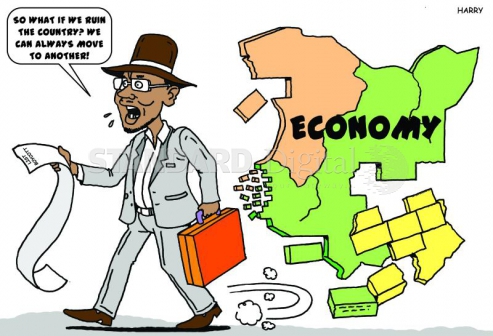 National Super Alliance (NASA) leader Raila Odinga has spelt out various measures in which NASA's resistance wing intends to fight President Uhuru Kenyatta's government.
One of his six-point interventions was labelled "Economic sabotage and boycott of select companies". This is essentially about engineering and sustaining a political consumer boycott campaign.
A consumer boycott happens when consumers stop buying specific products or services. It can also take the form of consumers stopping to buy from a specific firm as a way of expressing strong disapproval.
On many occasions, such boycotts are called by consumer advocates. They are hardly called by partisan political leaders in the case of the plan by Raila.
Reasons for calling consumer boycotts largely revolve around bad quality, excessive pricing, labour and human rights issues within the firm manufacturing a product or offering a service in question.
Products settled upon for consumer boycott are those that are popular across majority and especially the low-income segment. Middle class and high-income consumers do not easily participate in consumer boycotts unless the benefits are direct to them – not a third party.
Examples of ongoing consumer boycott would suffice. Adidas is today battling a boycott call from Viva for using Kangaroo skin to make some types of football boots. As a result, Adidas is phasing out the use of kangaroo leather by 98 per cent over 12 months but will still use small amounts of it - so the boycott continues.
One of the political consumer boycott is the campaign to boycott Cadbury "until we see evidence that Cadbury are paying tax commensurate with their sales in all countries in which they operate, we will refuse to buy from a company who avoid making their appropriate contributions to wider society."
Another ongoing boycott is that of Starbucks from the US Organic Consumer's Association over its treatment of Ethiopian coffee farmers. It is also heavily criticised by Ethical Consumer over corporate tax avoidance.
If Raila called for a consumer boycott, it is most likely to take immediate effect especially in areas where he wields huge political influence.
But the end results may be devastating. Why?
First, the security of distributors of the boycotted products won't be guaranteed. As such, the first casualty will be transport companies. Given the perishable nature of such products, say milk or bread, the manufacturer will stop optimal production.
Second, the manufacturer will run into losses. Layoffs will follow. Eventually, the economy will be hurt. Recovery won't be too easy.
Third, the move is likely to invite legal battles focusing on defamation and libel. Even then justice through the courts may come too late for the affected. In any case, the brand goodwill may be soiled forever.
But that is as far the sabotage can go. The problem with political consumer boycotts is that they are divisive and will be politically fought fiercely by the other protagonists.
There is a likelihood that some of NASA financiers and or supporters may have direct interest or shareholding in companies whose products are to be boycotted.
Given that it is political, another danger would be that the other suppliers will equally shun supplying the alternative products to the boycott hotspots. This would happen in solidarity or due to the fact that they are Jubilee Party supporters.
Depending on the choice of products or service to be boycotted, it may equally not come easy. If affordable options to the products or service to be boycotted do not exist, then enforcing the same might be difficult.
Such a move would be counterproductive. With extremely low supply, the demand will increase and prices will go higher, beyond the reach of many.
The other danger is that it could easily, from past experiences, take the anarchist angle of ethnic profiling where certain shopkeepers may choose not to sell certain high-demand products to suspected members of a given community.
It could also lead to human resource alignments in manufacturing firms which may drop staff thought to be sympathetic or hail from the same region as Raila's. On this, the middle or higher income class will feel the pinch.
Raila is also on record saying that the planned consumer boycott could affect telecommunication firms. He is on record castigating one such firm.
Practicability of enforcing consumer boycott against the near monopoly market leaders in some sectors would prove to be a major test.
In short, therefore, economic sabotage in the name of consumer products is a dangerous endeavour which ideally shouldn't be allowed. It has no precedent. The intentions will leave devastating effects to the economy long after short term political targets are attained.
It would interest the Government to find ways and means of dissuading NASA from commencing a politically-driven consumer boycott. Grandstanding by politicians from both sides of the political divide can't help. Our local and international trade would be adversely affected.
By allowing the economy to be hurt from such an expensive protest would be a wrong gamble which will serve to erode many gains.
The buck stops with President Uhuru Kenyatta to ensure political intrigues are not allowed to interfere with trade. His Government must ring-fence the market and protect the consumer from a political consumer boycott.
- The writer is the Secretary General of the Consumer Federation of Kenya (Cofek)