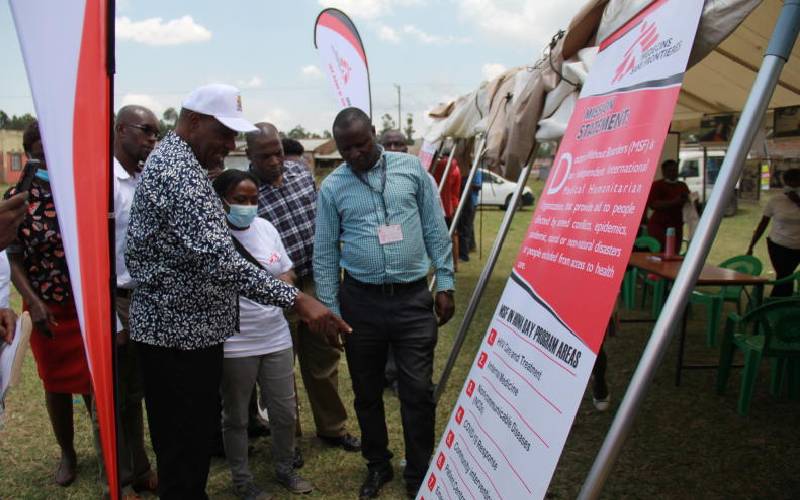 The Medecins Sans Frontiers (MSF) is doing a study on enhancing efficiency in early diagnosis of Tuberculosis (TB) among HIV/Aids positive patients.
According to Dr Emetole Earnest of MSF in Homa Bay County, many HIV/Aids patients contract TB as an opportunistic infection. Homa Bay is one of the leading counties in HIV infections. This means many people are prone to TB infections.
"HIV positive patients are vulnerable to either drug-resistant and drug-sensitive TB. They contract TB as an opportunistic infection," Earnest said.
The MSF is undertaking a study called Fugilam aimed at using urine to detect TB among HIV/Aids positive persons. The study is being undertaken in Homa Bay County. The MSF project coordinator in the county Dorothy Esonwune said the study is aimed at coming up with a more efficient way of detecting TB among HIV/Aids patients.
If proven effective, the method will enhance the early detection of TB in both rural and urban health facilities.
"The study is still going on and findings will be made public. But we are optimistic that will enhance efficiency in early diagnosis of TB," said Esonwune.
The study began in September 2020. She said they are undertaking various interventions to help reduce the infections.
"We are undertaking various interventions including detection and advocacy in the fight against TB," she added.
According to Homa Bay Health Executive Richard Muga, Homa Bay currently has 2,020 people have been diagnosed with TB in the last one year.
"At least 25 people among them were diagnosed with the drug-resistant TB. They are currently undergoing medication in the hospital," Muga said.