Titanic battle for top seat looms as Kisumu big guns unveil strategies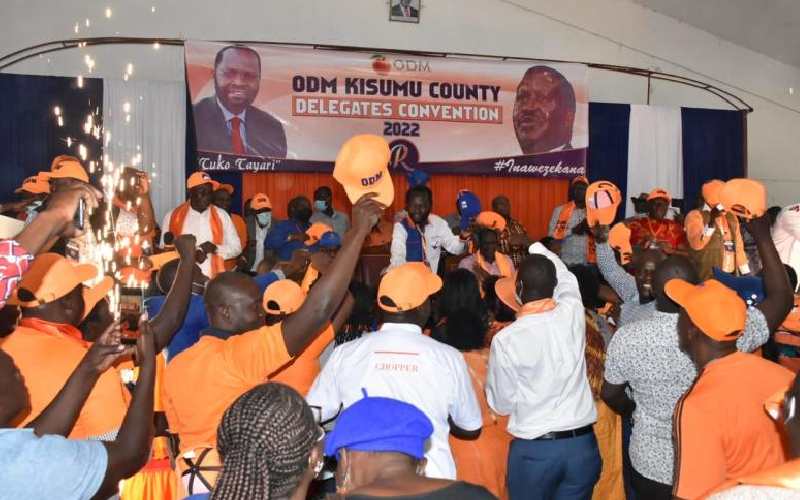 Differences between friends, controversies surrounding party primaries, track records and clannism are shaping the race for Kisumu governor's seat.
Former Kisumu Central MP Ken Obura, former governor Jack Ranguma, Senator Fred Outa and former Kisumu speaker Onyango Oloo have forged a united front against Governor Anyang' Nyong'o.
The group has settled on Obura to battle for the ODM ticket but have vowed to field another candidate to compete against Nyong'o should Obura miss out on the ODM ticket.
As Nyong'o, who entered Prosperity House as a reformist, continues to implement his development card to complete a number of projects, his opponents are on overdrive with campaigns to unseat him.
The Obura group has unveiled their campaign war chest and have been traversing the seven sub-counties to market their union and discredit Nyong'o.
Outa, who campaigned alongside Nyong'o in the 2017 polls before they fell out says he was ready to lose his political career to ensure Nyong'o is sent home.
It is still unclear what his next move will be after the group settled on Obura but sources claimed that he is still exploring his options and might also end up on the ballot.
"Nyong'o has failed Kisumu and we are committed to ensuring that we unseat him," said Outa.
Some former officials who held key positions in Nyong'o's administration including two County Executives and Chief of Staff have also joined the group that wants Nyong'o kicked out.
The group is also thinking fielding Ranguma as an independent candidate to increase their chances of unseating Nyong'o whose efforts of transforming Kisumu stands him in good stead for another term.
Businesswoman Awuor Meso is the latest entrant in the race. She is confident she will take over the leadership of the county.
Meso, 35, told The Standard that her focus will be establishing industries and expanding business opportunities for the residents.
Unlike her opponents who have opted to take on Nyong'o head-on and criticise his track record, Meso insists her campaign is centered purely on her goals for the county.
"I am confident I have what it takes to lead Kisumu. My priority will be revamping businesses and ensuring that there are opportunities for our people," she said.
She will be contesting as an independent candidate.
Nyong'o's opponents accuse him of engaging in "dirty tricks" to stifle their campaigns.
Outa and his allies have criticised the decision by Nyong'o's administration to ban posting campaign stickers and banners in the city ahead of the Africities summit in May.
They claim the move is aimed at his opponents who are keen to unseat him.
A scramble for ODM delegates and elders for endorsements have become a common feature in the lakeside city as the aspirants scramble for support.
A decision by some ODM delegates from the county to endorse Nyong'o for a second term sparked an uproar among his opponents who claimed the move was discriminatory.
Although the event had been dubbed as an Azimio la Umoja meeting for all aspirants and delegates, things changed when the participants rallied behind Nyong'o.
They insisted that Nyong'o had performed well and deserved another term.
Visiting Governor James Ongwae and ODM treasurer Timothy Bosire praised Nyong'o, saying he deserved another chance to continue with his reform agenda.
Outa told The Standard that they will also meet "genuine" delegates but said that they had already settled on Obura.
Despite their spirited efforts, unseating Nyong'o will be a tall order given the support he enjoys from several quarters.
At the county assembly, almost all MCAs are backing his reelection and within the ODM party, Nyong'o enjoys the backing of senior officials.
With the Orange party pushing for a six-piece voting pattern in its strongholds, the support of senior officials who command a lot of respect and following in Nyanza could help Nyong'o's chances should he win the ODM ticket.
According to MCAs David Arao (Railways), Joachim Oketch and Seth Kanga (Market Milimani) Nyong'o's track record is enough to earn him another term.
The governor has overseen the implementation of a number of projects including city beautification that has been praised by several stakeholders.
Huge investment in the health sector is also one of the development projects that Nyong'o is hoping residents will consider and give him another term.
On Monday, the county reached another milestone after their partnership with the national government and a learning institution gave birth to the first Comprehensive Cancer Centre.
"There is a documented annual increase in the incidence of cancer with projections that the number of diagnosed cases will continue to exponentially rise in the coming years. We need to prepare for this," said Nyong'o.
During the first three years in office, the governor invested heavily in the health sector.
The infrastructure of the county's largest referral hospital, Jaramogi Oginga Odinga Teaching and Referral Hospital (JOOTRH) has been upgraded.
His administration has also installed an oxygen plant at the facility. The plant can produce 600 litres of oxygen per minute.
Other sub-county facilities including Lumumba Hospital have also been improved.
During Nyong'o's tenure, the national government also implemented projects including the Sh3 billion port as well as the revival of the Nakuru-Kisumu railway line.
Other projects include the Uhuru Business Complex and Jomo Kenyatta Stadium.
Although his opponents are chiding him and claiming that the projects were not done by his administration, Nyong'o and his supporters believe the collaboration and the good-working relations with the national government played a significant role in their implementation.
His opponents however are unconvinced with his performance and want him out of office.
They believe the surest way of achieve that goal is fronting one candidate.
Nyong'o believes his reform agenda and efforts to address some of the teething problems Kisumu has faced for decades, will earn him another term.
"I find it strange when some people who managed this county before us, claim that we are depending too much on development partners," said Nyong'o.
In an apparent attack on Ranguma who was the first governor and Obura, a former Kisumu Central MP, Nyong'o said they did nothing to attract development.
"When they were in power, they failed to court any development partner because of their leadership style and lop-sided policies. The city lost its glory and the confidence of investors," said Nyong'o.
As part of the efforts to endear himself to the voters, Nyong'o is racing against time to complete several projects that he initiated as part of his economic blueprint.
A failure to complete the projects will put him in an awkward situation given that some of them led to the displacement of several businesses.
The projects include the modernisation of the Kibuye market which has been a subject of controversy for several months.
Already, new structures have been built at the market with the contractor tasked with delivering the project racing against time.
The first phase cost Sh315 million while the second phase is expected to consume about Sh185 million.
In the 2017 polls, Nyong'o garnered 272,127 votes against Ranguma's 156, 956 votes.