Group of elders endorses Gladys Wanga for governor job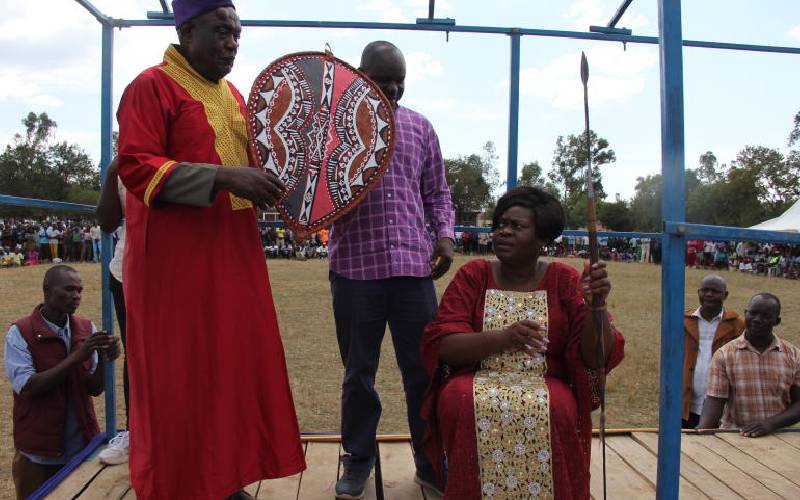 A group of Luo elders has endorsed Homa Bay Woman Representative Gladys Wanga to vie for the governorship next year.
Luo Council of Elders Kochia Ward chairman Odul Kabaraka, who led the ceremony held at Ligisa Secondary School in Rangwe Constituency, said they had assessed Wanga and concluded she has what it takes to be the next county boss.
In a move seen as critical in breaking the glass ceiling for women seeking elective seats in the region, Kabaraka said: "Let our people know elders see things differently. We are offering this county the best candidate for the position of governor in Gladys Wanga."
Women seeking elective seats have faced many challenges with those married being limited to where their spouses come from.
The event was attended by more than 30 MCAs and thousands of residents who included professionals and members of the business community.
The ceremony started with the legislator's husband, George Wanga, allowing her officially to run for the county's top job.
"I am officially presenting to you my wife so she can contest and become the second governor of Homa Bay," Mr Wanga said.
Thereafter, the elders handed her a traditional shield and a spear to serve as an indication she was ready for battle, in the governorship race.
Kibaraka said the time has come for people to drop the belief that women cannot lead.
"We have assed her and learnt she has the requisite credentials to lead this county in the office of governor. What we are doing here today should also help our society address male chauvinism that has seen men prejudice women for many years, preventing them from realising their full potentials," he said.
If elected, Wanga said she will prioritise healthcare, by equipping health facilities and stocking them with drugs.
"Healthcare becomes too expensive when residents are forced to buy medicines in private chemists. I will seal loopholes which have been led to this," she said.