Two suspects arrested for allegedly killing 49 cattle, injuring 170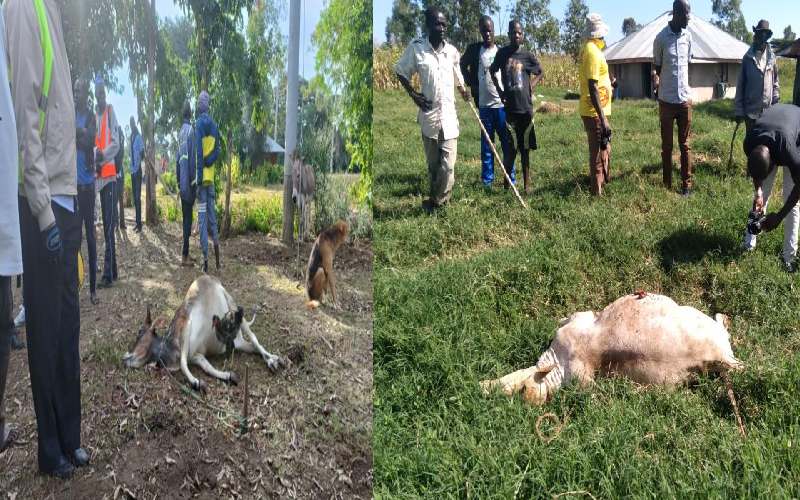 Two suspects have been arrested in Homa Bay County for allegedly killing 49 cattle and injuring 170 others in Mbita and Ndhiwa sub-counties.
The two were arrested during a raid conducted by security officers on Sunday night and Monday morning in more than five locations in Ndhiwa.
They were taken to Ndhiwa Police Station for further interrogation before being arraigned in court.
During the arrest, police recovered a spear and three pangas believed to have been used by the suspects to attack and maim the cattle.
Homa Bay County Commissioner Moses Lilan said the duo was arrested on Monday morning.
Lilan said the two suspects are implicated in killing and injuring the cattle owned by innocent farmers in the two sub-counties.
"This morning we managed to arrest two suspects believed to be behind the killing of the livestock," Lilan said.
The police boss said authorities had got intelligence that the two were working in cahoots. Unfortunately, their accomplices disappeared into their hideouts.
The administrator called on residents to co-operate with security officials and reveal confidential information regarding the suspects.
Lilan revealed that police were also following some crucial leads to aid the arrest of the other suspects linked to the heinous act.
According to him, investigations will be extended to Kisumu and Migori counties where they believe other suspects are hiding after fleeing Homa Bay.
On Tuesday last week, unknown suspects raided a number of villages in Mbita Sub-county and killed 31 cattle and maimed more than 28 others.
More than 12 farmers in villages of Kayanja and Waondo Sub-locations were adversely affected by the heinous act of cruelty against their livestock.
A similar incident was repeated in Ndhiwa Sub-county last Sunday.
18 cattle were killed while more than 120 others were left with injuries by the gangsters.
So far over 10 villages in South Kanyamwa and North East Kanyamwa locations that highly depend on livestock rearing as their source of livelihood has reported cases of attack.