Raila heads to Kisii as Ongwae succession politics hots up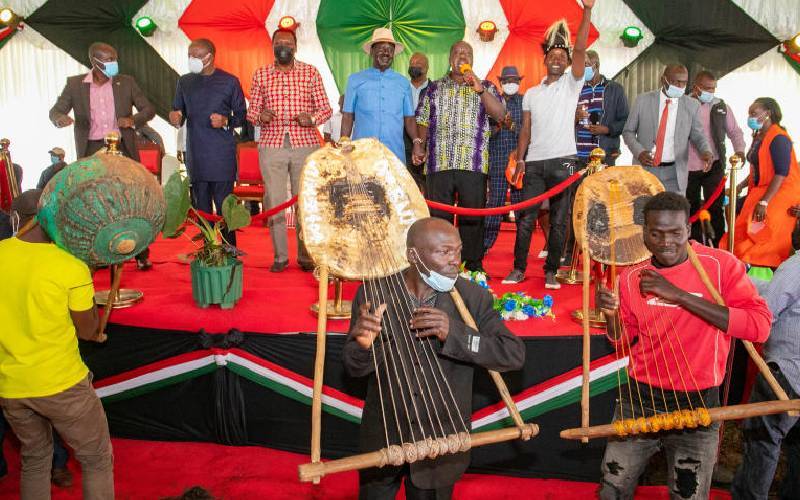 ODM leader Raila Odinga is expected in Kisii County amid heated party politics over Governor James Ongwae's succession.
Raila's visit comes barely two days after he received some defectors among them Kitutu Chache South MP Richard Onyonka who has been serving as Ford Kenya's deputy party leader for nearly five years.
Others include former Bomachoge Chache MP Simon Ogari as well as former Nyaribari Chache MP Dr Simon Monda.
Samuel Omwando who has been warming up towards Deputy President William Ruto also attended the Thursday meeting at Orange House.
Ironically, Ongwae, Senator Ongeri, Woman Representative Janet Ongera and the only elected MP from Gusii Pavel Oimke-Bonchari did not attend the meeting.
Until a few days ago, Omwando was the United Democratic Alliance (UDA) Kisii county coordinator although he had not officially resigned from the Orange party.
He contested the Kitutu Chache parliamentary seat on the ODM ticket in 2017 but lost to Onyonka.
On Sunday, Raila will be hosted by Governor Ongwae in Kitutu Chache North constituency, home to current longest-serving MP Jimmy Angwenyi who is also Jubilees' Deputy Majority leader and who has hinted at joining the ODM party.
The former premier's visit to the region comes at a time when some top party leaders from the region have been split over succession politics. The split is occasioned by the impending retirement of Governor Ongwae who has served his two constitutional terms.
The enthusiasm for the ODM party ticket among top leaders in the county has brought to the fore the political jostling among seasoned politicians from the region.
Three top ODM leaders are out to succeed Ongwae who has cast his net wide and joined Raila's national campaigns.
Senator Prof Sam Ongeri, Woman Representative Janet Ongera and Dagoreti North MP Simba Arati are all hoping to clinch the ODM party ticket.
While Ongera presents an opportunity to break the patriarchal barrier, Arati on the other hand cuts the youth image and politics of generational change.
Prof Ongeri too represents the status quo group in a community that has the elderly as the largest voting bloc.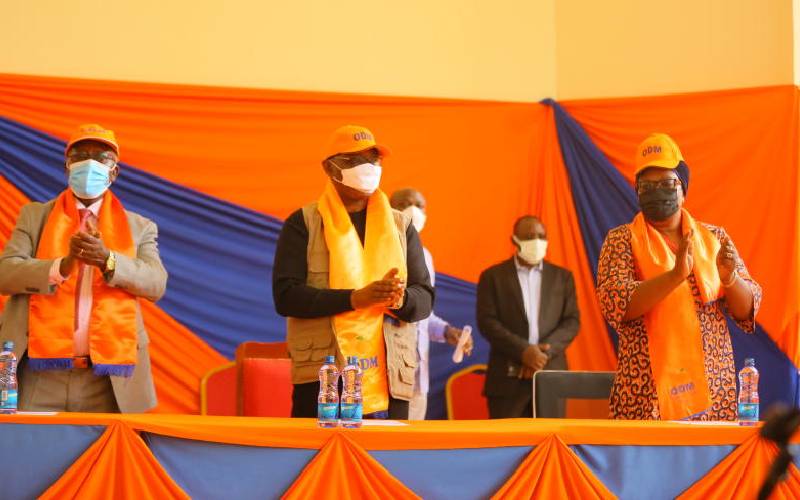 The internal rebellion in ODM has already led to the creation of two camps within the party. The party's support base has aligned itself either towards the Arati or Ongera-Ongeri led faction.
The three top candidates are already playing into the whims of party loyalty, clannism and campaign for change.
From funding social activities to enticing the youth through handouts, none of the prospective aspirants wants to be left behind.
According to Ms Ongera, for the first time, the region is not discriminating against women in politics.
"We need mature politics based on one's development record. The issue-based campaign will give us a better community. I am not joining politics because I am a woman, it is because I believe that I have delivered in my previous assignments and have the capacity and capability to deliver for our county," she said.
Arati says he is fully aware of the machinations to side-line him from the ODM party. "I will not be distracted by my would-be opponents. I am determined to take over from Ongwae. He has done his bit and it's my time to take over."
In a seemingly clever way to water down Prof Ongeri's support base from the Abanyaribari clan, Arati has picked former Nyaribari Chache MP Dr Simon Monda as his running mate.
Ongera and Arati hail from the larger Ababasi clan and it could be interesting on how the two will perform right from the home base.
Prof Ongeri on his side maintains he has exceptional familiarity with the successes and in-depth knowledge of the prospects and challenges ahead.
"We need the experience to manage county resources. We need a sufficiently deep understanding of how to build upon the accomplishments of the past," he said.
Meanwhile, Ongwae has been working closely with the Ongera-Ongeri team and have in the recent past, together opened the County ODM party offices.
The governor has been attending key functions graced by Raila and is touted as among ODM honchos expected to play a significant role in the 2022 campaigns.
The Abagusii voting patterns for a long time has been attributed to clanism, other than political party affiliations. Due to this, most candidates contesting the various political seats are always cautious on how to handle the clan factor.
Political pundits argue that, in Kisii, a clan that has its members in leadership positions has an advantage over other clans in accessing community resources. This perception makes clan politics a unit for political mobilisation and action.
Sharing of political leadership positions in 2013 and 2017 in Kisii County helped ODM party clinch all three County seats.
The party came out with a power-sharing formula that saw each clan assured of some leadership position in the county.
In 2013, the Governor seat went to Abagetutu, Senator (Ababasi), Deputy Governor (Abamachoge), Woman Representative (Abanchari) and Speaker (Abanyaribari).
2017 Abagetutu and Abamachoge maintained their respective positions while Abagirango got the Speaker's position and Ababasi got the Woman Representative seat. Abanyaribari got the senate seat.