Questions raised over foiled Kisumu bank theft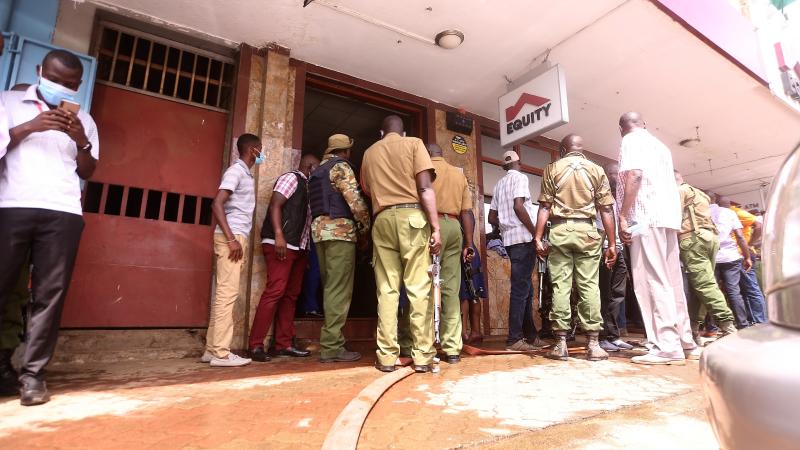 Just what happened at Equity Bank, Ang'awa Branch in Kisumu?
This is the question detectives are trying to get answers to, even as investigators yesterday followed crucial leads obtained from CCTV footage.
Also unclear was how the four robbers in the attempted heist slipped through police fingers in broad daylight. Senior officers were cagey about sharing information about their preliminary findings.
Details also emerged that officers at the scene could have bungled the operation, leading to the escape of the four.
Detectives are also exploring whether some officers could have smuggled teargas canisters to the robbers for use in the raid. By this evening, no arrest had been made.
A detective privy to the probe, but who preferred anonymity, told The Standard they would establish if there was security lapse at the bank. "Investigators are exploring a number of grounds and we are optimistic the CCTV footage is crucial," said the officer, adding that documents and fingerprints from the scene were being scrutinised.
There was, however, a twist in the investigations after police recanted their earlier admission that the robbers had firearms.
Yesterday, Nyanza Regional Commissioner Magu Mutindika said: "The thugs were very clever. They used tear gas canisters to distract law enforcers and escaped during the melee. They did not have guns."
According to Mr Mutindika, all the 20 people evacuated from the bank were found to have been clients and employees.
He said it was clear that the suspects escaped during the shootout and not during evacuation. The bank and police have said no money was lost in the incident.