Land disputes, poverty to blame for senseless lynching of the elderly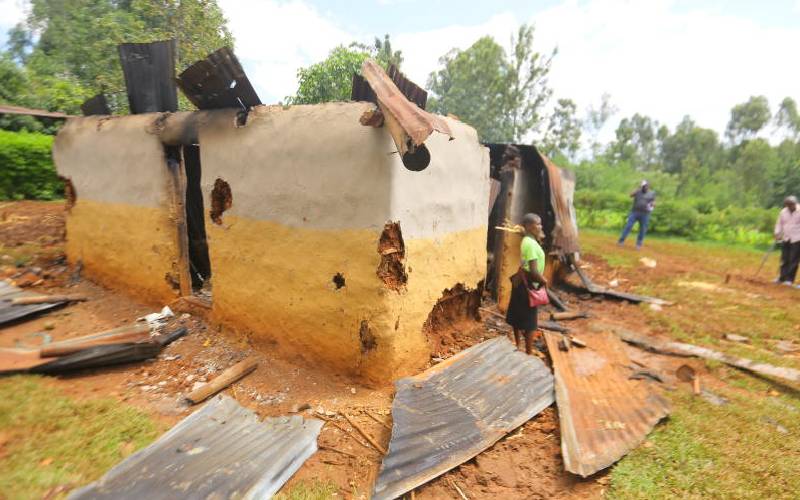 About two weeks ago, a video emerged on social media of a woman pleading with a machete-wielding man to spare her life. Her attacker paid no heed to her pleas and minutes later, the granny had been slashed to death, and her body set ablaze as dozens of villagers watched.
That was on October 17 at Mokona, Mwagichana location in Marani Sub-County in Kisii. The woman, Agnes Moraa Ototo, 57, was lynched alongside three other elderly women and a man over alleged witchcraft.
The others were Jemima Nyang'ate Mironga, 65, Sigara Onkware, 62, and Sindege Mayaka, 85. They were suspected of having bewitched a Form Four student. According to police records, the student, who was found by the roadside, was unable to speak, prompting the villagers to 'initiate a process of identifying the alleged witches'.
Walking along a narrow path leading towards Nyang'ate's home in Nyangonyi, one is confronted by ashes. Villagers walk past the ashes talking in low tones, the events of that day still fresh in their minds.
At the home, lies the debris of what was once a two-bedroom mud-walled house. The deceased's grandsons, all of them, ran away from home fearing further attacks. Three of her dairy cows, her only source of livelihood, were stolen by the perpetrators of the heinous act.
Nyang'ate was dragged from her home by a group of blood-thirsty youth, including a grandson who is currently being held at Rioma Police Station.
Her nephew, Moses Orioki, says she was killed after she refused to yield to a request to sell part of the family land.
"We held several meetings but she was of the opinion that the family land was too small to sell. At her age, she didn't see any urgency or need to sell the family land," Orioki said.
The family of the said Form Two student lives adjacent to the homestead. Here, nobody goes to the home, few understand how the heinous act was planned.
Women stand along the path holding their cheeks as we walk to the next victim's home. More than 10 armed police officers accompanied us.
A church service is on at the Nyangonyi ELCK (Evangelical Lutheran Church in Kenya). Less than 15 metres away, a group of human rights activists has called a meeting. Less than 20 people are willing to attend.
Word had gone round that more suspects could be arrested. There were also murmurs that several youths were yet to return home a week after participating in the killings.
At Nyangonyi Primary School's playground is another scene where a third victim was killed. She could not express herself coherently, according to witnesses. The family says she had been diagnosed with a mental problem several years back.
Here there are no family members. Area chief Simon Omwenga says the families are yet to come to terms with the killings.
We crossed over to Kitutu Chache South in Bomatara village where five people were lynched 10 years ago.
A video emerged on the internet showing five people burned over witchcraft allegations. Here, five people were beaten, kicked and had dry branches thrown over them to 'keep the fire burning'. Police arrived hours later when they were all dead.
The community's progress had been set back to the dark ages. The young and old watched as their children, uncles, aunts, grandmothers and grandfathers died slowly in pain.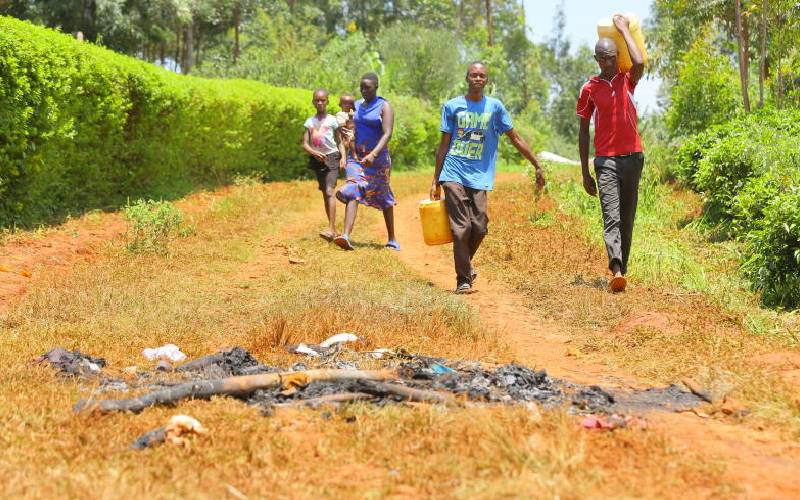 Ronald Isaboke* lost his father in the raids. Unfortunately, he was among those who led the killings. He went home hours later only to be told his father had also been burnt to death.
"I didn't know that my father was a suspected witch too. I lost hope in life and decided to go back to church. I am hurt. This should not have happened," he said.
The family later sold nearly 80 per cent of their land. A number of other families too have died since then with Isaboke having gone back to taking illicit brew and occasionally taking up casual jobs.
Andrew Nyamache, a village elder, says the ring leader of the raids at the time was also consumed by a fire that burnt down his one-bedroom house.
"One afternoon, he dropped by the market and bought some meat. He decided to rest on his bed as the meat cooked. We don't know how the house caught fire but he had been burnt beyond recognition by the time we responded," Nyamache said.
Nyamache explains that more than 10 families sold their entire ancestral land and left. "Some of them were arrested and charged. They came back after their acquittal, sold off their land and left," he said.
He said that it is near impossible that some of the perpetrators could still live in the same village. "People changed their church membership and even transferred their children to far away schools. Those who have bought land here have at least brought back hope," Nyamache said.
In Nyangiti village, in Kisii South is Meshack Mokua, 30, who lost his mother, Alice Moraa in 2014. Moraa was among five people killed on suspicion of being witches. All that remains of his mother is a video that was recorded by the perpetrators. "I have been struggling to put up a family. The church has been my solace. I know all those who killed my mother but I leave it to God," Mokua said.
In the same village, John Makori, was butchered in January 2014 allegedly by a close relative on allegations that he had bewitched his mentally ill son.
Makori's widow Ann Nyamoita said she does not believe her late husband was a witch. "He was killed due to land issues within the family," she said.
Last week, Kisii Governor James Ongwae formed a task-force to investigate the lynching of the four elderly women in Marani Sub-County. He said it was unfortunate that in the 21st century, people still hold beliefs on witchcraft, saying there are legal mechanisms of dealing with suspects.
"There is no reason whatsoever to lose precious lives due to mob justice on flimsy grounds of alleged witchcraft. The women who died in a shameful manner, in the hands of fellow villagers, deserved justice," he said.
Chair of the 14-member task force, Edina Kangwana says they will be looking at whether the belief exists and if so, why?
"Who said the rituals that are undertaken are true and can serve the intended purpose? We have several underlying issues and maybe gaps in policy and legislation processes that we could look into."
However, she says the Constitution is supreme and the team will be guided by it. "Why only kill the old? We have issues to do with poverty which at some point lead to violence, drug and land conflicts," she said.
Kangwana said there are also unresolved issues within the community they will seek to understand.
"It is common that the lynching involves relatives and that the killings are not restricted to one particular area in Kisii but can erupt in all parts of the community."
The task force, she says, will also look into putting in place mechanisms to curb the killings.
Battle for land and bid to disinherit widows of property have featured mostly as a reason for the killings.
Kisii Land Registrar Steve Mokaya said a number of families have several long-standing land tussles.
"We have families who have refused to undertake succession. Families are still living on ancestral land without proper demarcations or sub divisions."
Kisii Culture and Social Services Director, Obino Nyambane says witchcraft is just a myth.
"It doesn't affect those who don't believe in it, it only forms one's psychological view and it is mere imagination," he said.
Obino says they will sensitise the public on the issue."It is the way people look at it. In our Abagusii culture, suspects could only be excommunicated, not killed. We have been unable to separate witchcraft from night runners."
Kisii County Commissioner Allan Macharia said it is criminal to kill anyone based on suspicion.
"All those in police custody will be charged with murder. For us to sustain this war, we must have enough evidence that can be used in prosecuting the suspects."
He said, police can only charge the suspects once they get enough information from the public. "Residents must offer to record statements. Chiefs will be holding meetings every two weeks," he said.