Plumbers turned solar 'experts' light up schools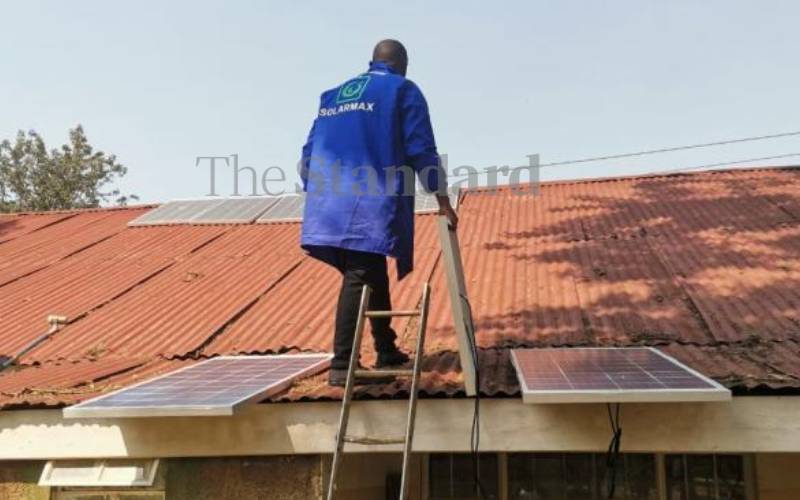 When Charles Mogaka and three others began a Digital Solar backup system to light up schools in remote areas, little did they know the huge demand their services would attract.
Through their innovation, Mogaka, Anthony Mutua and Boniface Ondigo have installed solar systems at seven schools in Nyanza and Western regions.
Mogaka and Ondigo graduated from Kisii Polytechnic ten years ago with a diploma in plumbing while Mutua is a graduate of electronic engineering from Mombasa Polytechnic University College.
Mutua had initially developed a shoe that could charge a phone. He had developed an ultra-thin chip of crystals that would generate electricity when put under pressure.
The shoe, whose technology was patented in 2012, was then priced at Sh3,800 and had a two-and-a-half-year guarantee. Mutua was in 2016 named among Africa's top 100 influential youths.
Mogaka, who is undertaking a business management course, is also the innovator of the Automatic Fire Extinguisher machine and an Artificial Anti-Terrorist Evacuation Systems.
Tabex Company, which they formed three years ago, has installed the digital solar system in Magena Girls in Kisii, Butere Girls, Gionseri, Riokindo Boys, Magege Mixed, Gwasi Girls in Homa Bay County and Mukumu Girls.
Mogaka says that many schools with large, flat roofs are untapped resources for renewable energy and could help cut costs.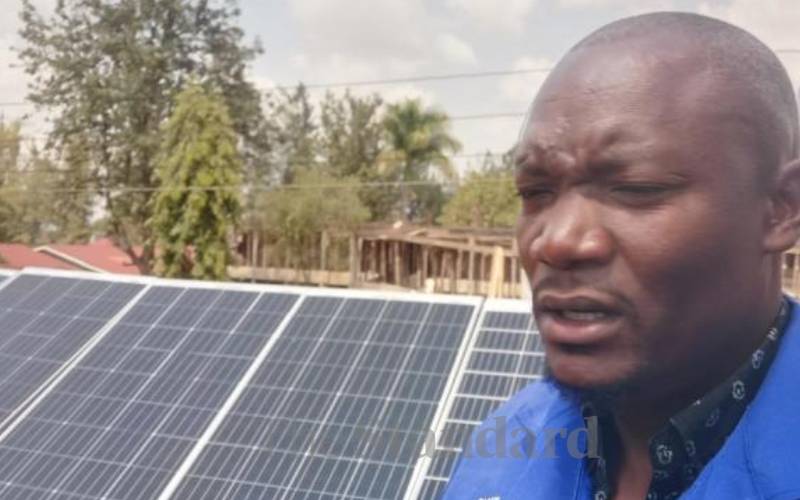 He says he approached the management of various schools to market the idea of installing solar panels for a better and improved learning ecosystem.
Mogaka says the system could light up to six classrooms for eight hours.
"The system can be used to curb the many fire incidents. There are minimal excuses for the electricity fault," he said.
The stored energy, he says, is majorly used at night for lighting. But during the day, it is used for 'light' duties like charging phones.
"Most schools prefer solar as an alternative. We charge slightly above Sh250,000 for schools, but we plan to extend to homes. We charge for designing the system. Initially, we used to do it for free," he said.
He says their firm provides solar panels of 100 watts each, three solar panels of 150 watts each, and those with 600 to 1200 watts each.
"We want to set a standard package for homes. The price of electricity has steadily increased over the years. Schools and homes that use solar energy can save an average of Sh200,000 and Sh20,000 annually, respectively," he said.
"Green energy can have a lasting impact on the lives of young people in some of the poorest communities."
However, the three face some challenges, including late payment from potential clients, costly government licenses and financial constraints.
"This is a self-sustainable project. We have employed more than 10 people. Our target is to expand it to other regions across the country."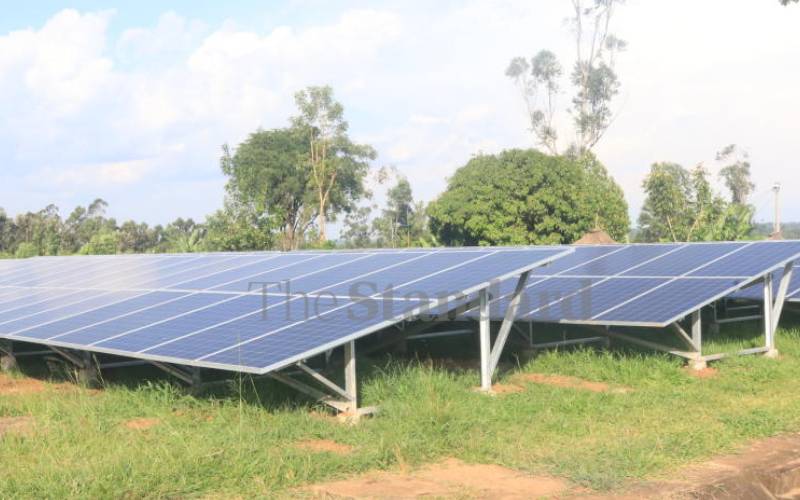 Mogaka says they have been able to put into use their innovation and entrepreneurial skills.
"The youth should try and venture into other fields and tap into available opportunities. College or university education was only to serve as a gateway into the job market."
Fred Mogaka, the former principal at Riokindo Boys, who was transferred to Kisii High School early this year, says the installation of the solar system saved the institution almost half of the electricity bills.
"It is a sure way to green energy. It is less costly and efficient. Yes, it can curb the fire incidents we have been experiencing in schools," he said.
According to estimates by the International Energy Agency, solar photovoltaic energy will contribute close to 47 per cent of the technology mix for mini-grids and off-the-grid systems power generation in sub-Saharan Africa by 2040.