Sugar mills breakdown spell doom for farmers, transporters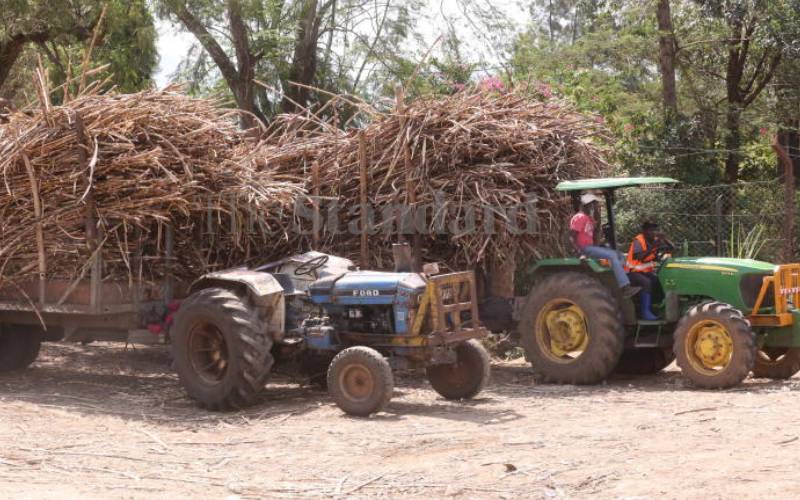 It has been a period of pain for hundreds of farmers in the Nyando sugar belt after two key millers in Kisumu halted operations.
Trucks waited for up to four days to offload sugarcane, occasioning heavy losses for sellers.
At Miwani weighbridge, which is owned by West Kenya Company, some truck drivers stalled with cane for up to five days.
Kibos Sugar Company experienced a breakdown and could no longer take sugarcane for crushing.
"Ever since Kibos Sugar Company halted its operations we have known no peace as we see what we have worked so hard for going to waste," said Daniel Owich, a farmer.
In Kericho, where there is currently no sugar miller after the collapse of Soin Sugar Factory, hundreds of farmers are stranded with their harvest at a local weighbridge.
The county produces over 4,000 tonnes of sugarcane, which accounts for 60 per cent of sugarcane produced in the Nyando region.
In a letter dated August 27 and signed by Kibos Sugar Harvesting and Transport Manager, the company indicated that it suffered a breakdown involving the turbines and asked farmers not to transport any cane until further notice.
"You are requested to move any loaded tractors parked at the weighbridge yard to any neighboring factory," the letter reads.
While Kibos Sugar, a private miller had a breakdown that took days to repair last week, it is around the same time Muhoroni was undergoing maintenance, which further complicated the situation.
This laid bare the brittle sugarcane business, given that in the Nyando sugar belt, none of the three millers are operating at full capacity.
Muhoroni could only crush 1,000 tonnes of sugarcane in a day, Chemelil much less than that, while Miwani Sugar Company has been grounded since 2003.
A section of farmers have now put on notice Francis Wangara, the secretary-general of the Kenya Union of Sugarcane Plantation and Allied Workers, (KUSPAW).
He is among those who went to court to stop leasing of the five State-owned millers until the money farmers are owed is paid, or a proper compensation arrangement is put in place.
However, Wangara contends that neither him nor KUSPAW can be held responsible.
"We wrote a consent note to the Office of the Attorney General because they are the ones representing the Ministry of Agriculture and so on, suggesting that we are prepared to withdraw the case if our demands as indicated have been addressed," he said.
"We wrote that letter in September 2020. Up to now, we have not got any reply from the office of AG, Ministry of Agriculture or any other body."
Meanwhile, representatives of farmers' unions have faulted the government for continuously bailing out the public-owned millers.