Fisherman killed, his body dumped in Lake Victoria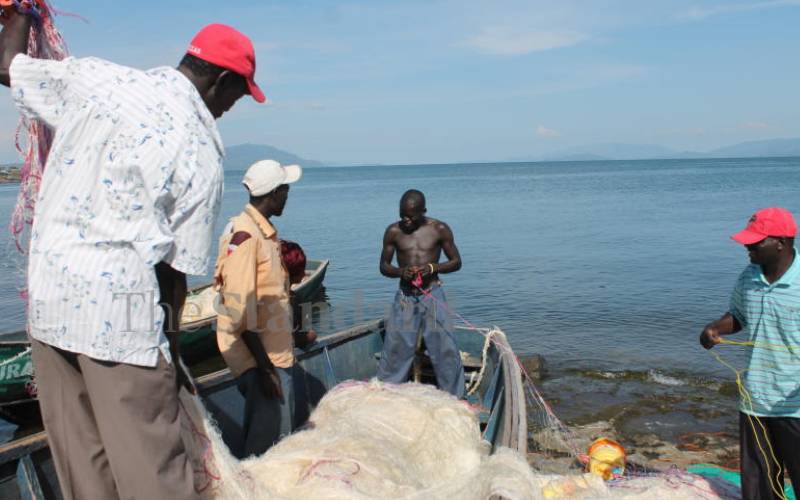 Tension is building in Sindo following the death of a 28-year-old fisherman.
Arafat Nguka alias Major is said to have been shot dead by security officials from Lolwe Island in Uganda yesterday morning, and his body dumped in Lake Victoria.
The 28-year-old was in the company of his three colleagues who hail from Sindo Gateway beach in Suba Sub-county when the incident happened.
It is reported that the four left Sindo on Wednesday evening for a fishing expedition near Ringiti Island.
And at around 7 am as they were returning to Sindo, they met Ugandan security officers about 10 metres away from Ringiti Island.
The security officers had allegedly arrested other fishermen in more than seven boats.
The officers attempted to stop them but Nguka, who was the coxswain, did not stop the boat. Angered by the situation, the officers began pursuing the fisherman and one of them is said to have shot Nguka in the head.
Mbita sub-county police commander Stanley Atavachi said the incident occurred in Ugandan waters.
"Such a matter is handled by the Ministry of Foreign Affairs," Atavachi said.
Homa Bay County Beach Management Network chairman Edward Oremo said Nguka died on the spot.
"The security officers overpowered the fishermen and dumped Nguka's body in the lake," Oremo said.
He noted that a cartridge from the bullet which shot Simon had been recovered.
Oremo called on the government to come up with a permanent solution that will end cases of harassment in Lake Victoria.
"This is a wake-up call to the government that things are not good in Lake Victoria," Oremo added.
In Sindo town, both the fishing and business communities were disgruntled following the death of Nguka.
"Our people are being harassed in the lake to the point of losing lives," said Caleb Abul, a fisherman.
The fishermen leadership called on the Kenya Coastguard Service to help them retrieve the body.