Bluewater graft: How police extort fishermen in Lake Victoria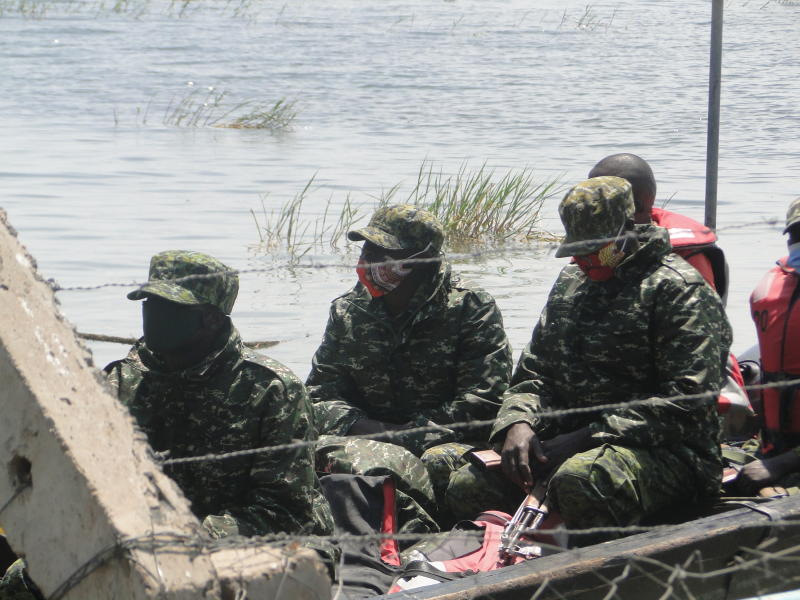 James Onyango stares blankly at the waters while leaning on his wooden boat at a beach in Lake Victoria.
The 30-year-old fisherman feels betrayed. Fishing has been his source of livelihood for five years, but it has recently turned into a nightmare and an unattractive business.
Onyango is among the 18 fishermen who were released on Sunday after spending two days in Ugandan police cells.
"Things have changed. We are being arrested every day and our boats, fish and gear confiscated by Ugandan authorities," says Joshua Ochieng, Onyango's compatriot.
The lake has been a source of livelihood for many for decades, but now almost every fisherman only has a sad story – police harassment, arbitrary arrests and detention, extortion and dwindling fish stocks.
"Hippos and crocodiles used to be our greatest enemies, but now Ugandan authorities have become more dangerous," says Ochieng.
So far, hundreds of fishermen have been arrested by Ugandan security officials, tortured, detained and made to part with huge amounts of money for allegedly trespassing into the neighbour's side of the waters.
The Standard has established that some of these arrests are not only illegal, but are stage managed by rogue Ugandan officers in collaboration with their Kenyan counterparts.
Multiple sources describe the arrests in the lake as a huge money minting industry, as cartels stage manage them and demand kickbacks and fines.
The extortion ring is controlled by rogue police officers, money transfer agents, fisheries officials, traders, beach management officials and revenue officers.
The fishermen say the extortionists take advantage of the fact that Kenyan police officers are ill-quipped and cannot conduct patrols on the lake, giving them an opportunity to run a thriving illicit enterprise.
While the East African Community Treaty allows free movement of goods and traders across the three countries – Kenya, Uganda and Tanzania – including Lake Victoria, this has not stopped Ugandan authorities from destroying boats and other fishing gear belonging to Kenyans.
Fredrick Odhiambo, a fisherman from Mahanga beach, narrates how they were arrested and taken to Sigulu Island where they stayed for three days before being released upon payment of Sh40,000 to the Ugandan authorities.
"We were lucky to have not been forced to eat raw fish but I was charged with trespassing into the Ugandan waters," Odhiambo says.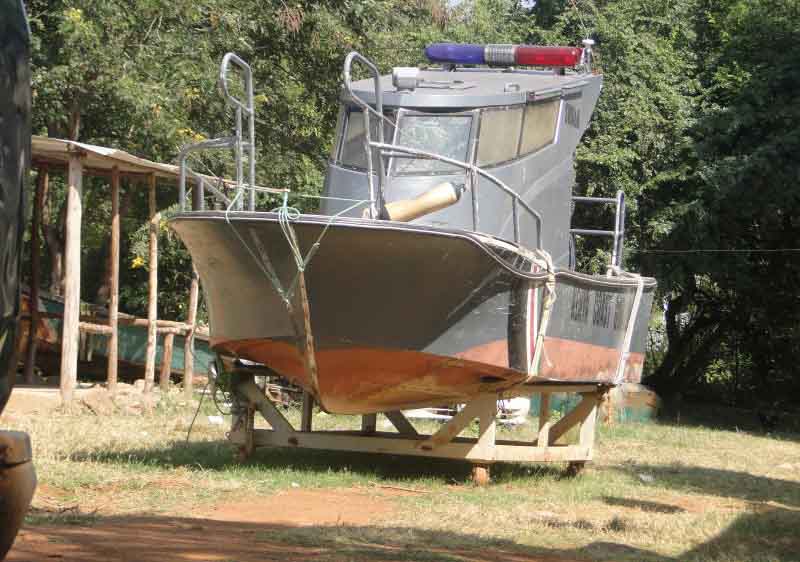 The incident happened a week after Odhiambo had spent another Sh30,000 to have one of his boats released from Hama Island.
He was forced to abandon fishing. Since then life has become cruel as he can no longer fend for his family.
"I used to earn good income from fishing. Putting food on the table was not a problem. I was able to send four of my children to secondary school," says Odhiambo.
On April 31, six boats from Mahanga beach were confiscated and fishermen fined Sh40,000 each. Between May 15 and June 15, at least 13 boats were confiscated and for each a fine Sh35,000 paid.
"We've lost more than Sh2 million from last year due to fabricated charges and fines by the Ugandan authorities," says Calvins Ouma, a fisherman at Mahanga beach.
Apart from the arrests and detention, the rogue officers and their agents now demand monthly protection fees from the fishermen.
The extortionists maintain a database of all boats operating in the lake, including the name of the boat, its colour, owner's name and beach of origin.
When circumstances demand, they also issue registration plates for easy identification of the boats.
"They call boat owners, informing them of the amount of money they are required to pay every month. This is where the real extortion starts, as your boat(s) will be constantly arrested if you fail to comply," says Peter Oluoch, a victim.
The fishermen say the extortion is more pronounced at Hama Island, which has been an unofficial toll station for Uganda Revenue Authority (URA) officers who accuse Kenyan fishermen of using illegal fishing gear or trespass.
Once the money has been paid, a note indicating the nature of the offence and the amount of fine is issued.
URA officer in charge of Sigulu Island Joseph Okello, however, denied the extortion claims.
"There is a group of fishermen who have been engaging in shoddy dealings. Our work is to ensure that regulations on revenue collection are followed and not harass fishermen," said Okello.
Ochieng says they have been suffering due to lack of an established security system in the Kenyan waters of Lake Victoria.
Maxwell Ogolla, a fisherman at Sori beach, Migori County, says they have little faith in the police because they are part of the extortion ring.
"We no longer trust our police officers because we are sometimes robbed under their watch," says Ogolla.
Siaya County Commissioner Mohammed Barre agrees that the situation is alarming.
"Government policies keep on changing but we can assure you that issues of insecurity in the lake will be addressed," said Barre.
Two years ago, Kenya Coast Guard Service was established to replace Rural Border Patrol Unit in a bid to deal with cross-border crimes.
According to Bondo MP Gideon Ochanda, security officials have not provided escort for the fishermen.