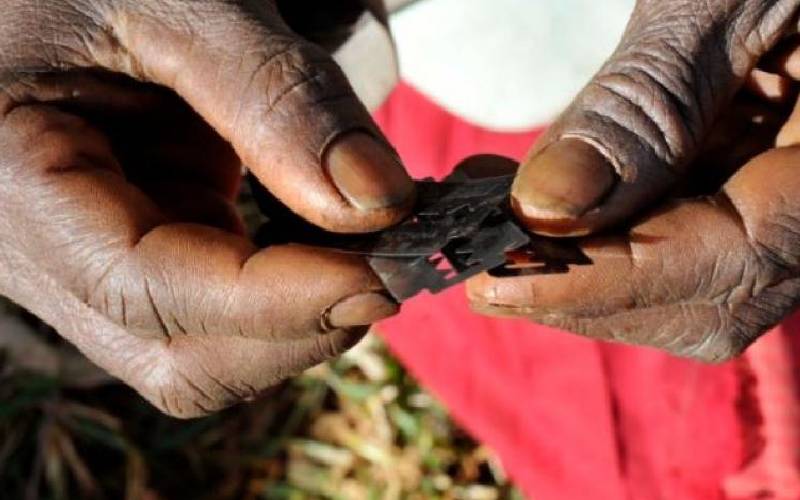 In March 2020, when schools closed after the Covid-19 outbreak, Wankuru was a happy-go-lucky 13-year-old.
By March 2021, she was married and pregnant.
Wankuru, 14, is only married, and no longer in school, because in the Abakuria culture she is an adult; thanks to the practice of female circumcision.
"My mother wanted me to undergo Female Genital Mutilation. She said I was ready," she says. "I wouldn't have got married without the cut."
She underwent the rite of passage in October 2020. By December, she had attracted a suitor. Wankuru lost her father, the family's breadwinner, to a short illness in 2016.
Getting cut – to be married off seemed like a profitable option for her struggling mother. She would benefit from Wankuru's bride price - cows considered to be wealth in the community.
Physically and even in her mannerisms, Wankuru is still a child on the cusps of adolescence. She is still trying to figure out life like any other girl her age.
The United Nations Children's Fund (Unicef) estimates that last year, about 700 girls in Kuria were circumcised. Of the 700, the agency says, about 250 have already been married off.
Haithar Ahmed a Child Protection Specialist with Unicef Kenya says: "The Ministry of Education has reported higher (than normal) child marriages unlike other years in Kuria East."
Circumcision processions
Girls who don't get married after FGM, run into pre-marital-sex challenges. Take Faith Boke, from Kibarori in Kuria East, for instance. Now aged 18, she had avoided the cut for six years, begging her father to let her finish schooling first.
Last year, having been home from March, "doing nothing other than domestic and farm chores," her father ordered her "to get it done."
Like Wankuru, Boke faced the circumciser last October. "The pain I felt will forever stay with me: I have never been in so much pain," she says.
After healing, Boke attracted attention from male suitors. A girl who has been cut is widely considered 'ready for sex' among the Abakuria, Ahmed notes.
Boke is now four months pregnant.
Circumcision season in the region usually corresponds with the long holidays that run from the end of November to the end of December – just about one month. In 2020, with pupils back home from March to December, proponents of the culture grabbed the opportunity.
Natalie Robi is an anti-FGM activist in Kuria. She says: "We started receiving reports of circumcision processions in September from some villages."
Matinde is one of the girls who underwent the cut last September. She was only 10 then. She lost a lot of blood and had to be rushed to Kehancha District Hospital.
When we met Matinde, she was under the custody of Kehancha Police – who had picked her up from the hospital Robi is positive that thousands of girls got cut in 2020.
"In October I could count 10 to 20 circumcision processions per day. Each procession had about 20 girls. And it went on for almost three months. My estimation is that thousands were cut by the time the cutting season was coming to an end," she says.
Boke believes that her education journey has come to an end. "My life has too many problems right now," she says. "My father wants me to go live with the man who got me pregnant but the man does not want me."
After the cut, Boke was showered with gifts. "I was given new clothes, money, and a new mattress."
She now compares those gifts with what she is going through now and her conclusion is that FGM, like she had suspected all along, is bad for girls.
"The thing about FGM," posits Margaret Nyahiri, the headteacher at Tarang'anya Girls Primary School in Kuria, "is that it almost always ends up with a girl dropping out of school."
A circumcised girl, Nyahiri says, considers herself an adult. "She stops taking orders from teachers because she feels like an equal. She feels she is a grown up. She does not need school anymore. Eventually, she drops out of school," she adds.
Girls dropping off school after FGM is commonplace in Kuria that it is not news to locals.
Today, Susan Matinde, 42, is an anti-FGM activist. She too dropped off school after the cut in 1989. She attests to the psychological shift Nyahiri is talking about.
"You behave differently after the cut. In fact, you struggle to understand who you are. You just become very unruly," she says.
Already prosecuted
Unicef data collected in 2017 showed that the rate of FGM in the Kuria community was 78 per cent. In other words, eight out of every ten women have undergone the cut. Girls and women who are not cut are treated as outcasts.
Lilian, 12, Sophia, 11 are among girls who were circumcised in 2020. Both say they feared being ostracised and therefore acquiesced to get cut. "I was told if I don't get cut I will be called 'Likunene' (unclean and without morals)," she says.
A trusted source – a volunteer at the Children's office in Migori County – who helped us track down the two girls, told us it is only a matter of time before they are married off.
In November 2019, President Uhuru Kenyatta promised to end FGM by 2022 – the year he is leaving office. Well, 2022 is eight months away.
"This thing (FGM) will end but possibly not in our lifetime," Susan Matinde says. "The culture is still entrenched in our society."
The Prohibition of Female Genital Mutilation Act of 2011 criminalised FGM. Perpetrators can be fined a minimum of Sh200,000 or three years in prison or both.
Kemboi Kimaiyo, the Kuria West sub-County commander, told The Standard that 24 perpetrators, from the 2020 season, have already been prosecuted.
Analysis of data by Unicef in nine counties, including Migori, shows a 121 per cent increase in the number of FGM cases between January and November 2020 compared to the same period in 2019.