Raphael Tuju feted for his role in empowering women, gender rights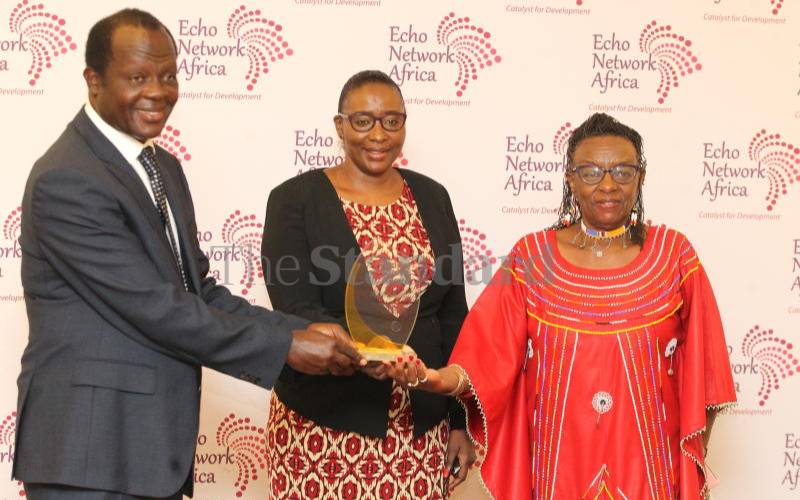 Jubilee Secretary General Raphael Tuju has been feted for his role in championing women's rights.
Tuju received the first Gender Rights Award from Echo Network Africa on Thursday, in conjunction with Safeguarding Democratic Space in Kenya (SADES-K) and the Ministry of Public Service and Gender.
The award recognises men who champion the rights of women in society and come on board over issues regarding gender rights.
Echo Network Africa Chief Executive Jennifer Riria said the award will be held annually to celebrate men who defend women rights.
"This a historical moment. We have a man who has been known by people for many years. His work of art was fighting against violence and violation of women's rights and dishonouring of women's bodies," said Dr Riria.
She added: "We need to get into this space, into leadership and make decisions. Women are now making the difference and we are breaking the ceiling, there are five Chief Justices in Africa who are women and when ours comes on board they will be six."
She said women still have a long way to go and it is now time for men to come on board to help fully eradicate harmful practices such as Female Genital Mutilation (FGM).
"We know now that it is not possible for women to do this alone, we need men and boys to come along," said Dr Riria.
Riria said Tuju's credentials as an advocate for gender equality dates back to 1992 when he teamed up with others like Dr Maria Nzomo then of the University of Nairobi and Dr Wangui Njau to work on the plight of the girl child as a communication consultant.
"He then produced for Unicef, a film titled the "Lesser child" that focused on the predicament of the girl child and was used for policy advocacy not only in Kenya but in many countries in Africa. By then talking about the girl child was unheard of," Dr Riria said during the award ceremony at Serena Hotel in Nairobi.
In 1995, Tuju worked with Maendeleo ya Wanawake in raising awareness on FGM and produced films that exposed the problem like never before.
"He was also a lead communications consultant on gender matters for the UNDP agency Unifem in New York. One of the seminal projects he did for Unifem included one titled "Dignity" that highlighted the specificities of problems faced by Mozambican women refugees in Zimbabwe, Liberian women refugees in Ghana and Ethiopian women refugees in Kakuma refugee camps in Kenya," added Riria.
Public Service and Gender Affairs CAS Beatrice Elachi lauded Tuju for his gender advocacy and urged him to continue pushing for women's rights in his capacity as Jubilee Secretary-General.
"We hope that he will transform this party even as we head to the next elections so that more women can be brought on board," Elachi said.
Tuju said he was delighted by the recognition of his contributions on gender equality. He challenged organisations championing for women's rights to bring more men on board.
"There is a need for tactical approaches in dealing with this matter because there are socialisation and cultural issues that determine the way men behave," Tuju said.