State imports Sh200m equipment to end Homa Bay town water shortage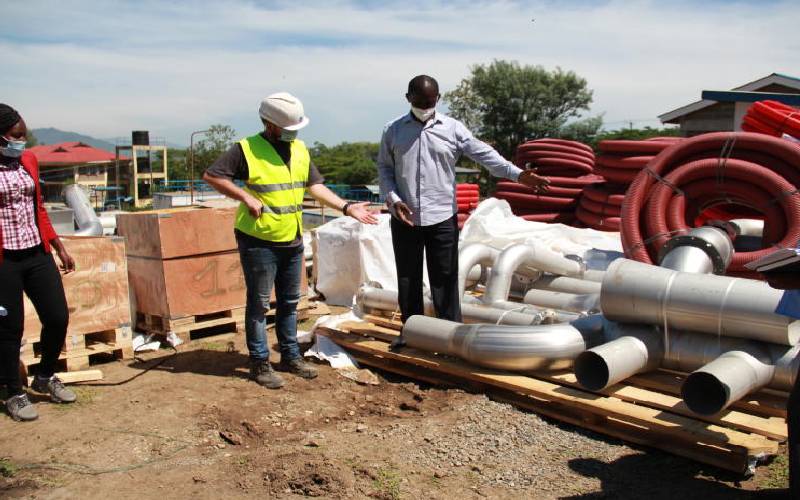 The perennial water shortage in Homa Bay town will finally end after the Lake Victoria South Water Works Development Agency (LVSWWDA) purchased Sh200 million water distribution equipment to fix it.
The equipment imported from Belgium includes steel water pipes, water pumps and other items used for constructing water supply systems.
LVSWWDA chairperson Dan Omino and Homa Bay Water Sewerage and Sanitation Company managing director Evans Nyagol received the consignment on Thursday, April 29.
Omino said the equipment will complete a mega water project christened, Homa Bay Cluster Water Supply Project, funded by the National Government in collaboration with Belgium through the LVSWWDA.
Homa Bay town, the administrative headquarter of the county, face shortage with the current water treatment plant producing only 2.5 million litres per day instead of the required 5 million litres.
Omino said once completed, the new project will produce 8.8 million litres of water per day.
He said the project will meet the needs of the growing population of the area residents for the next 20 years.
"This project will produce excess water which will take care of the needs of the growing population for the next 20 years. This means a shortage of water can only occur in this area after two decades," said Omino.
Omino added that the project will majorly use solar energy to pump the water.
"Electricity will only be used where there is no solar energy. But we intend to rely on solar," he said.
Rodi Kopany project
he major component of the project encompasses piping of water from Lake Victoria to a treatment plant to produce clean water which is to be pumped to the residents' taps for consumption.
He said the agency is about to complete another component of the project in Rodi Kopany Township which will produce 400,000 litres of water through two boreholes
Nyagol said pumping of water using solar will prevent huge electricity bills which had impeded their efforts in the past.
The electricity bills had frequently disrupted the water supply when Kenya Power disconnected their power supply.
"We are going to supply water stably upon completion of this mega project and water shortage will be history here," Nyagol said.
He told residents to be ready to receive water from the project.
The project which started in March 2019 is expected to end in November this year.