Pollution making life unbearable for Kisumu fishermen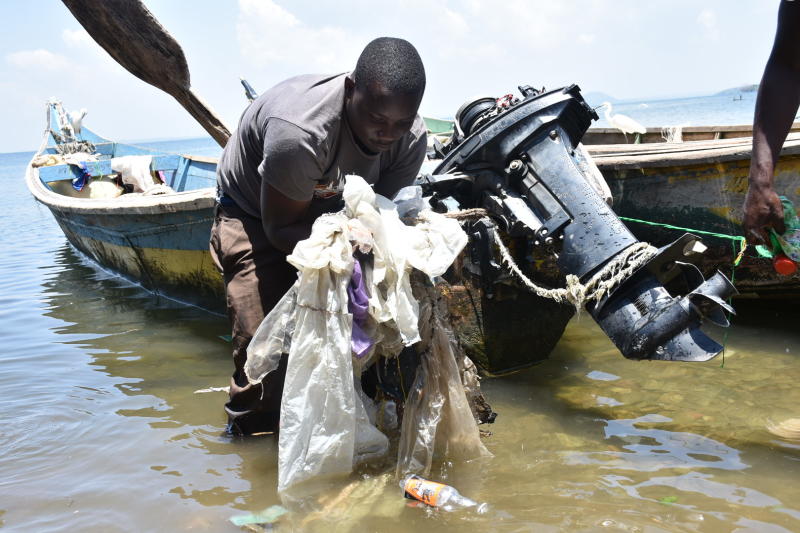 It is 6 am, and James Ochieng' wades the Lake Victoria water. He is returning home from work, but with nothing to show for braving the cold and waves all night.
Ochieng' is not new to this trade. He has been a fisherman for 20 years. But clearly, with every passing year, the catch is dwindling. Now he wonders if he should try another occupation.
When he began fishing in 2002, Ochieng' could net 400kg of Tilapia in a day, and from that earn Sh200,000. Today he says the maximum he can get from a day's catch is Sh10,000. Sometimes he returns home empty handed.
"We still have plastic bottles in the lake. In some parts, the lake is so dirty we see dead fingerlings floating. Without the fingerlings we have no fish," Ochieng' says.
Peter Okoth attributes his plight to increased pollution over the years. In 2010, when he began fishing, he could earn Sh100,000 per catch. Today he goes home with less than Sh5,000. "A strange growth on the waters is hampering fishing," Okoth notes.
Environmental agencies highlight increased flow of raw effluent into the lake as the cause of massive growth of algae that is dangerous to aquatic life. Algae bloom is a green matter that generally thrives when nutrients - phosphorus and nitrogen levels - are high.
Environment experts say pollution and preponderance of micro-plastics are choking the lake, shutting off the East African economic engine.
According to National Environment Management Authority (NEMA), the lakeside city has an 18 per cent sewer line coverage. More than 80 per cent of Kisumu may be without sewer.
NEMA county director Tom Togo has cited Obunga, Nyalenda and Manyatta as major slums that lack infrastructure to manage liquid wastes. "During heavy rains, poorly disposed waste is washed into the lake from the slums," Togo says.
He says industries, institutions and other sources of pollution are being monitored to ensure compliance with environmental-friendly waste disposal mechanisms.
The Kenya Marine and Fisheries Research Institute (KMFRI) says algae currently covers 12,000ha, a direct results of nutrients-phosphorus and nitrogen. KMFRI's Kisumu director Christopher Aura says pollution in the lake is mainly from agricultural farms.
There are at least 17 rivers that empty agro-chemicals and farm wastes into the lake. Some 70 per cent of pollution is linked to land use activities from the catchment.
Dr Aura says non-green Algae cover the lake's upper surface, reducing light penetration, which interferes with food production for aquatic life. "Some of these algae are not eaten by fish... A good proportion should be green," he says.
He says increase of effluent in the lake has caused reduced oxygen levels, since raw effluent consumes oxygen when decomposing.
This trend, the expert says, risks lives of a number of fish species. "There are certain fish species that cannot survive for long in the absence or low oxygen level," Aura says, adding that Tilapia requires oxygen at a minimum of 3mg per litre, with an optimum of 5mg per litre, and that with limited oxygen they struggle to live.
"Some might suffocate. Those that make it have slow growth, and in the end this reduces catch and harvest of tilapia," Aura says.
Statistics show a paradigm shift from large fish to small ones, with Tilapia at 3 per cent to 5 per cent, compared to 7 per cent to 8 per cent 10 years ago. Nile perch is at 23 per cent. "There is likelihood of extinction if pollution is not contained," Aura says.
He says water hyacinth has in the recent past reduced due to increased water currents caused by erratic stormy rain patterns and water level rise.
Currently, the weed is occupies 3,000ha, compared to past years's 12,000ha. "The weed grows where the water is settled. Stormy winds increase turbulence, making some to sink," he says.
Aura also encourages right procedure for cage fishing. He says some fish cages are established on breeding grounds, hence reducing production space for some fish.
Meanwhile, Maseno University has acquired versatile scientific equipment with the capacity to establish levels of pollution and aquatic productivity in the lake.
The Sh4.7 million equipment manufactured in Britain is currently at the institution's School of Biological and Physicals Sciences in the Department of Botany.
Stephen Sikolia says the ASD Handheld 4 spectroradiometer machine will be used to establish the levels and peak periods where the lake is highly polluted.