How plans to give Mama Sarah grand send-off were thwarted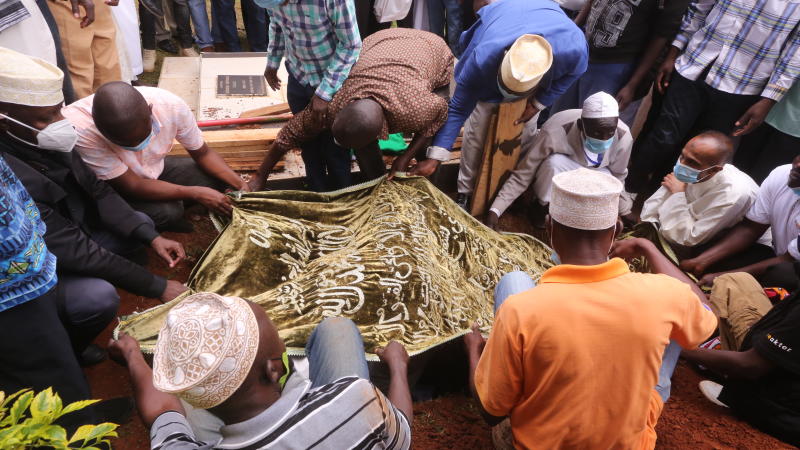 The funeral committee was already making plans to give Mama Sarah Obama a grand send-off according to Luo customs.
But the family informed them that Mama Sarah had wanted to be buried according to Islamic rites.
Sheikh Musa Ismael, the chair of Kisumu Muslim Association indicated that Mama Sarah approached him and instructed him to preside over her interment.
"I had told Mama that death is not known, and that I could as well die ahead of her, but she insisted that she was old, and that she would die before me.
I had to respect her wish," said Sheikh Musa.
His sentiments were echoed by Said Hussain, Mama Sarah's fifth child who indicated that she had asked to be buried in accordance with Islamic rites next to her late husband Hussein Obama's grave.
"There is no room for Luo cultural issues, as we have to respect Mama's wishes as a Muslim," Said told this writer ahead of the burial.
Earlier, Vitalis Awandu, who had been appointed the chair of the funeral committee on the day Mama Sarah's death was announced, had held a meeting to make burial arrangements.
"We knew Mama Sarah had many friends and relatives, and we expected them to attend her funeral," said Awandu, who was a nephew to Mama Sarah.
When this writer engaged the funeral committee chair on March 29 after the meeting, he indicated that they were already receiving money for the burial arrangements.
"Siaya Governor Cornel Rasanga and Senator James Orengo have each sent Sh100,000. A number of leaders have also reached out.
"The response is positive and we just want to move on," he said.
The first assignment was to buy hand sanitisers and a visitors' book. A boda boda rider sent to buy the items as the committee went in to another meeting.
Committee members had wanted to buy three bulls, three sacks of maize flour, fish worth Sh40,000 and other foodstuff.
Awandu said they had to shelve plans for the grand send off to ensure that Mama Sarah was interred peacefully.
"We were now left with coordinating security, and the media during the burial, as the other cultural aspects had no place.
"But we are glad that we were given time to do some of the things we wanted," he said.
Awandu disclosed that the committee negotiated with the religious leaders to allow a few people to give speeches before the burial.
On the day of the burial, residents were barred from attending the funeral after police officers were sent to Mama Sarah's home.
County Commissioner Ole Tialal said that was done to prevent crowding in line with the Covid-19 containment measures.
"Only close family members can be allowed in, plus a few guests approved by the family," he said.
In line with Muslim burial rites, Mama Sarah's body was wrapped in white 'sanda' (Muslim burial gown), as opposed to an expensive casket which could have been preferred by Kogelo residents.
Women were not allowed at the graveside, as opposed to the Luo culture where close relatives, irrespective of their gender, would have witnessed the interment of the body.
There no was 'tero buru' (traditional dirges), nor night vigils after burial as is the norm with the Luo culture.
"Sarah always welcomed everybody while she was alive, and now in her death the security is blocking us from seeing her.
"I believe she would not be happy to witness this," said a woman who was blocked for entering the home.
Awandu said many residents pleaded with the family to set a side a day for the memorial of Mama Sarah whom they described as a 'woman of the people,' but this was not possible.
Awandu added that the focus now is to push Governor Cornel Rasanga's to honour his pledge of making Mama Sarah's home a tourist attraction site.