I escaped death by a whisker, Justice Owuor's son testifies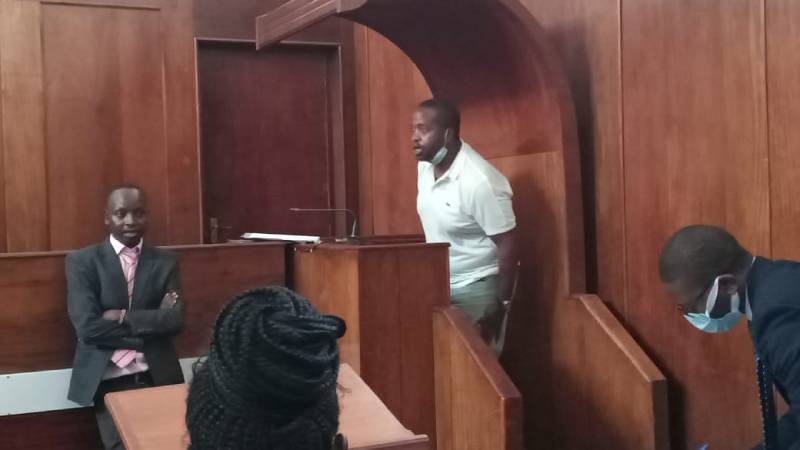 A jammed gun, an opened abdomen, bleeding head and hands and a body lying next to where he stood.
This is what Paul Owuor remembers of 2018 when they were heinously attacked on their farm in Chemelil. Paul is the son of ex-Judge Effie Owuor.
It happened on a Saturday afternoon on November 17, 2018, when Paul and the farm manager visited the farm to investigate an intrusion into the land.
The intruder, who had occupied the 250-acre farm and was using two tractors, descended on the duo killing George Benjo.
A few metres away from where Paul lay fading out as the bleeding continued, farm manager George Benjo lay dead. His throat slit and hands chopped off. A court heard this on Tuesday as Paul testified in a trial where two suspects have been implicated in the attack.
Paul, who escaped death by a whisker, recounted how he struggled to keep his intestines from spilling out of his body after the attackers slashed his abdomen and hands.
How the attack happened
He told Kisumu Chief Magistrate Peter Gesora that the turn of events and the horrific scenes he saw on the fateful day were still clear in his mind.
Armed with a gun, he thought he could save the farm manager who had been targeted by the attackers and fired in the air to scare them but the gun jammed a few moments after.
With the gun useless, he told the court, his attacker slashed his hands, stomach and head leaving him for dead before turning his attention to the farm manager who was brutally killed during the incident.
"I saw the attacker grab a machete and rush towards us. He slashed me several times and I collapsed," testified Paul.
Intestines exposed
He told the court that he tried to tuck-in his shirt to stop his intestines from falling off and crawled to his car which was parked a few meters away.
"I managed to lift myself into the car and started driving out of the place. By then I saw the attacker next to the farm manager who was already dead. His hands had been chopped off," he said.
Paul recounted how he was losing strength as he tried to drive out of the place until he was rescued by a tractor driver.
Other witnesses including ex-Judge Effie Owuor recounted their struggle to keep Paul alive and how devastating the news left them.
The tractor driver Asichi Abil rushed Paul to the medical facility before he was transferred to Kisumu for specialised treatment said the scene was shocking. Abil was driving his tractor when he saw Paul's vehicle moving at a slow speed before stopping next to him.