DCI traces phones of killed businesswoman in Kisii, arrest suspect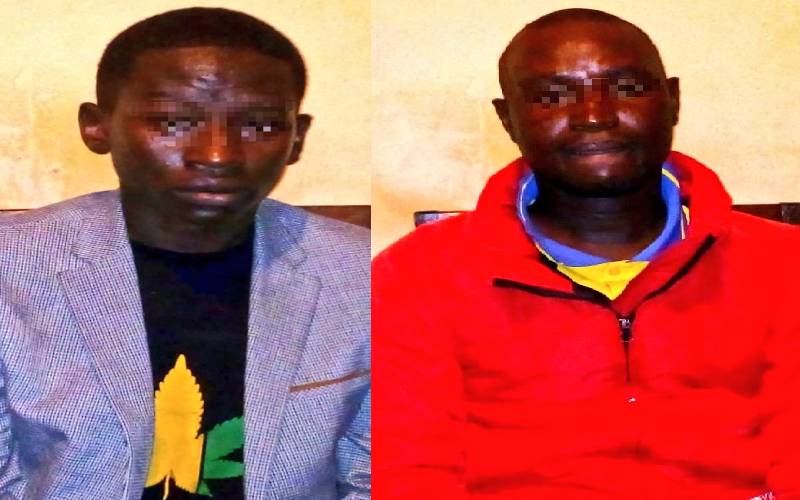 Police have arrested two suspects at a village in Kisii County as detectives seek to bring to book those behind the gruesome murder of businesswoman Caroline Maina.
The investigating team from the Directorate of Criminal Investigation (DCI) on Friday arrested the two at Kebuye village in Suneka Sub-County.
Acting on forensic intelligence, the team from the Crime Research and Intelligence Bureau, Special Service Unit, DCI Dagoretti and their Kisii counterparts proceeded to the village where two mobile phones previously paired to the deceased's SIM cards were tracked.
Justus Nyamete Manyura alias Dennis Ongingo who works as a tout with Safeline Sacco matatu plying Kibera-City centre was arrested after being found in possession of a Samsung Galaxy A20S phone.
The second suspect, a 17-year-old student at St Lawrence Nyabieyo Secondary School, was arrested with an Oppo phone which also paired a third SIM card registered under the names Jonah Munyao Gato was traced.
Both mobile phones previously paired to Safaricom lines registered under Caroline's details, and which she used in her online transactions and communication.
Detectives are probing how the two suspects got possession of the handsets.
"They remain in our custody assisting with further investigations," a report from the DCI says.
Ms Maina went missing on February 12 after visiting a bank in Nairobi's Ngara area and withdrawing Sh350,000 from her account.
Preliminary investigations say the ex-banker, who left her job as a loans officer at a local bank to pursue business, had received the money on February 5, only a week before she disappeared.
Investigators believe that the money she received could have been her source of problems.
Ms Maina's body was later found in Kajiado, five days after she was reported missing.
An autopsy report showed that she died of head injuries inflicted with a blunt object.