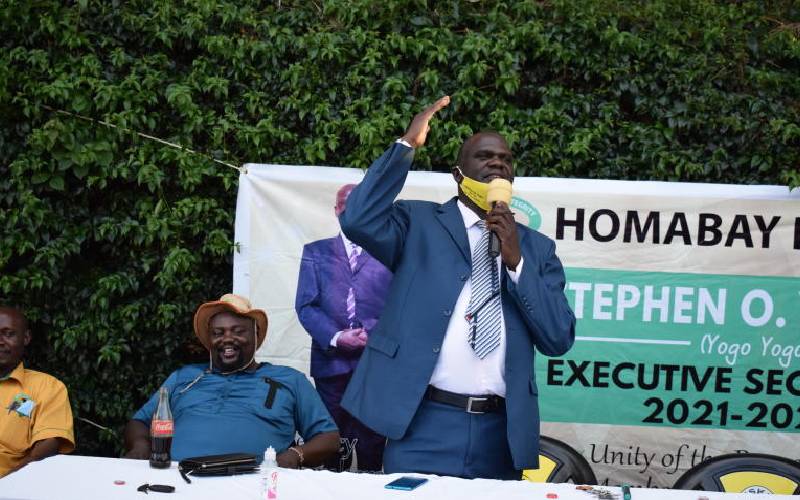 Kenya Union of Post Primary Education Teachers (Kuppet) members in Homa Bay have been told to shun political propaganda that could polarise the union ahead of branch elections.
Kuppet Executive Secretary Stephen Yogo and Treasurer Beatrice Awiti expressed concerns that some teachers are spreading political propaganda with intention of dividing the union members ahead of their polls slated for Sunday.
Addressing teachers at a hotel in Rangwe during final campaign rallies on Sunday, Yogo warned that if not checked, the propaganda being employed in the campaigns will create division in the union.
"When we eulogise with bereaved teachers, a section of teachers call us professional mourners. When we buy land for constructing a Kuppet centre, they say we have bought riparian land. Their propaganda will not take the union anywhere," Yogo said.
Read More
Yogo who is defending his seat told the teachers to conduct issue-based campaign instead of tainting their opponent's reputation.
"We want politics in which candidates challenge one another on ideas rather than propaganda and insults," he added.
The Executive Secretary said his office is committed to promoting the welfare of teachers.
"We have so far sponsored 349 teachers who were trained by the Kenya National Examination Council as examiners and we want to sponsor another 600," said Yogo.
He said the union will soon sign an agreement with Maseno University and Tom Mboya University College to charged teachers who want to go for further studies discounted fees.
Awiti told teachers eyeing elective seats in the county to have Kuppet in their hearts.
"Kuppet belongs to all of us hence we should make remarks which will promote its ideals," Awiti said.
She assured teachers of their security during the election.
The Kuppet election has attracted two factions eyeing various elective positions.
The factions are Team Focus headed by Yogo who is defending his seat and Team Sanity headed by Tom Odhiambo who is eyeing the executive secretary position.