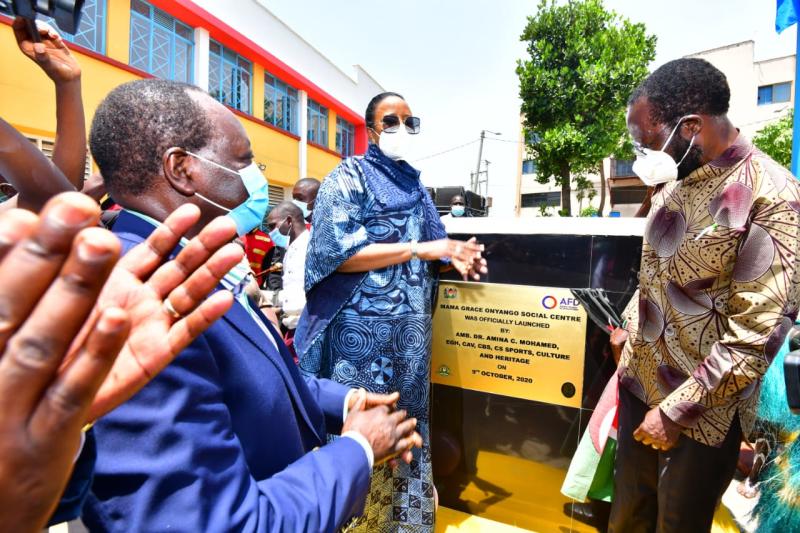 In April 1960, colonial governor Patrick Renson opened an African Social Hall in Kisumu.
The hall, that was launched amid splendor was aimed at spurring a cultural and intellectual renaissance among younger Kenyans in the lakeside city.
The hall, which was later renamed Kisumu Social Centre, after Independence, became the epi-centre of a cultural movement where youth engaged in intellectual dialogues, story telling, concerts, research and leadership training.
Section of the hall was turned in to a gym. The centre was meant to keep youth from social deviance. But the hall lost its shine and fame in the 1990s when it became a place for ohangla performances.
Ohangla was played there from 2 pm till dawn. A pub and a restaurant also sprouted on one section of the social hall, overshadowing its original purpose of nurturing cultural activities.
The intellectual and arts centre that defined literary discourse in Kisumu, a place of social-economic debates where figures such as Stanley Everet, the then chair of the Kisumu Municipal Board, would meet other leaders for dialogue, turned into a cave of vice.
But on Thursday this week, a change was witnessed.
The Kisumu Social Centre was reopened after renovations and renamed the Grace Onyango Arts, Cultural and Educational Centre.
Gone are the ohangla nights with drunken revelers and back are the intellectual debates.
During the re-opening on Thursday, literary heavyweights from the region participated in debates that gave new life to Kisumu's social scene.
The debates featured the likes of professors Augustine Bukenya from Uganda, Humphrey Ojwang and Francis Owino from Kenya.
According to Obat Masira, the hall's manager, the management intends to invite various scholars and politicians to share their success stories.
Masira said some publishers like David Rubadiri and Asenath Odaga had honed their skills at the Kisumu hall.
The same applied to lead artistes and musicians such as the late Okatch Biggy, who learnt the music trade from experienced musicians such as the late Owino Misiani and Kolela Mazee.
Masira wants the centre to be autonomous so that it can attract its own budget from the State.
''It was a tradition that we hold a public lecture with various university dons and political leaders every Thursday," Masira said.
"This is where the public would easily engage with scholars and leaders and ask them questions.''
Political leaders would troop to the centre and explain their ideas to the public and voters would have the opportunity to hold them to account.
According to Masira, Renison was passionate about the growth of arts, sports and intellectual discourse.
''This is where great scholars from East Africa and the world used to come to give lectures and discuss topical social, economic and political issues,'' Abala Wanga, the acting Kisumu city manager said.
Abala said the centre's role is to facilitate frank and honest dialogue around controversial or unpopular issues.
He said such speakers may lack other platforms like the national or county assemblies to express their views.
During the re-opening, Bukenya and Humphrey Ojwang lectured the public on feminism, emphasising on women's rights.
Bukenya tickled the audience when he distinguished himself as a feminist. ''I am a feminist. You don't have to be a woman to be a feminist," he said
"I stand for women's rights, equality and the assertion that a woman can do what a man can do. This was championed by late politician Grace Onyango.''
Ojwang disclosed that he is working on a book titled African feminist epistemology. He argued that feminism at its core, is about equality for men and women, not "sameness or parity."
"Feminist epistemology studies how gender influences work — the understanding of knowledge and the justification and theory of knowledge," Ojwang said.
Owino said women must be empowered. He stressed that the new constitutional reforms championed by the Building Bridges Initiative should ensure women are well represented.
''Kenyans should not hinder their socio-economic growth,'' Bukenya said. "If we don't give them their rights, it will be a sticky issue."
Masira said Grace Onyango Arts, Cultural and Educational Centre aims at promoting debate on domestic and international affairs.
''We will carry out an independent research on Kisumu County to identify what the residents need. These issues will be tackled from this hall," Abala said.
Four times
Masira recalled that the building has been renamed four times.
It was named African Social Hall, then changed to Victoria Social Hall and then to Kisumu Social Centre.
Now it is identified as the Grace Onyango Social Hall.
But why the name changes?
"An incident occurred before Independence that led to racial animosity between Asians and Africans," Masira said. Asians and Africans all laid claim to the hall. Africans from Kaloleni and Nyalenda estates invaded it.
An impromptu meeting was called to resolve the crisis and to bring peace, it was renamed Victoria Social Hall until 2002 when it became Kisumu Social Centre.
Kisumu Governor Anyang Nyong'o renamed it after Grace Onyango, the first woman mayor of Kisumu.
Sports Cabinet Secretary Amina Mohamed attended the re-opening ceremony.