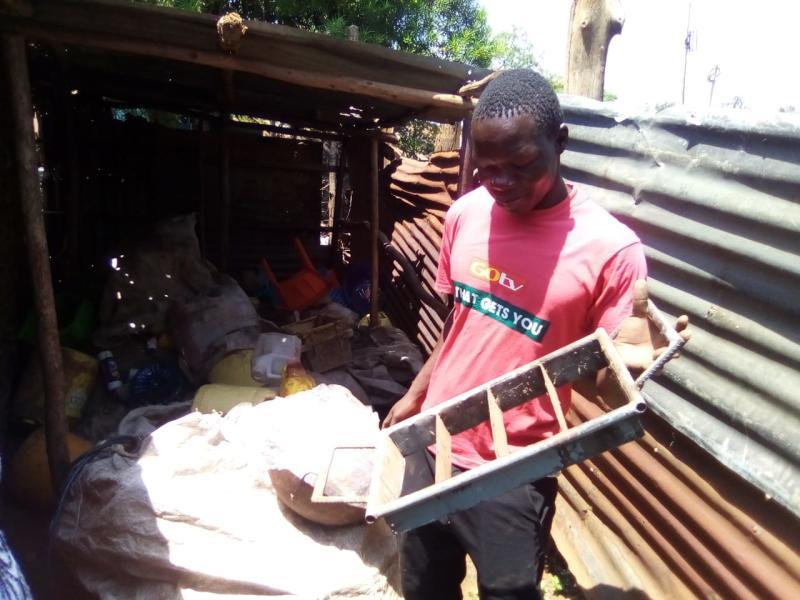 When Phanice Awuor graduated from Masinde Muliro University with a diploma in business management in 2016, she was confident she would soon get a white collar job.
She embarked on a determined job search while hoping to further her education.
After months of a fruitless, search, Awuor shifted her attention to an unfamiliar territory — garbage collection.
Today, she is among several youth in Kisumu who are minting money from the tonnes of waste produced in the lake side city everyday. The youth collect garbage from slums for a small fee on a daily basis.
Read More
When Sunday Standard caught up with her yesterday at Obunga slum, she was foraging through a heap of garbage, then collecting them and transporting them to a dumpsite. "This is my new life," said Awuor. She added that since she ventured into garbage collection, she now has a stable income, about Sh18,000 per month.
In Obunga, Nyalenda and Manyatta slums, more than 300 youth are earning their keep by collecting waste generated from 5,000-odd households.
Awuor has already started a self-help group, the Obunga Community Based Organisation (CBO) where she works with about 20 youth in waste management.
"On a good day I pay them Sh500 and on a bad one they earn Sh300 each, "Awuor said.
After picking the waste from various homes, Awour and her colleagues take it to recycling plants.
For the last five years, Dancan Juma, a garbage collector from Nyalanda, has been pocketing about Sh50,000 per month from his work.
"Garbage collection has transformed my life and that of my family," said Juma in an interview.
Isaiah Odhiambo, another garbage collector, uses plastic waste to make cobblestones which he sells.
Odhiambo however said lack of gloves among other protective equipment has made his work hard.
"Sometimes I am pricked by sharp objects or even exposed to toxic waste, each time rushing to get a tetanus vaccine," said Odhiambo.
The garbage collectors complained that the county government has done little to support them.
Duncan Ochieng, who is also collects waste, said many people look down on those engaging in his trade.
"There was a time I experienced discrimination. Others felt like I had lost my mind, but I did not stop collecting garbage," Ochieng said.
Statistics at the county department of environment and natural resources indicate that the county produces 300 to 500 metrics tonnes of solid waste per day.
Ken Koyoo, the Director Conservation and Stewardship in Kisumu County, said garbage collectors have played a critical role in keeping the county clean.
Through the Kisumu Waste Actors Network (KIWAN), a waste management organisation which has more than 100 members, the department has managed to address issues around waste management.
Koyoo said through the organisation, they have managed to recycle solid waste. Koyoo however said the county faces numerous challenges that mar waste collection.
"Inadequate bins, pick up stations and transfer stations have hampered the process of proper waste management," Koyoo said.
Waste collectors
He revealed that the organisation has been infiltrated by illegal waste collectors who are poorly equipped to carry out the task.
He said inadequate recycling equipment and little awareness on the importance of garbage collectionhas led to poor waste management.
The county has a Solid Waste Management Act 2015 and Waste Management Regulations mooted in 2006 which are not known to the public.
He mentioned that the department has financial troubles since there is a little allocation to sustain its operations. In the 2020-21 financial year, the Department of Water, Environment and Natural Resources was allocated Sh484 million.
"Solid waste is neglected, it's not allocated much money," Koyoo said.