Uhuru jets in Kisumu ahead of daylong project launch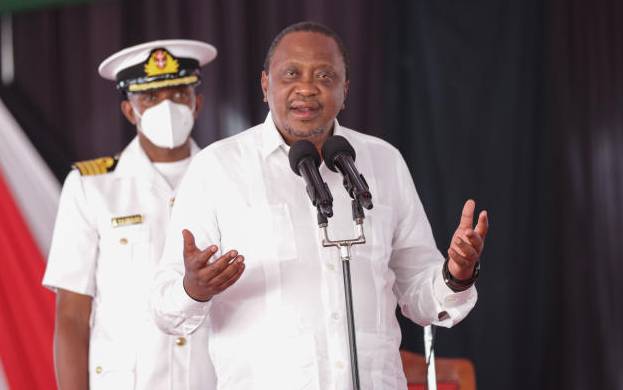 President Uhuru Kenyatta has jetted in Kisumu ahead of a daylong launch of projects within the county on Thursday.
The military helicopter carrying the president landed at Kisumu Port before he connected to Kisumu State Lodge.
Former Premier Raila Odinga jetted a few minutes before 5 pm and received the president before they both headed to the State Lodge.
The president is expected to launch Kisumu Port, Uhuru Business Park, Jomo Kenyatta Stadium and renovation of Jaramogi Oginga Odinga Sports Ground.
The President who has been in the region after presiding over the Mashujaa Day celebrations in Kisii on Tuesday is expected to meet Kisumu County leadership ahead of the daylong project launch.
Kisumu residents who had waited along the streets to receive the president were disappointed as the head of state failed to show up in the streets.
Police officers had been lined up from Kisumu International Airport, Busia Road, Obote Road, Jomo Kenyatta Highway to the State Lodge.
Entertainers had also been stationed near the airport and had already begun to warm up when one military helicopter landed at the airport.
However, five minutes later, two helicopters landed at Kisumu Port.
It was by 5.20 pm that those along the streets begun to move away, disappointed.
They, however, expressed confidence that they will have enough time with the head of state during the daylong project launch.
"We are glad that the President has managed to come. We thought he would end his visit in Kisii and go back to Nairobi," said a bystander who identified himself as Mark.
Security was beefed up along State House Lodge, with motorists using the road to access Dunga area directed to alternative roads within Milimani Estate.
After waiting for several minutes to have a glimpse at the president, disappointed residents left the streets.
The president who has become a darling to the region will inspect several projects which his administration has initiated and holds a promise of transforming the region's economy.
The projects include the multi-billion port whose expansion is seeking to breathe life into maritime trade and lake transport that has stagnated for several years.
Sources also told The Standard in anonymity that the president will also inspect a Sh350 million market named after him which will be used to resettle thousands of traders displaced during the port expansion.
The region has been buzzing with activities as authorities compete against time to implement the projects President Uhuru's administration has lined up for the region.