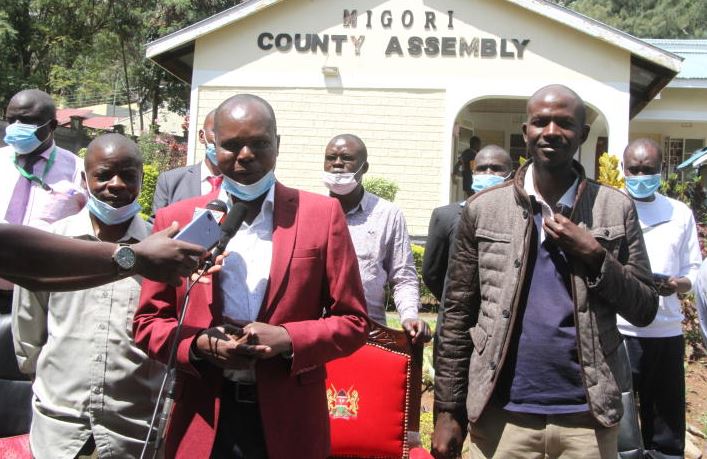 Seven Migori County Assembly MCAs have been charged with assaulting a female colleague when chaos broke out at the Assembly last week over plans to impeach Governor Okoth Obado.
Those charged were Thomas Akungo (Kaler), Brian Osodo (Kachieng), Peter Mijungu (West Kanyamkago), Alex Akugo (Central Kanyamkago), and Willis Oloo (Got Kachola).
Others were Leo Ogwada (God Jope) and Nestroy Owiyo (West Sakwa).
They appeared before Migori Principal Magistrate Peter Areri on allegations of taking part in beating MCA Odiga and causing disturbances and injury which disrupted and halted the house business last week.
Nominated MCA Mary Odiga was caught up in the melee when chaos broke out with a faction allied to governor Obado wrestling with those who are pro the governor impeachment motion.
Trouble started at the Assembly last week when North Kanyamkago ward MCA George Omamba obtained a court order reinstating him as the Chair of Chairs also assumed as the Deputy Speaker.
As Omamba moved to take over, some MCAs said to be pro-Obado tried to block him in vein leading to a physical confrontation in the full glare of public cameras and fellow MCAs.
In the process, Odiga broke her hands and was rushed to Migori Ombo Hospital where she is undergoing recovery.
But immediately after the scuffle, police used the CCTV footage to nab fellow MCAs who were at the centre of chaos and singled out the seven MCAs caught during the chaos in the Assembly.
They were then summoned by the DCI in Migori who interrogated them before they recorded statements and later arraigned in court and charged with causing disturbance and injury to Ms Odiga.
The Assembly was adjourned until today, Wednesday. The MCAs retreated to the drawing board as the bid to oust governor Obado turned into the theatre of absurd.
On Tuesday, detectives pounced on five more MCAs allegedly spotted in camera at the apex of chaos and took them to court. They appeared before Justice Areri and pleaded not guilty to the read charges.
They were all released on a Sh30,000 cash bail pending hearing scheduled for October 23.
Meanwhile, the latest move comes as the battle of wits take sides in the Obado ouster.