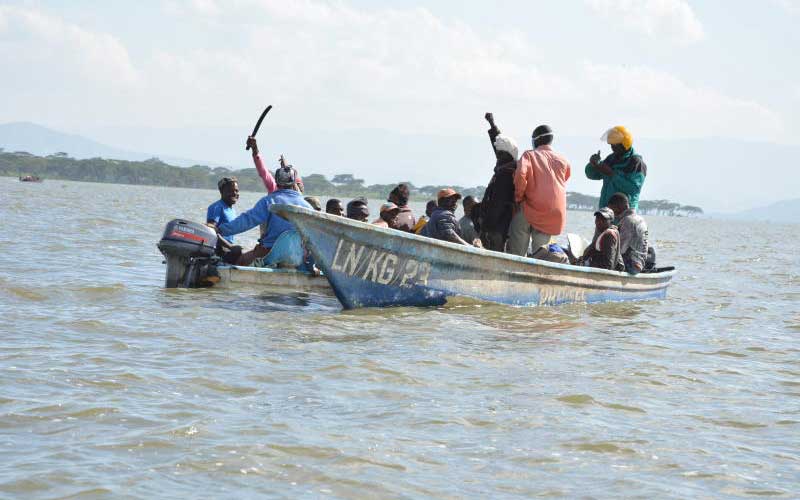 This week's death of three people in Lake Naivasha has brought into sharp focus the safety of the country's waters, as authorities dither in enforcing measures to keep fishermen, tourists and other lake users safe.
In the latest incident, people drowned when their boat capsized and their bodies are yet to be recovered.
There have been similar incidents where people have died either by drowning or after being attacked by hippos and crocodiles.
Lake Naivasha is the most risky as over 20 people have died since the year began, majority of them fishermen.
Read More
A visit to the lake paints a disturbing picture, with tens of semi-naked men and minors scrambling for fish left while armed with small nets and fishing rods.
The not-so-lucky ones have fallen prey to hippos while others have fallen in underground trenches dug by farmers.
Along Lake Victoria, the death of five people in May in River Nzoia in Siaya County underlines the ever lurking dangers in the continent's largest fresh water lake.
The five were in a speed boat which had been dispatched to aid in the search of a man who had drowned at Asiri Umala village in Ugenya Constituency.
Early this year, a 27-year-old fisherman drowned while seven others survived after their boat capsized in Mfangano Island, Homa Bay County.
And in December 13, 2018, four people drowned after a passenger boat capsized in Seme, Kisumu County.
Life jackets
According to Kenya Maritime Authority, a passenger boat should have life jackets for the number of passengers it is authorised to carry, plus three to five extra ones for emergency.
The boats should also have at least three coxswains with level one, two or three qualifications in operating boats.
The operators must also have their mobile phones on every time they venture into the lake, as this is the main mode of communication with rescue teams should there be an emergency.
They must also have torches for navigation should it get foggy and cloudy during the journey.
However, all these precautions have been overlooked, putting at risk the lives of those who use the lake.
"We are closer to the lake users than the government regulators, and if only we can be empowered, we can reduce the cases of negligence-instigated deaths," said Lewnard Ooko.
David Kilo, the chair of Lake Naivasha Boat Owners Association, terms the problem as deeper, with many accessing the lake at will due to lack of an authority to patrol the water body.
He says that overloaded boats ferrying the youths from one point of the lake to the other is the norm.
"You will find a boat carrying even 20 people without safety jackets, against a capacity of ten as was the latest case, exposing them to danger of drowning," he said.
The dangers
In the Naivasha tragedy, an illegal boat had ferried the youths to Ngorongo in Kasarani for spot fishing on Monday morning, according to Naivasha sub-County fisheries officer Nicholas Kagundu
"These are illegal fishermen using unlicensed boats and when they were coming back, their boat capsized and majority of them were rescued but two men are missing," he said.
Mathioya Mbogo, the Naivasha Deputy Commissioner admits that the lake has many challenges and points to illegal fishing as the main problem.
"We are worried by the rising cases of deaths caused by hippos and drowning and this can be resolved through concerted efforts by all stakeholders," he said.
In Lake Turkana, the ever-increasing increasing depth of the lake has made navigation laborious because the waves are now huge and stronger.
Moses Ekidor, the chair of Lowareng Beach Management Unit said the lake is usually full from August to October.
"The level of the waters has drastically increased bringing forth debris, crocodiles and hippopotamus which can attack at any point in the lake," said Julie Samal who operates on the lake.
Even as she rows her boat, at the back of her mind lie thoughts of a perilous voyage.
Rising water levels, crocodiles, hippos, reeds and rocks and unpredictable huge tides now characterise the once calm lake.
[Anthony Gitonga, Fred Kibor and Kevin Omollo]