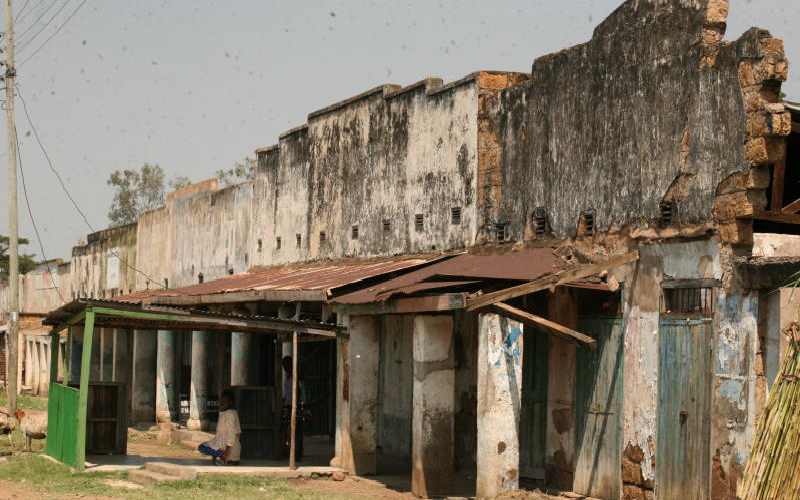 Kendu Bay town is abandoned and in ruins.
A walk through the town, which once bubbled with activities from 1950s to 1980s, paints the picture of a deserted village.
In 1951, Nyandiko Ongadi, then a 15-year-old boy moved out of his parents' home in Kakwajuok village, Karachuonyo to seek technical skills.
Read More
The then 15-year-old sixth born in a family of 11 would land at Kendu Bay town, in present day Homa Bay County, where he got an opportunity to train as a tailor in a private shop.
Kendu Bay was just at the peak of its growth, and such skills were highly marketable, as it meant instant self-employment.
Indians exit
It was also the time that Indians who owned shops in the area began to exit, leaving the locals to take over the running of the economy of the area.
Kendu Bay was then a key business hub in South Nyanza, attracting traders from all walks of life who came to buy products.
Permanent buildings came up, roads opened up and Kendu Bay pier became so vibrant that everyone wanted to have a plot within the area to tap on business opportunities.
Fast forward to 1990s and all the development in the town dipped, and mass migration of traders began, turning the town into a shadow of its former self.
Today, the rusty iron sheet roofs, the falling stones from the walls, the empty streets, the bushy pier, abandoned market and the open fields are what define Kendu Bay town.
Nobody is asking for prices of plots in the town anymore. Nobody is seeking to rent a premise there anymore. No one can tell the story of the town more than Nyandiko Ongadi whom, apart from having done a number of businesses within the town, was also the chief of the area between 1973 and 1989.
"Sometimes I take a walk around this town and I cry for our people," said Nyandiko, who is now the chairman of the Luo Council of Elders.
But where did all this start? Mzee Nyandiko who was born here in 1936 says the rains started beating the town shortly after independence. During this time, South Nyanza region was being subdivided, with a new district being created from Kisii.
Kendu Bay residents rejected the Government's proposal to have the town become the district headquarters, fearing the Government would take their land.
The headquarters was then moved to Homa Bay town, the current headquarters of Homa Bay County, which was by then just a small market centre. With this, interest begun turning to Homa Bay town, with traders quickly taking position to tap opportunities which would come with the new status of Homa Bay town.
"Remember during this time, Homa Bay was just a small shopping centre. Kendu Bay was far much better and with facilities, given that it was a town already. There was circulation of money due to the massive business at the port," said Ongadi.
However, this was not felt until in the 1990s when the road connecting Kendu Bay to Kisumu and Homa Bay was diverted. Previously, people coming from Central Nyanza would use Kisumu-Katito road through Kendu Bay, before accessing the other parts of South Nyanza such as Migori, Homa Bay and Kisii.
However, Kisumu-Kendu Bay road was diverted at Seka, to allow direct connection between Kisumu and Homa Bay without passing through Kendu Bay.
Despite the diversion being just one kilometre from Kendu Bay, the impact became huge, worsened by the death of marine transport which saw Kendu Bay port collapse.
And by early 2000, Kendu Bay town was a shell, and it is not clear if the diversion was a way of punishing the residents who had rejected a district headquarters offer.
When The Standard visited the town last week, just a handful of activities were going on. The once famous Kendu Bay Showground is now a field for airing fishing nets, while the huge structure which acted as the store for goods imported through the lake is now the new residence for wild doves.
Cotton market
The cotton ginnery which provided market for cotton farmers across South Nyanza is engulfed in thickets.
Lambwe Street, which could be compared to Biashara Street in Nairobi, or Oginga Odinga Street in Kisumu, is now an empty place with livestock taking over the spaces as their resting place.
Our efforts to seek a comment from the county government on its plans for the town were futile as our calls and texts to seek comments from County Executive Member for Trade David Okeyo were not responded to.