Vulnerable families get permanent houses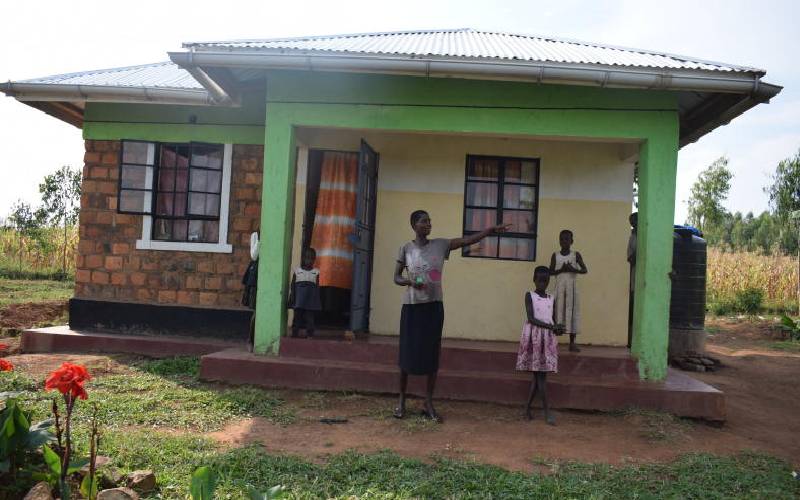 Rose Akinyi, 38, is a happy woman after being salvaged from a shack that was her home for more than 20 years.
The mother of 10 children, who lives at Kobu village in Kotieno location, Rangwe sub-county, has had a tough life, before and after her husband Julius Omollo died in 2013.
Akinyi's single room mud-walled house had a leaking roof and her tribulations worsened whenever it rained at night.
"We used to converge in one corner with my children to avoid being rained on," says Akinyi.
His condition has since changed after a non-governmental organisation stepped in to construct houses for her and other vulnerable families in Rangwe sub-county.
The Habitat for Humanity (HFH) Kenya has built her a permanent self-contained house.
The house comprises two bedrooms, a sitting room, kitchen and toilet. A 2,000 litre water storage tank has also been installed for her.
"My children no longer fall ill every now and again since I moved into this new house. I thank the Habitat for Humanity Kenya for what it has done for me," says Akinyi.
The Habitat for Humanity Kenya has also constructed similar houses for 48 other vulnerable families in Rangwe sub-county. Each house has a 2,000-litre water storage tank.
Nicholas Okanga, 60, who resides at Lidha village in Koyolo location, said his first house was falling apart, but he lacked funds to construct another one.
"My house was falling apart, prompting me to send requests to various government agencies but none of them came to my aid. The HFH Kenya has rescued me," said Okanga.
Rita Munyae, the HFH Kenya's programmes manager in charge of resource development and communications, said Covid-19 had affected their operations.
"We are planning to resume construction of additional 100 houses in Homa Bay County by the end of the year if Covid-19 infections decline," Ms Munyae said.
The organisation has also constructed three water points to enable local residents get clean and safe water for domestic use.
"We are doing the projects to uplift the living standards of the people," Munyae added.