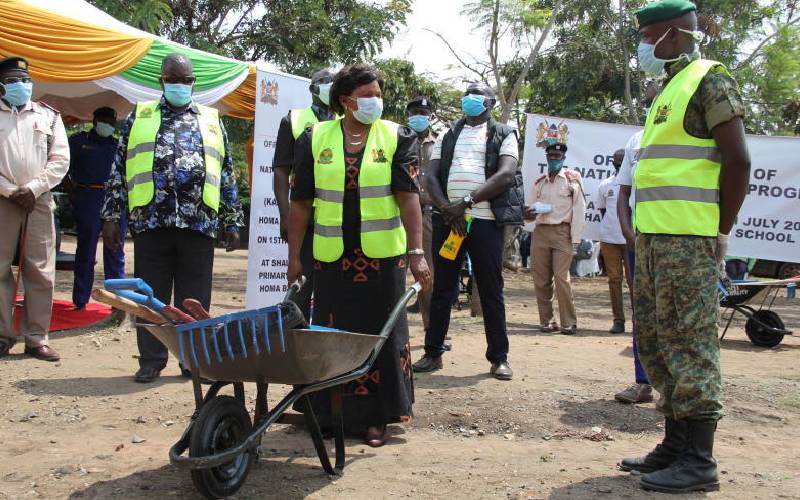 The government will terminate the contract of youth with double payments in the ongoing Kazi Mtaani programme.
Speaking on Friday during the launch of the programme in Homa Bay, Gender Principal Secretary Collette Suda said it is wrong for a single youth to benefit from two different social protection programmes at the same time.
"The government does not allow double payments in social protection programmes. Any youth who is in another social protection programme must quit Kazi Mtaani to pave way for others who are jobless," said Suda.
The PS told Homa Bay County Kazi Mtaani implementation committee to be careful also to prevent the double-entry of youth in the programme.
Read More
She said the Kazi Mtaani initiative will cushion youth from unemployment in the country.
"Youth in Kenya grapple with unemployment and this programme is aimed at cushioning them from the unemployment crisis," said Suda.
The programme has recruited 3,330 youth and their 111 supervisors who perform a number of cleanliness activities to beautify Homa Bay town.
Homa Bay Governor Cyprian Awiti hailed President Uhuru Kenyatta for starting the programme which he said will transform lives of the youth in his county.
"President Uhuru has thought it well to start this programme which will improve the livelihood of the youth. As a governor, I have to say this programme will be an economic turning point for many youth in this county," said Awiti.
He urged the youth to demonstrate diligence in the programme.
"Many youth are suffering from unemployment in this county. I urge anybody who has been recruited in this programme to work hard because if they don't do it, another person will do it," said Awiti.
The governor told the youth to observe social distance when they are doing the work.
The youth undertake various activities including clearing of bushes, sweeping streets and emptying drainage systems among other activities. The effort is aimed at beautifying Homa Bay town.