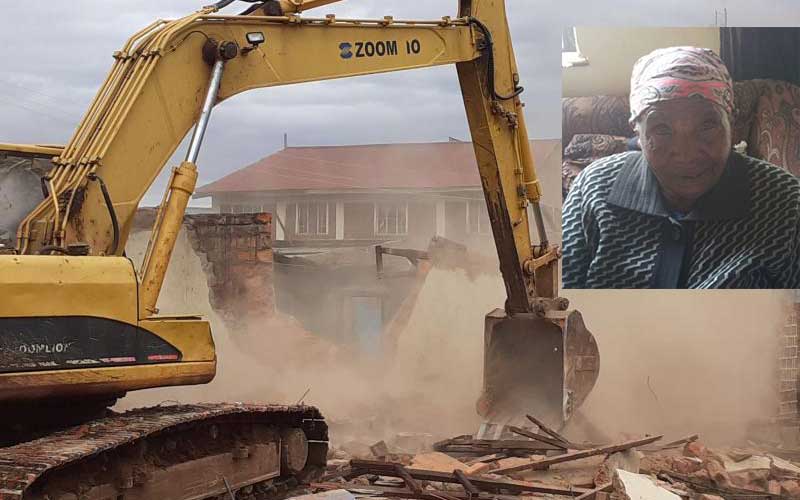 A 95-year-old woman is hospitalised in Nyamira after she was shocked and collapsed following demolition of her house by the county government.
Pauline Alexander, a mother to former nominated MP Catherine Nyamato, was at home on Saturday morning when a county bulldozer was driven into her compound and the house demolished.
Yesterday, Ms Nyamato said her mother was responding well to treatment.
The former nominated MP condemned the county government's action terming it insensitive at a time many are struggling to overcome the effects of Covid-19 pandemic.
"The people who are being affected by the demolitions chose their leaders. Where are they to defend them? We need protection from such oppressive actions by the county government," Nyamato said.
The demolitions that have happened for the last 10 days have seen many lose property worth millions of shillings.
Nyamira town has for long stagnated in development due to poor infrastructural planning and lack of county government right on the urban land, which is under absolute ownership.
Investors who had erected rental houses and business premises on areas marked as road reserves have accused the county of trespass on their property.
Former Kiabonyoru MCA James Sabwengi, who had set up an agricultural foods processing factory in an area claimed by the county government, is among businessmen counting losses after it was demolished.
Mr Sabwengi said the county erred in demolishing his warehouses and the factory whose value he estimated at Sh15 million.
Roads and Public Works Executive John Omanwa defended the demolition, saying those affected flouted urban rules, which stipulate that bypasses should not be encroached.
"Nyamira town has for long lacked access roads and by-passes and the move to create the new ones was informed by the fact that the plan of the urban centre needed to change," he said.