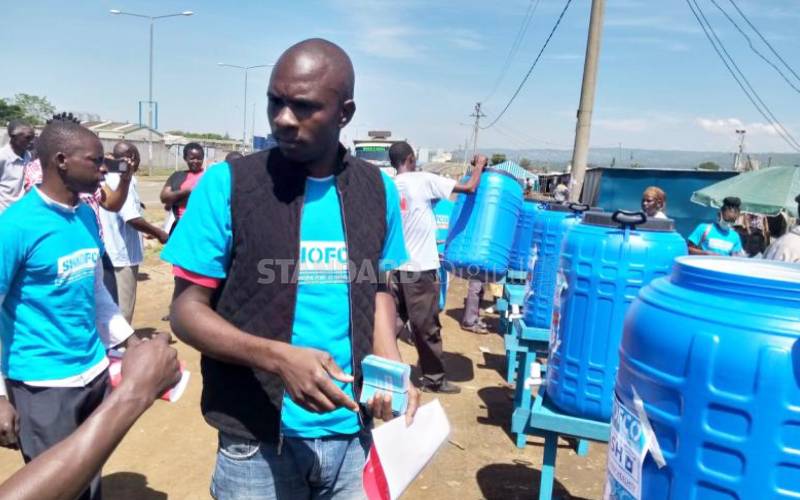 A non-governmental organisation has joined the fight against the deadly coronavirus by launching a hand-washing campaign in Kisumu slums. Shining Hope for Communities (Shofco), an organisation that fights, among others, urban poverty across the country, launched the drive at Obunga informal settlements yesterday. The teams operated in small groups, observing the social distance, and enlightened residents of Obunga slum, demonstrating how to thoroughly wash hands. Leading the proceedings was Job Oluoch, Kisumu County Director for Shofco, who emphasised the importance of regular and through cleaning of hands using water and soap.
SEE ALSO: Starehe Boys gets new leadership
Mr Oluoch said the month-long programme would be concentrated in informal settlements, particularly Obunga and Nyalenda slums. "We have realised that a lot of the messaging on how to protect ourselves from coronavirus has not been received well in this area because of water shortage and myths in regard to the disease," said Oluoch. According to Oluoch, when they began engaging the public, they first sought to establish their understanding of Covid-19. "Most of the things they told us were startling. They told us myths associated with the virus; such as it is a disease for the rich; or it is a disease for the elderly; or disease that Africans cannot contract, among many others," he said. Oluoch said they had launched the initiative to raise awareness to help weed out the myths that were likely to promote spread of the disease. During the awareness programme, Oluoch and a team of volunteers distributed free hand-washing containers, soaps and sanitisers to residents.
SEE ALSO: From tailoring to body bags
The equipment set to be managed by a team of volunteers will be put in strategic places, which are mostly accessed by residents. "Boda boda stages, bus stops and various entrances to the estates are some of the areas where large number of people access and we want to ensure the hand-washing culture is maintained," said Oluoch. They also distributed material on how to control spread of the virus, written in English and the local dialect in a bid to ensure more people access the information. According to Oluoch, the initiative will help counter information gap and misinformation, with local now beginning to appreciate the importance of social distancing. "We will also involve the community health volunteers, the local administration and any other interested persons," he said
SEE ALSO: Atletico Madrid resume training after rest of squad test negative for COVID-19