Awiti sets aside Sh200m to clear contractors, suppliers' debts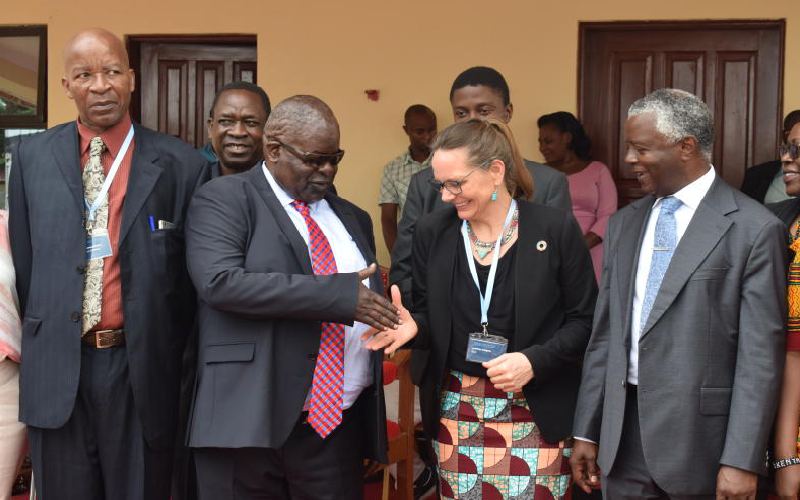 Homa Bay County has set aside Sh200 million to clear debts owed to contractors and suppliers who were awarded tenders to construct various projects and supply items to the county.
Speaking when he received a delegation of Zimbabwe government officials on a benchmarking mission in Homa Bay yesterday, Governor Cyprian Awiti said his administration has already started paying the contractors.
He said the county wants to clear the arrears to minimise complaints among contractors who blame the county government for failure to pay them not after completing their work.
Awiti, however, said the money is mainly paid to contractors and suppliers who completed their work effectively.
"We have started paying contractor but let it be clear that we are only paying those who have clear documents of the work they did and completed," said Awiti.
During the occasion, the governor who was accompanied by his deputy Hamilton Orata, Miss President Nereah Oketch and Deputy County Secretary James Mokaya received Zimbabwean team comprised of 30 officials led by the Permanent Secretary in the Ministry of Local Government and Public Works Zvinechimwe Churu.
Churu said his team was on a benchmarking mission to learn how devolution is working in Kenya.
"Our mission to Homa Bay County was motivated by the strides devolution has made in this area. My country, Zimbabwe is interested in learning how devolution works in Kenya because we are in the early stages of implementing it," said Churu.
Awiti said the visit by the Zimbabweans is a manifestation of the achievements the county had made since 2013.
He said Homa Bay County has grown to become one of the economic giants in South Nyanza.
"Before I was elected, Homa Bay town was so quiet. No business would go on after 5pm. Now the town operates past midnight every day," Awiti said.
He said his administration was creating an enabling environment for economic development.
Ms Oketch said her office is committed to liaising with various development partners which can initiate good governance for proper service to the people.
"My office is looking forward to coordinating partnership with various partners to help transform lives of citizens," said Ms Oketch.
She told Kenyans to embrace devolution to address issues affecting the country.