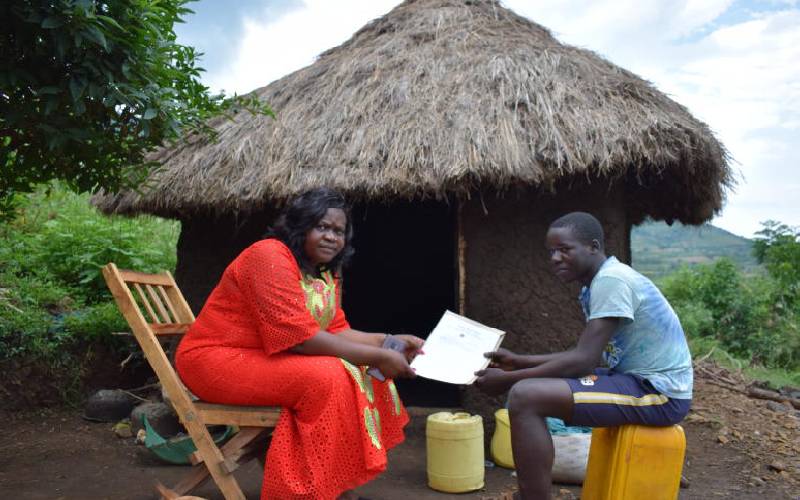 As they say, we are born of love; and love is our mother. This statement recently found relevance in Homa Bay after Woman Rep Gladys Wanga helped a 15-year-old boy who was at the brink of missing a slot in one of the National School over fees to join Form One.
Austine Omondi Arunga who scored 407 marks at Sindo Imani Academy in 2019 KCPE was still at home due to lack of school fees despite being admitted to Kanga High School in Migori county.
"I had lost hope of joining Form One after repeating Class Eight because my parents lacked school fees," said Omondi.
Omondi was staring the same fate after he failed to join Form One in January 2019 despite scoring 357 marks in 2018 KCPE at Malango Primary School and had been admitted to Homa Bay High School.
Wanga visited the boy's parents' home at Malango village in Suba South constituency and gave him full scholarship for the entire secondary education.
The boy was taken to Kanga High School and had his fees paid in full.
The scholarship was awarded through the National Government Affirmative Action Fund (NGAAF) and Wanga's office
"I have bought the items required by the boy to join school. It is now the responsibility of the boy to work had in his studies," said Wanga.
Wanga who was accompanied by the NGAAF chairperson Caroline Owidhi expressed commitment in helping the boy achieve his ambition of becoming a neurosurgeon.
"The story of how this boy has repeated Class Eight with dwindling hopes of joining Form One despite his sterling academic performance is very sad," she said.
She said her office is committed to ensuring that young people are successful in their future lives.
Owidhi said time had come for residents to embrace education.
"Education is the key to success and that is why we are making efforts to promote it," said Owidhi.
Omondi promised not to disappoint the people who support his education.
"I promise our Woman Rep that I will work hard to become a neurosurgeon," said Omondi.
Omondi's parents Julius Arunga and Jane Akinyi who are a peasant farmers said the scholarship will transform their family.
"We had no money but the Woman Rep has come to our aid. I thank God and her," said Arunga.
Area Assistant Chief Fredrick Oduol said the scholarship will transform the family.
"This family has had many financial issues which can only be changed by educating children," said Oduol.