Over 1000 Ndhiwa youth get motorbikes to curb unemployment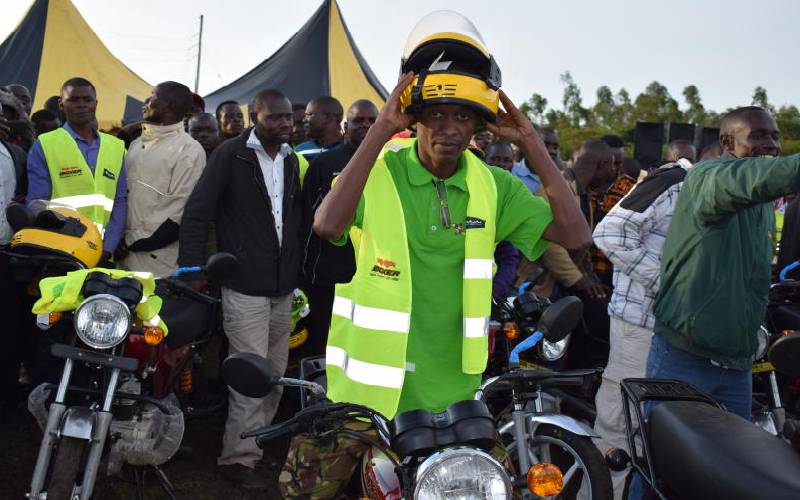 More than 1000 youth in Ndhiwa constituency have received motorbikes through an initiative by local leaders to curb unemployment.
Led by former Ndhiwa MP Agustino Neto, the leaders have purchased 20 motorbikes for the youth with groups.
Neto delivered the 20 motorbikes worth Sh2m to the beneficiaries at Konyango Rabuor trading centre in Kwabwai ward yesterday.
In a ceremony presided over by Neto, Director of Presidential Delivery Unit Silvance Osele, MCAs Richard Ogindo (Kwabwai), Oscar Abote (South Kabuoch) and former Homa Bay County Public Service board member Florence Ouma, each motorbike was given to one youth group.
Each group is expected to use the motorbikes in generating revenue which is deposited in its bank account.
After some time, the groups will decide on how to start another income-generating activity before they begin sharing the revenue.
Speaking when they distributed the motorbikes, Neto said the initiative is aimed at dealing with unemployment in the area.
"Unemployment is a serious problem affecting the youth in this constituency. Our objective is to provide alternatives to enable our youths earn a living," said Neto.
Neto who is also a director of the National Environmental Management Authority (NEMA) said they had also started another initiative of sponsoring motorbike riders in driving schools to enable them to participate in the business venture effectively.
"We sponsored 150 youth who have completed their training on riding at the Kenya Industrial Estate. We intend to train others to enable them to operate efficiently," he added.
The former MP said he plans to empower not only the youth but also other residents of Ndhiwa.
"We have started in a small way, but will expand our support to reduce numerous problems facing Ndhiwa residents," he added.
Osele urged youths in the constituency to form groups to enable them get financial aid from the government.
The former Kabondo Kasipul MP said it is difficult for the government to support an individual.
"The government can support an individual person only during a disaster. I urge the youth to form groups so that they apply for government funds to start businesses," Osele said.