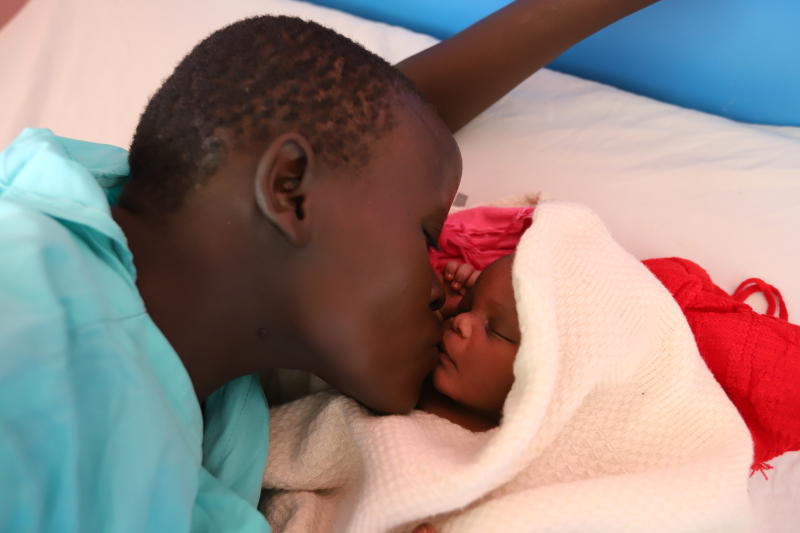 The end of the year recorded a major baby boon at Kisumu's Jaramogi Oginga Odinga Teaching and Referral Hospital.
Here Roseline Adhiambo's girl-child came to the world at 0000 hours, the transition point between 2019 and 2020.
As such, Adhiambo can choose either December 31, 2019 or January 1, 2020 as her daughter's birthday.
Adhiambo, 24, who had expected to deliver on December 23, last year, according to her antenatal clinic records, had an eight-day delay, making her deliver when the clock hit midnight.
Despite having delivered through cesarean section, Adhiambo, a housewife from Wang'anga village in Muhoroni Sub-county, could not hide her joy after she became the centre of attraction at the postnatal ward.
"I think God wanted to give me a special gift. I will have to pick which of these days to be celebrating my daughter's birthday," she said.
According to medical records at the facility, Adhiambo was taken to the theatre a few minutes past 11pm on December 31, after examinations showed she could not deliver normally.
At exactly 0000 hours, the cry of the 3.3-kilogramme baby girl rang through the delivery room, followed by ululations.
"By the time of delivery, I was on anesthesia, so I did not know the time. It was only when I regained consciousness that I was told about it. I immediately got some strength to celebrate," said Adhiambo.
When The Standard visited her at the ward, she was yet to settle on a name for her second born, and was waiting to consult her husband.
In total, nine babies were born at the hospital before the stroke of midnight on Wednesday.
Besides Adhiambo's bed, Rose Akinyi lay with another little bundle of joy beside her, a baby boy delivered 15 minutes to midnight. His birthday shall forever be December 31, 2019.
"I am happy that my second born is a boy, having had a girl in my first delivery in 2015. But what makes me happier is his birthday," she said.
She said loud celebrations from nearby social joints and churches of people welcoming the New Year temporarily relieved her of the labour pain.
"By 11pm, there was already a lot of noise from outside. I was so carried away by the songs and the drum beats outside that I could not feel the pains anymore. And when I went to the delivery room, everything went on smoothly," she said.
Jackline Akoth, 22, was another happy mother at the labour wards after delivering a 3.2 kilogramme baby boy at exactly 2.30am on January 1.
By the time The Standard visited her bed at exactly 7.40am yesterday, Juliet Muturi, had just delivered her firstborn son.
"This is a special moment for me. Even though I am still fatigued, I am happy," she said.
By then, 16 new babies had made their way to the world, while nine expectant mothers were waiting in the labour wards.
By 6pm, the number had risen to 22 while 7 expectant mothers were waiting in the labour wards.
According to Mary Omollo, who was standing for the nurse in charge on New Year's Eve, more deliveries were expected yesterday.