Good news as State commissions Sh80m water projects in Homa Bay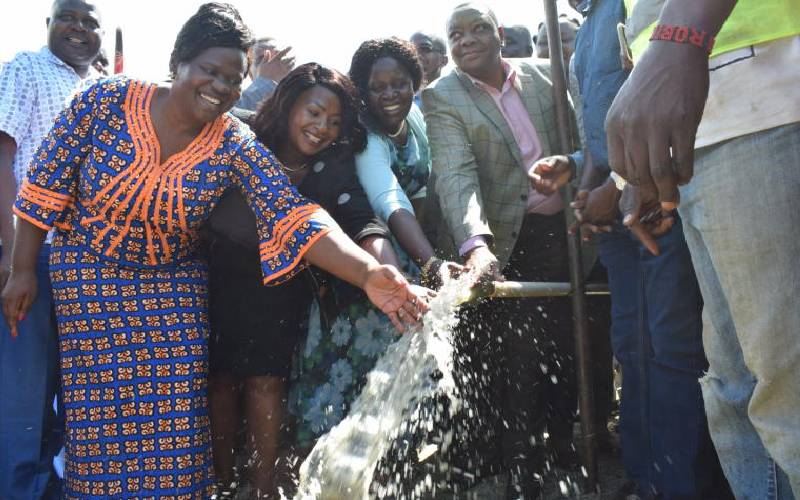 The perennial water shortage in Homa Bay will soon be a thing of the past after the National government has commissioned water projects worth Sh80.8 million in the county.
The projects are being undertaken by the Ministry of Water, Irrigation, and Sanitation through the Lake Victoria South Water Works Development Agency.
The programmes include Sindo Water Supply Project in Suba South constituency and Got Kabok Primary School Water Supply Project in Rangwe constituency.
The water project at Sindo cost Sh70.8 million with a capacity of producing 1,800 cubic meters of clean and safe water per day. It is designed to serve a population of 12,000 people.
The people include those who are in health facilities, market centers, learning institutions and people who live in their village homes.
On the other hand, the Sh10 million Got Kabok project will serve both the school and the surrounding community.
The projects were launched by Water Principal Secretary Joseph Irungu.
Also present were Homa Bay Woman Rep Gladys Wanga, Rangwe MP Lilian Gogo, chairperson of the governing council at the Kenya Institute of Water Wavinya Ndeti and Homa Bay CEC for Agriculture Juma Aguko commissioned the projects on Wednesday.
Speaking after commissioning the projects, Irungu said the National government is committed to alleviating water problems in Homa Bay County. The projects will improve the livelihood of the locals.
"The Government is committed to undertaking more projects to eradicating water problems in this county. The projects include the ones whose construction are ongoing in Rangwe and other parts of the county and their funds are derived from the current financial year," said Irungu.
He challenged his officers to push contractors to complete the ongoing projects at the right time to enhance implementation of other.
"Let residents own the projects to ensure their lives are transformed," Irungu added.
Dr Gogo said the project in her constituency will cushion locals from trekking more than 12 kilometres in search of water from Lake Victoria.
"It is a reason to smile for residents that the Government has started implementing projects in unknown villages like Got Kabok. This is a good gesture because water is life," Gogo said.
She said the project had resulted from peace which is prevailing in the country due to the handshake between President Uhuru Kenyatta and ODM leader Raila Odinga.
According to Wanga, water shortage in the area could not allow residents to participate in economic and social activities effectively.
"There are many women who cannot give birth effectively because they spend a lot of time trekking in search of water. Some of them leave home at dawn and return at dusk when they are tired," Wanga said.