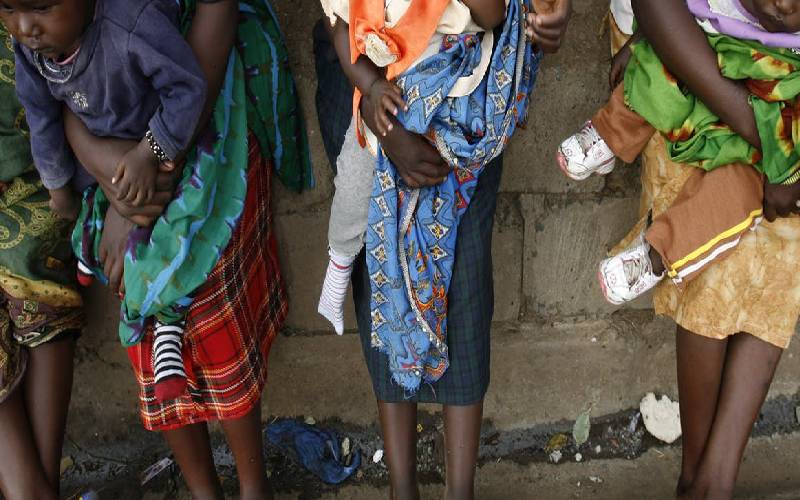 Teenage pregnancies are on the rise in Kisii County, with one hospital in Ogembo registering 841 cases in the last one year. Records at Ogembo sub-county hospital show most of the girls who were impregnated were aged between 15 and 18. A total 22 girls aged between 10 and 14 also delivered at the hospital in the year under review while others attended the hospital for check-ups but delivered elsewhere. Two months ago, the hospital received a case of a 26-year-old woman who was admitted to deliver her eighth child. Hospital records indicate that she gave birth to her first child aged between 10 to 12 years.
SEE ALSO: Police arrest man caught on camera stealing at M-Pesa shop
The hospital, according to Nabwana Ambrose, a medical officer, serves a region with a population of approximately 114,000 people. Dr Nabwana said the girls who delivered at the hospital rarely divulged information about the men responsible for the pregnancies. "Defilement cases are never talked about and parents may want to get compensation at the family level rather than proceed to court." And with only one counsellor employed at the hospital, there is fear that a number of young mothers could be leaving the hospital without proper guidance. "We have taken responsibility as medics to assist those who report their cases to us. The psychological effect on these young girls is too much to bear, even at family level," said Nabwana.
SEE ALSO: Family of girl gang raped in Kisii demands justice
He called on the local leadership to invest in youth empowerment programmes and conduct civic education on safe sex practices. "There is immense support from the provincial administration and the police in trying to reduce these numbers. In the recent past, we have seen the courts give maximum sentences to the perpetrators." Peter Wainaina from the office of the Director of Public Prosecutions at the Ogembo law courts told The Standard that between January and October last year they registered 113 sexual offence cases. The majority touched on the defilement of girls aged between seven and 15. Mercy Nyamongo of Kisii Teaching and Referral Hospital's (KTRH) Department of Reproductive Health said the issue of teenage pregnancies was a major problem in Kisii and Nyamira Counties. Family planning
SEE ALSO: State: Madaraka projects in Kisii to go on as planned
"Policies need to be set up where our teenagers are advised. We cannot hide our heads in the sand any longer. The issue of abstaining should be a priority while family planning should be encouraged," said Dr Nyamongo. According to the doctor, KTRH receives between 15 and 20 teenager pregnancy-related complications every month, with most being cases of incomplete abortions. "We have an issue where girls as young as 10 years are now delivering at the hospitals." She said although there were clear guidelines that underage girls should not be put on family planning programmes, parents were still doing it for their daughters aged as young as 12. Josphat Kiriama, a reproductive health nursing officer at Kisii University, said it was important to educate girls on life skills until they become mature adults. "The society is exposing these girls to a future full of suffering. Their reproductive system is not ready for pregnancies. Kisii is among the regions with the highest cases of fistula," he said. Joel Machuka, a children's officer, said poor social set-ups where parents had little time for their children, improved technology, lack of sex education in schools and ignorance about the law were to blame for teenage pregnancies.