Hold your horses, Obado tells succession hopefuls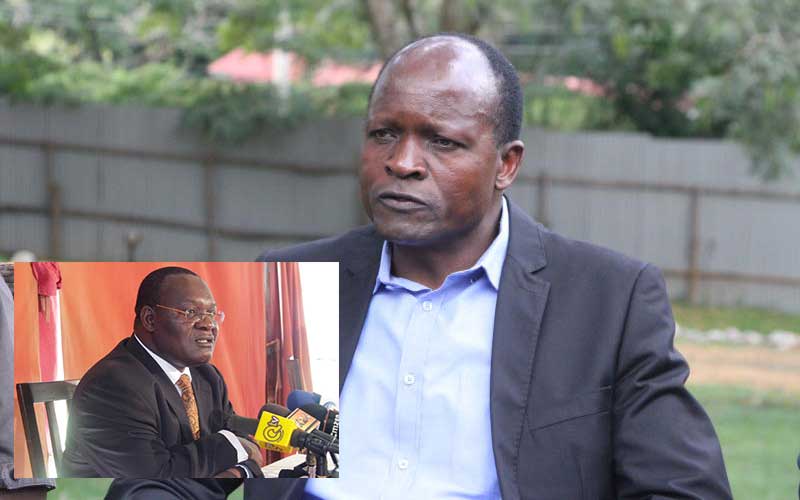 Migori Governor Okoth Obado's succession battle is promising to be a tough one if recent political developments in the county are anything to go by.
Obado, who is serving his last term, has warned those eyeing his seat to hold their horses 'until the right time comes' but the battle lines have been drawn.
Emergent camps in the race came to the fore last month when local political heavyweights traded barbs at the burial of Mr Obado's mother in-law in Suna East over the county's future.
Former Nyatike MP Omondi Anyanga kicked off the storm when he claimed some leaders were capitalising on Obado's recent political woes to discredit the county boss in the hope of swaying votes in their favour.
"We cannot allow outsiders to pour scorn on our governor. As leaders we have an obligation to stand with our governor," said Mr Anyanga. Senator Ochillo Ayacko fired back, saying anyone shielding Obado was doing so to earn the governor's endorsement ahead of the 2022 polls.
Top on agenda
But what has sent tongues wagging is a meeting Obado held at his home in Rapogi last week attended by Anyanga, former Uriri MP John Kobado and a select few leaders. It is believed Obado's succession was top of the agenda. Those angling to succeed Obado include Anyanga, MP Mark Nyamita, Senator Ochillo Ayacko, County Secretary Chritopher Rosana, Owiso Ongao and Dr Phillip Mwabe. Sources say SRC commissioner Dalmas Otieno could also contest. "Come 2022, the people will make a decision. They will not accept anyone imposed on them," Obado said.
"When the right time comes, we have good candidates who can unite people without violence and proganda. Migori voters will settle on someone who will be his own man or woman...one who does not ride on the back of others," the governor declared. Although Obado denies politics featured at his meeting with Anyanga, voters are looking at a major faceoff in the ODM-dominated county that has increasingly pulled surprises.
In 2013, Obado won on a PDP ticket. And in the October 2018 senatorial by-election, Eddy Oketch of FPK caused a scare after garnering 60,555 votes, losing to Ayacko by a margin of only 25,000 votes. Migori County has 388,633 eligible voters.
Observers say Anyanga and Ochillo could be the frontrunners given that the Senator is a seasoned politician who had vied for governor in 2017. Anyanga, a two-term former MP, has the advantage of experience and deep pockets. Former Migori ODM chairman John Magaiwa says whoever will succeed Obado has work cut out for him. "Migori is cosmopolitan. We need a leader who will unify the county and spread resource equitably," Magaiwa told Sunday Standard.
Governor Obado insists some leaders want him to be politically isolated. "They come up with all manner of speculations," he said.
Asked about last week's meeting, Anyanga said: "We met to discuss ways of rallying our people to support the handshake. We also discussed development with regards to the Big Four agenda."