Matiang'i dismisses calls to lower sexual consent age, says it is nonsense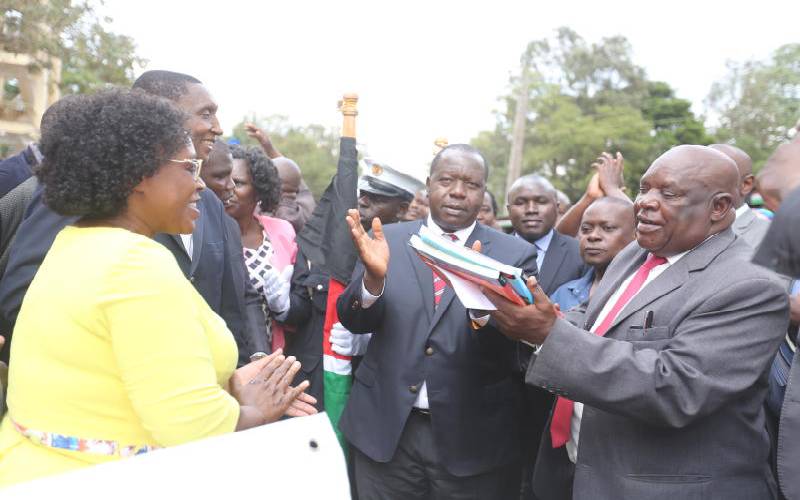 Interior Cabinet Secretary Dr Fred Matiang'i has dismissed Judiciary over its support on lowering the age of sexual consent from 18 to 16.
Matiang'i has said the proposal by Judiciary is ill-informed and does not represent view of many Kenyans and other stakeholders.
According to Matiang'i, calls to lower of sexual age of consent is being driven by individuals with ulterior motives guided by narrow business interests.
"If we investigate this issue of allowing our adolescent children to engage in sexual relations, we can easily find that those behind it are people who want to do the business of selling contraceptives and promoting illegal activities like abortion," said the CS.
"What kind of society will our country look like if we permit our children to start engaging in sex when they are just tendrils?" Matiang'i posed.
According to the CS, there are other means that can be used achieve positive results on adolescent sex and children engaging in delinquency and wondered why such alternatives were not being exploited by stakeholders.
"A 16-year old girl should ideally be in Form Two. Even as a parent, what will it be like allowing your child to start looking for men while in school? This is bad and barbaric. We should never entertain such debate," he said.
Matiang'i was addressing students, teachers and parents of Gesiaga SDA Secondary School in Nyamira County on Friday where he was the chief guest in a fund drive to build the school's classroom.
Nyamira Governor John Nyagarama who was among the many guests also picked up the matter with commercial motorbike riders whom he accused of being major perpetrators of sexual offences on school girls.
Nyagarama told law enforcers to ensure those caught are properly prosecuted and justice meted on them.
He also dismissed the debate on the age of consent, saying it was misplaced in and does not represent the voice of parents.
"We cannot have professors and highly qualified personnel if we allow our children to engage in thoughtless sexual activities. There is no parent who can accept his or her child to start those things (sex) while in school," Nyagarama said.