Fraudsters leave scores of land buyers high and dry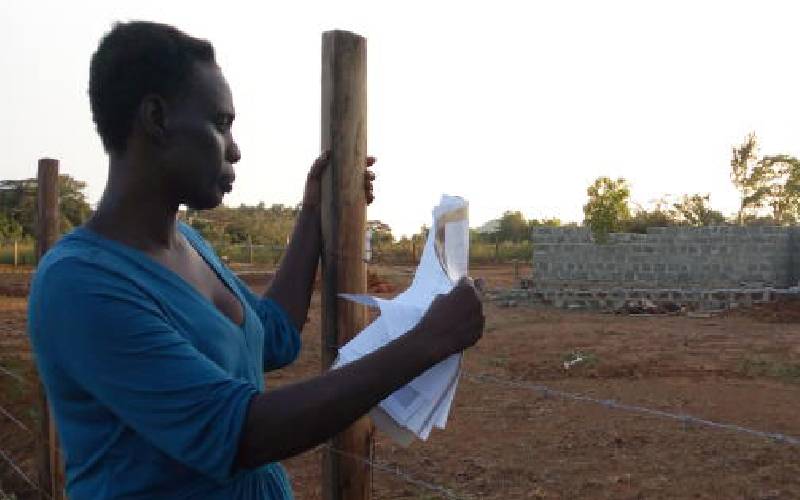 Eunice Geng worked and lived in Nairobi for decades with her husband and eight children.
But when her husband died in 2016, she made the tough decision to move upcountry.
Since she had no land to build a home, she bought a 0.34ha parcel in Komolo in Central Alego adjacent to Komolo Airstrip.
After the deal, she left her documents in the hands of a private surveyor, who was helping her with the transfer of the property.
Within weeks, she was given her title deed (CENTRAL ALEGO/KOMOLO/1991).
A month later, she was shocked when she found someone had already fenced her plot and was busy building a home.
Upon search, she realised the land had been transferred to Rosemary Adhiambo, a former nominated member of the local county assembly.
"I went to the area Registrar and the person was summoned. She claimed to have bought the land from someone named Eunice Geng, not me. She could not, however, produce the Eunice who sold her land," said Geng.
The former MCA admits she might have been conned. "A very humble woman came to my house, introduced herself as Eunice Geng and said she had some parcel of land which she wanted to dispose. She had all the documents and I tasked a surveyor to follow up and the report was clean. I paid money and all the relevant documentation was processed. But I am ready to talk and have this matter sorted amicably," explained Ms Adhiambo.
After the transaction, the fake Geng vanished into thin air and has never been seen since.
Geng's efforts to retake the land has been an uphill task. The woman has been tossed from the buyer to the land registry, the police and the surveyor. Meanwhile, Adhiambo continues to develop the land.
Geng's dilemma is replicated across Siaya County, with some of the cases leading to violence, deaths, jail terms and disintegrated families.
Her case is similar to that of George Otieno, a resident of Anduro Lwala in Nyandiwa, Alego Usonga sub-county.
New owner
Having been orphaned while young, Otieno, now 25, was given refuge by a distant relative. After he completed his secondary school education, he went back home only to find his parents' home had a new owner — an MCA from a neighbouring ward.
According to Otieno, his investigations revealed that the land (SIAYA TOWNSHIP/NYANDIWA/2657) was sold to East Alego MCA Vincent Odawa.
Otieno's efforts to reclaim the land have been fruitless. "I bought the land procedurally and the land is legally mine. I have heard someone has laid claim to the land and I realised he had placed a restriction on it. But the land is mine and I do not intend to transfer its ownership," said the MCA.
Otieno claimed his efforts to seek help from the office of the Land Registrar had been futile, as he has been tossed from one office to another.
In Siaya Township, Emmanuel Agik, 26, an orphan, realised someone had built rental houses on his father's 0.08ha parcel (SIAYA/KARAPUL-RAMBA/3288).
Upon search, he found out that the land had been transferred to a Ms Caroline Awuor, a tutor at a local tertiary institution.
"When I followed the matter, I got harassed by Land Registry officials and the police. I was told to accept a compensation of Sh750,000 or lose everything," he said.
Ms Awuor admitted having knowledge of Agik's claim and said she was ready to pay him for the parcel. She, however, dismissed claims that she had compromised police and the Land Registry officials.
There was a similar pattern in almost all the 20 cases investigated by The Standard; the parcels are taken up by new owners and those laying claim to them are offered money as compensation.
Sylvestre Oduor, 39, and a resident of Mur Ng'iya, claims he had to accept Sh350,000 after his 0.7ha parcel was sold.
"I accepted the money because it was better than nothing. The person who claimed to have bought the land is a powerful person and he had already started building his home," he said.
Many cases
Area Chief George Atinda admitted he is handling many such cases. "Most of the cases stem from close families who disinherit their kin, and sell the land without the kin's knowledge. When we try to make peace in vain, we always advise them to go to court," said Mr Atinda.
Siaya Land Registrar Machora Mogare admitted that his office received many cases of land disputes involving family members. He, however, denied that his office played a part in fueling the crisis.
Even though Mr Mogare declined to respond to the specific cases highlighted, he said most of the cases arose from "simple misunderstandings" between family members.
However, Chris Owala, Executive Director of Community Initiative Action Group (CIAG) said the Land Registry was a major impediment to ending land conflicts.
"The Land Registry is the custodian of title deeds and must be in a position to explain transfers of land ownership that end up creating the animosities," said Mr Owala.
CIAG has profiled at least 100 cases in which land transfer was questionable.
County Police boss Francis Kooli said most of the criminal cases had a link to land. "When murder, assault and invasions are reported, investigators should look deeper so as to ensure we prosecute the right case," said Mr Kooli.