Obado, Kitayama face off in public over world Bank project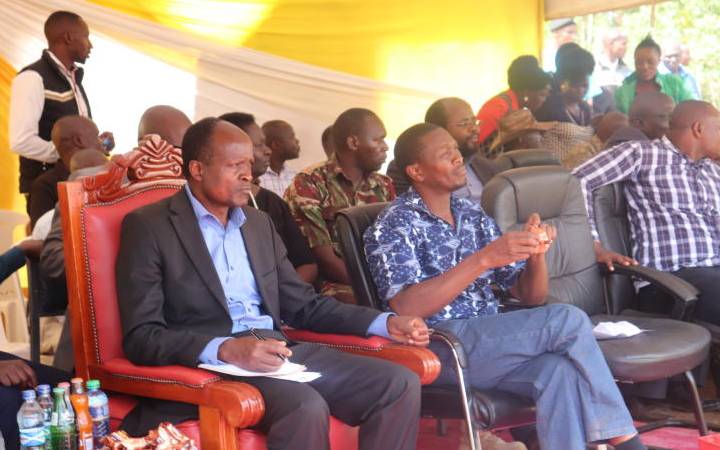 Migori Governor Okoth Obado and Kuria East MP Marwa Kitayama on Wednesday clashed in public over a Sh516 million World Bank project meant to upgrade municipalities.
The two leaders were at Kegonga in Kuria East Constituency. Mr Obado was in the area to open a maternity ward at Kegonga sub-county hospital and launch Kegonga sub-county offices.
Trouble started when Obado, accompanied by several MCAs and county officials, tried to explain how Rongo, Migori and Awendo towns were settled on as beneficiaries of the project.
An incensed Kitayama said Obado had marginalised the Kuria community.
There was tension at Kegonga hospital as Obado confronted the MP he accused of colluding with outsiders to sabotage him.
Kitayama wondered why Obado failed to consider at least one of the two towns in Kuria - Isebania and Kehancha - for the project.
At one point, Kitayama charged towards Obado as he addressed residents, but was stopped by the governor's security detail.
Last week, Kitayama said the money should have been shared equally among the eight sub-counties.
Obado alleged that the MP was being used by his rivals to taint his name and incite the community against him.
"I have tried to explain this matter to my brother Kitayama, but he has refused to listen. Now he wants the Kuria community to believe I am a bad person when I'm not. He is inciting people against me for no apparent reason," said Obado.
He added: "My brother, let me tell you: I don't know who you are working for, but you will not succeed." "The Sh516 million is a conditional grant. The World Bank carried out a research a long time ago and decided which towns should benefit from the project."
It was at this point that the MP dashed to the podium in an attempt to interrupt Obado's speech but was blocked.
Police officers at the function had a hard time restraining supporters of both politicians. Some of them were armed with stones and clubs.
Eventually, Obado cut short his speech and blamed some local leaders of trying to sabotage the project.
"Some leaders from Kuria East and Kuria West sub-counties, led by their MPs and some MCAs, went to Nairobi to establish if I had been involved in the decision of creating municipalities. They kept quiet when they learnt I did not participate in choosing the towns to benefit from the money," said Obado.