Outcry after police prohibited from using wooden fishermen's boats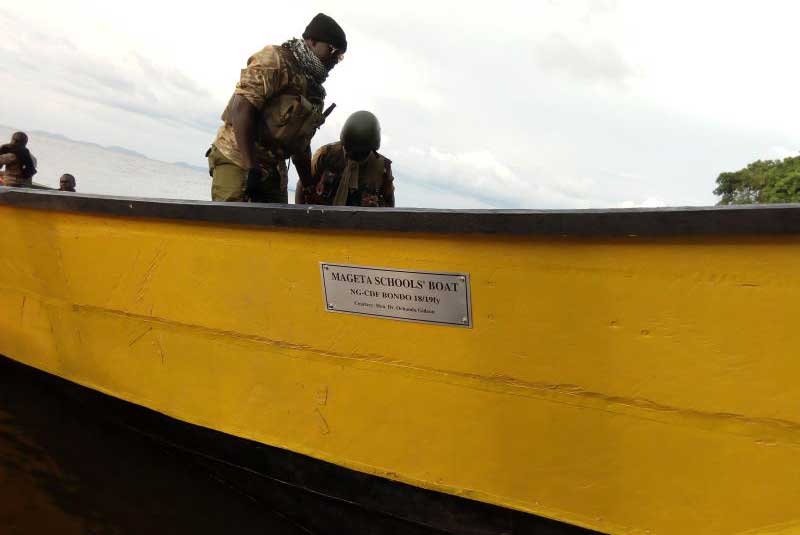 Fishermen and local leaders have questioned a move by the Government to ban security officers from using wooden boats.
The fishermen said the order had emboldened criminals to steal more boat engines and fishing gear in the past two months.
"We don't know how this decision was reached but it has contributed to an increase in crime in the lake," said Julius Odembo, a Beach Management Unit (BMU) official in Mageta Island.
Bondo MP Gideon Ochanda, who spoke during a meeting with security officers and fishermen on Saturday, described the Government move as unwarranted.
"There have been issues with our Ugandan counterparts but those have since reduced and crime has risen. We don't understand why the Government is giving these instructions without providing alternatives," said Mr Ochanda.
The MP argued that security officers had used the wooden boats for many years without incident, and that it was unjustified to ban them without giving reasons.
"With the kind of insecurity we are experiencing in the lake, we are requesting the Government to allow our officers to continue using the wooden boats as they wait for the recommended ones."
Ochanda said the county government had invested nearly Sh2 million to build the patrol boats, adding that fishermen had lost 15 engines and other fishing gear in the last one month.
The MP called on Inspector General of Police Joseph Boinnet and Interior Cabinet Secretary Fred Matiang'i to urgently address the issue.
But Siaya County Commissioner Michael ole Tialal denied claims that police had been ordered to stop patrols.
"It is not true that we have suspended police operations in the lake. We simply want our officers to use the recommended Government vessels and equipment," said Mr Tialal.
He said there was a speed boat at Port Victoria that officers from Siaya and Busia counties were supposed to use temporarily.
The administrator also denied claims that the BMUs were instructed, two months ago, to paint their wooden boats in police colours so they could be hired out for patrols.
"We appreciate the efforts our fishermen have been making to ensure our officers give them security. But we are calling upon them to be patient to allow the Government to give them better equipment," said Tialal.